Nikon D4: First impressions–Hands-on
Tue, 2012-06-26 20:34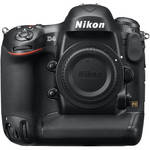 I knew when I first shot with an early Nikon D4 at CES in January that it would be an amazing camera. After spending some time shooting with a production model over the weekend, I'm definitely a believer. The Nikon D4 is a no-compromise beast of a DSLR, capable of shooting 10fps at ISOs up into the six-digit range. It tips the scales at a hefty 3 lbs., and will empty your wallet of $6K. It's not the resolution champion, as we all know the Nikon D800 is, but for many of us who shoot action or wildlife, it's 16MP of clean, sharp images is plenty.
Camera control and handling
If you don't mind, or even enjoy, holding a full-size DSLR, the Nikon D4 is the best-designed model I've ever used (and I've used just about all of them). There is plenty of room on the super-sized body for buttons and dials for just about every need, and if the control is in the wrong place, it is likely there is a custom function to move it where you want. For example, I found reaching to the bottom of the camera for the ISO control to be extremely annoying compared to the top button on my D700. Sure enough, there is a custom function to add that capability to an easy-to-use button and dial combo on the top of the camera.
Nikon has continued to evolve it's increasingly complex Autofocus controls, so they stay useable even with all the added functionality in the Nikon D4. I highly recommend surfing through the Nikon Technical Guide in addition to the manual, as it explains a great deal about how to set the many different options and what they actually do.
Image Quality (especially in low light)
Unless you need the pure resolving power of a resolution-monster like the Nikon D800, the Nikon D4 is definitely tops when it comes to images. Clean, crisp, and low-noise even at insanely high ISOs, there isn't really anything to criticize. It set the all time image quality score on DxOMark, until bested by the much higher-resolution, but much slower and less forgiving Nikon D800.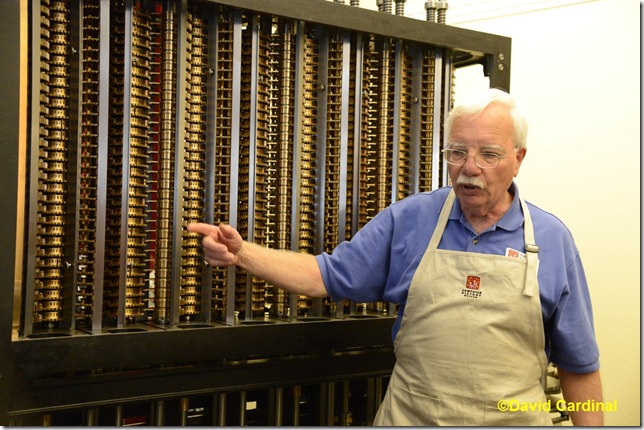 High ISO is one of the Nikon D4's strongest points.
This image needed to be taken at ISO 9000 to capture both the live action
and the depth of field to get the entire Babbage machine in focus.
Shooting low-light action with the D4
Obviously the amazing low-noise-at-high-ISO capability of the Nikon D4 allows for capturing action in a wide variety of situations often closed off to us with previous cameras. Pre-dawn and after-sunset are two common examples – especially where flash can't be used. The shooting solutions offered by the camera don't stop there, though. Sometimes it is a combination of shutter speed and aperture that are needed for a particular shot, and that require a high ISO to accomplish.
For example, I photographed several of the groups warming up for Drum Corps International West at Stanford [DCI is a nationwide precision youth music group competition featuring percussion and brass instruments along with marching[ with the Nikon D4, and I was very glad I had it. Because the competition doesn't really get underway until after dark, warmups are in the twilight. I also wanted to take some shots with the entire drum line in focus, but needed to pick my shutter speed to get the amount of motion I wanted in the drumsticks. This image was shot at ISO 3200 and f/19, allowing me to pick a shutter speed of 1/15s so I could pick up the motion where I wanted it.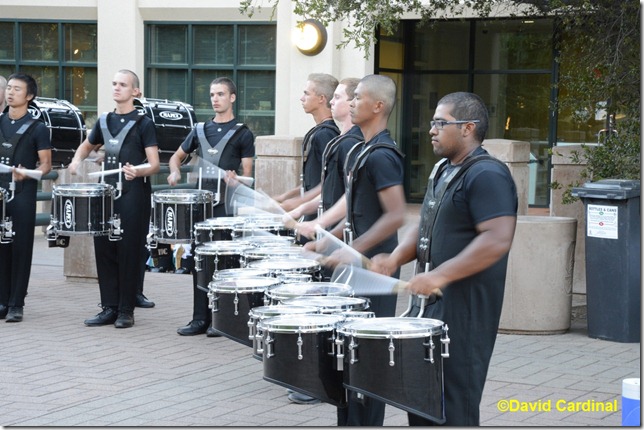 Even at ISO 3200, the image is completely useable for printing or publishing. With a lesser camera, or one with less high ISO capability, I would have had to sacrifice depth of focus (DOF) to get a reasonable shutter speed, and more of the drummers would have been out of focus.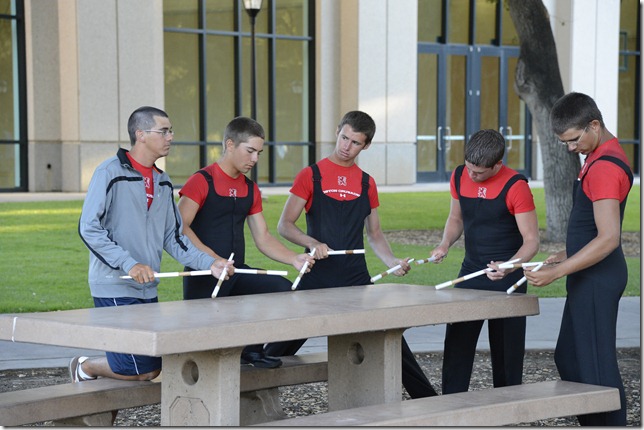 What about video?
I'm definitely not the right guy to give you the definitive answer on Nikon D4's video compared to other high-end models. It is impressive, full-up 1080p, with external mic, nifty realtime HDMI out option, and monitoring headphone capabiltiy. It's low-light video capability equals its low-light still capability, as I found shooting video of the Babbage Difference Engine inside the Computer History Museum – at nearly 9000 ISO at some points!
You can tell I was shooting stills at the same time, since I framed the video vertically. Now I just need a tilting television.
Here is another video I shot in the twilight, featuring one of the DCI teams warming up. Stereo audio was captured by my favorite little hotshoe mic, the Sennheiser MKE-400.
As far as a head-to-head on video quality, fortunately, filmmaker Philip bloom has done a great job of comparing the video on the Nikon D4, Nikon D800, and Canon 5D Mark III for you, in the video below. It's worth watching if your serious, but if you want the headlines, he found the D4 disappointingly soft for video except at 2.7 crop, but great in low light, and the D800 to have aliasing problems at 720p, but to be quite sharp otherwise.
Whither XQD?
In the quest for pure speed, Nikon has chosen a risky new slot and card format, XQD, as the primary slot for the D4. Performance-wise, it certainly delivers, allowing high-quality video and high-quality still recording on camera, and with the Sony reader and card getting speeds upwards of 70MB/second uploading on USB 3.0 to my Dell Core i7 laptop. However, so far only Sony and Nikon are really behind the standard in the photo space, and high-quality USB 3.0 CompactFlash readers delivering similar performance. A Sony 32GB XQD card and reader will set you back almost $300, about double the cost of CompactFlash, which is in turn about double the cost of SD cards. Then again, if you've spent $6,000 on the world's coolest DSLR, you'll either need the world's fastest digital film or at least not mind spending the extra $300 to snag it.
You don't have to use XQD, of course, as the Nikon D4 has a traditional CF slot (Type 1 cards only), but a major piece of the camera's flexibility is being able to use the two slots for various shooting solutions. Personally, I don't think XQD will survive long term. Sony is trying to make money off it as a licensed technology, and when I've asked other vendors like Sandisk about XQD they've said they have no current (at least public) plans to use it.
Summary
If you have the ability and enthusiasm to haul around a full-size camera, and need no-compromise image quality and handling, the Nikon D4 is the best in the world (okay, in fairness I'm a pretty died-in-the-wool Nikon shooter, so I'm not going to say I've given the top Canon models a fair shake, so while I think the Nikon D4 is tops right now, I'll compromise and say that it is certainly the best Nikon DSLR ever made). It'll set your pocketbook back $6K (plus the cost to invest in XQD) though. Unfortunately there isn't currently an obvious "step-down" from the Nikon D4. The D800 is much slower, so not well suited to many action applications, and the Nikon D700 is kind of long in the tooth at this point. I'm personally hoping that Nikon rounds out its product line with an updated D700 featuring a sensor, AF and control system upgrade for about the same price – perhaps with similar specs to the Canon 5D Mark III.
Full Specs for the Nikon D4 DSLR
Camera Type
Digital SLR with Interchangeable lenses
Lens Mount
Not Specified By Manufacturer
Camera Format
Full-Frame
Resolution
Effective Pixels: 36.3 Megapixels
Max Resolution: 36.3 MP
Sensor Type / Size
CMOS, 35.9 x 24.0 mm
File Formats
Still Images: JPEG, RAW, TIFF
Movies: MPEG-4 AVC/H.264, MOV
Audio: Linear PCM
Bit Depth
14-bit 1
Noise Reduction
Yes
Memory Card Type
SD
SDHC
SDXC
CompactFlash 2
Video Recording
Yes
Audio Recording
With Video
Focus Type
Auto & Manual
Focus Mode
Single-servo AF (S), Continuous-servo AF (C), Manual Focus (M) , Focus Lock AF Area Mode
Autofocus Points
51
Viewfinder Type
Pentaprism
Viewfinder Coverage
100%
Viewfinder Magnification
Approx. 0.7x
Diopter Adjustment
- 3 to +1 m
Display Screen
3.2" Rear Screen LCD (921000)
Screen Coverage
100%
Live View
Yes
ISO Sensitivity
Auto, 100-6400 (High Sensitivity Mode: 50-25600)
Shutter
Type: Electronic
Speed: 1/8000 - 30 seconds 3
Remote Control
ML-3 (Optional)
Mirror Lock-Up
Yes
Metering Method
Spot metering, Center-weighted average metering, 3D Color Matrix Metering
Exposure Modes
Modes: Aperture Priority, Manual, Program, Shutter Priority
Compensation: -5 EV to +5 EV (in 1/3 EV steps) 4
White Balance Modes
Auto, Cloudy, Daylight, Flash, Fluorescent, Incandescent, Kelvin, Preset Manual, Shade
Built-in Flash
Yes: 1st Curtain Sync, Auto, Red-eye Reduction, Second-curtain Sync, Slow Sync, Slow Sync./Red-eye Reduction 5
Max Sync Speed
1 / 250 sec
Continuous Shooting
Up to 6 fps
Dedicated Flash System
iTTL Remote Firing
External Flash Connection
PC Terminal
Self Timer
2 sec, 5 sec, 10 sec, 20 sec
Interval Recording
Yes
Connectivity
10-pin Terminal, Audio Out, HDMI C (Mini), USB 3.0 6
Wi-Fi Capable (With Optional Transmitter)
Yes
Battery
1x EN-EL15 Rechargeable Lithium-Ion Battery Pack
AC Power Adapter
EH-5b (Optional) 7
Operating/Storage Temperature
32 to 104 °F (0 to 40 °C)
Humidity: 0 - 85%
Dimensions (WxHxD)
5.7 x 4.8 x 3.2" / 144.78 x 121.92 x 81.28 mm
Weight
2.20 lb / 1000 g