Nikon bolsters DSLR line with D5200, ups its game in Mirrorless with Nikon 1 S1 and Nikon 1 J3 models
Wed, 2013-01-09 03:09
This being CES week, there is no shortage of new camera announcements. Nikon finally released its long-anticipated Nikon D5200, a 24MP update to the D5100 that (in typical fashion for camera makers these days) jumps over the imaging performance of the Nikon D7000, but at a lower cost and with a couple bells and whistles missing. Nikon has also refreshed its initial mirrorless camera offering with two new models, the J3 and the S1, along with an appealing new 10-100mm lens for its compact sensor format…
At 24MP and 5fps, the Nikon D5200 is a great choice for that "tweener" price point – above entry level, but not ready to take the plunge on a full-frame beast. As exciting as it is, it will no more make those looking for a D400 happy than the D7000 did. However, it does firmly plant the bar for prosumer DSLRs at 24MP, so if there is a D400, expect it to have 24-30 MP and be 6-8 fps – otherwise it won't be worth doing.
I'm traveling in Cambodia so I haven't been at CES or had a chance to do a hands on with the camera yet, but given Nikon's track record, I'm fairly sure it's an excellent performer. With 39AF points, it continues to move previously "pro" features down in price, now to under $1000. This is great news for those who want to get serious about their photography but not break the bank.
Nikon 1 S1 and Nikon 1 J3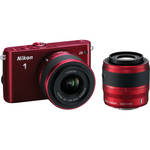 Nikon has upped both the speed (to 15fps with Autofocus) in its mirrorless line with these two new models. The Nikon 1 J3 also bumps the image resolution to 14MP, while the Nikon 1 S1 gets the speed boost but stays at 10MP. The new S1 clearly replaces the old J1 as the entry level product, at $496 with kit lens, while the J3 moves upstream slightly with a $100 price point. The new speed specs sound really incredible, as does the simultaneous video and still capture, however the sensor isn't any bigger than the original V1 and J1 version, so the proof of value for these slick looking models will be in the image quality and whether Nikon has upped its game there as well.
Between Nikon's massive discounting of the viewfinder model (the Nikon 1 V1) and the lack of a model with a viewfinder in the announcements this week, perhaps it has decided to focus on the more streamlined (and lower cost) design of the J (and now the S). I'm still a little puzzled by this, as many of the early adopters of the Nikon 1 were pros who like using viewfinders and chose the V1 model for that reason. Clearly the demographic for today's products is those stepping up from point and shoot models who are more used to LCD focusing. There is a large market of those tiring of carrying DSLRs around, but a transitional product with an electronic viewfinder (EVF) seems preferable for them. Perhaps we'll see a "V3" announced soon.
I'll be writing a bit more from here and Myanmar over the next couple weeks, and of course when I get back to the US and can get some hands on time with these new models. Feel free to post your comments and questions in the meantime. – David