Dates:
2013-09-12 12:30
-
2013-09-21 18:00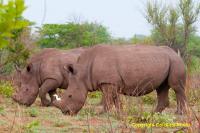 Due to scheduling issues, we won't be doing this trip in 2013. If you're interested in coming along when we do offer it, please let us know by emailing us: safaris [at] cardinalphoto.com.
Two amazing places I really enjoy but aren't typical destinations -- Hwange National Park in Zimbabwe and the Busanga Plains in Zambia. I'm delighted to say the effort has paid off and come together for peak viewing season next September. We'll start with a great couple days getting acclimated while seeing spectacular Victoria Falls.
Since the game in Hwange varies by season and peak season for the large elephant herds and other mammals that frequent the watering holes there is Septermber at the end of their dry season we're planning on September, 2013 for what promises to be an amazing trip. Located alongside Botswana and Zimbabwe, Zambia is well on the way to becoming "the next Botswana" with world class game and a lot less tourists, so we're planning an extension there to one of the top up and coming camps in Africa. So we're in for a treat on both fronts.
Our trip itinerary:
September 12 - 14: Victoria Falls, Toka Leya Camp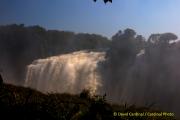 Victoria Falls is one of the natural wonders of the world. Stretching far across the Zambezi River, the falls themselves are only a small part of the area's attraction. River cruises above the falls feature plentiful mammal and bird sightings.
There is no better way to visit the falls area than by staying on the Zambian side at Wilderness's gorgeous Toka Leya Safari Camp. We'll alternate boat safaris with vehicle safaris and a visit to Livingstone and of course the falls themselves. This is a great way to start a safari adventure -- a safari camp within easy driving distance of the airport and the falls. It's a lot more fun than a hotel!
We'll also have time here to get over our jet lag, have an introductory session on wildlife photography, and make sure all our equipment is in working order before jumping off into the more remote areas.
---
September 14-18: Little Makalolo in Hwange National Park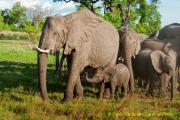 Four nights, giving us eight full game drives in Hwange, one of the most critter-packed areas in the world at one of the best times of year. Mammals, especially large elephant herds, antelope and predators, frequent the watering holes while we're visiting at the end of the dry season. Little Makalolo is the jewel of the park, with only six rooms (luxury tents with full beds, hardwood floors and bathrooms). The water hole right in front of the camp provides plenty to watch and even photograph while we're relaxing between drives.
---
Wildlife at "Little Mak"
Located on the border with Botswana, Hwange was proclaimed some 75 years ago and has served as a haven for one of the densest concentrations of game in Africa. In particular, its great herds of Cape buffalo and elephant (nearly 30 000) are a sight to see. Hwange has some of the highest mammal diversity for any national park in the world. With over 100 species the diversity is incredible: slender mongoose, yellow mongoose, banded mongoose, Selous mongoose, dwarf mongoose, honey badger, black-backed jackal, bat-eared fox, side-striped jackal, lesser bushbaby, vervet monkey, baboon, porcupine, aardwolf, spotted hyaena, caracal, leopard, African wildcat, lion, scrub hare, southern giraffe, hippo, springhare, warthog and Burchell's zebra. Antelope often seen in the area include common duiker, eland, roan antelope, impala, kudu, sable, steenbok, waterbuck and blue wildebeest. White rhino is another special sight to see here; Wilderness Safaris has recently helped translocate a number of these wonderful beasts into the protected park.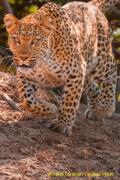 The park is also home to a varied bird community. Typical drier Kalahari birds include Red-billed Spurfowl, Crimson-breasted Shrike, Kalahari Scrub-Robin, Cut-throat Finch, Red-eyed Bulbul and Southern Pied Babbler. A Bat Hawk and African Hobby (summer only) are good finds here, which are sometimes seen at dusk hunting bats and swifts. The plains are alive with pipits, larks and wheatears like African Pipit, Dusky Lark (in summer) and Capped Wheatear. Raptors are plentiful including Martial Eagle, four vulture species and accipiters like the Shikra. In the summer months the bird list is greatly increased by migratory species like Southern Carmine Bee-eaters, Black Kites, Broad-billed Rollers, various cuckoo species, Abdims Storks and European Bee-eater.
September 18-21: Ruckomechi Camp at Mana Pools
Mana Pools Park: The Zambezi River meanders for 300km to the Mozambican border. It is a remote, beautiful place with spectacular views of the broad flowing river, floodplains, the tree canopy and the mountains of the Rift Valley escarpment over the border in Zambia.
This stretch of the Zambezi River is famous for its four main pools (after which the Park is named - 'mana' means 'four' in Shona) - Main, Chine, Long and Chisambuk - which are remnants of channels of the river which stopped flowing years ago. These and smaller seasonal pools dotted further inland hold water all year round, drawing all manner of wildlife and waterfowl during the dry season. The plentiful ana trees that characterise the floodplain shed their protein-rich pods during this time too, providing vital sustenance for many species, particularly elephant.
Ruckomechi Camp lies on the banks of the Zambezi, shaded by a large grove of acacia and mahogany trees and with a superb view of the mountains of Africa's Great Rift Valley across the river in Zambia.
Ruckomechi Camp accommodates guests in ten spacious en-suite tented units, including a honeymoon suite, all of which overlook the Zambezi River. Each tent has both indoor and outdoor showers, and the camp boasts a favorite among guests: its outdoor 'bath-with-a-view' in a secluded, scenic spot. The central dining, bar, library and lounge areas face the escarpment and are connected to the rest of the camp by low-level walkways that minimize our environmental impact. There is a separate deck with infinity pool for swimming and sun bathing, and an inviting, cushion-strewn star gazing deck.
The camp vegetation is dominated by broad canopied albida trees, much loved by elephants for their rich nutritious pods; these animals often join visitors in camp for a light meal!
Wildlife at Ruckomechi
Wildlife viewing is therefore excellent, with large concentrations of buffalo and elephant to be found along the river's edges, while predators such as lion, wild dog, leopard and cheetah are often sighted. Greater kudu, Burchell's zebra, impala, warthog and common waterbuck can be seen on the surrounding plains and the grunting of hippo can be heard all day.
Mana Pools offers fantastic birding, with the river and seasonal pans attracting large numbers of water birds and excellent mix of species in the riverine vegetation and mopane woodlands. Local specials include Three-banded Courser, Western Banded Snake-Eagle, Arnott's Chat, Green-capped Eremomela, African Golden Oriole, Lilian's Lovebird, Böhm's Spinetail and Meve's Starling. Unusual waterbirds include Rufous-bellied Heron, Long-toed Lapwing, Greater Painted Snipe, African Finfoot and colourful clouds of Southern Carmine Bee-Eaters. Even the sought-after Pel's Fishing-Owl is occasionally seen! Camp residents include woodpeckers, Eastern Nicator, Yellow-breasted Apalis and White-browed Robin-Chats with their beautiful dawn-and-dusk song.
In addition to game drives, there may also be opportunities while we are at Ruckomechi for (optional) boat, walking and canoe safaris.

Images from our 2011 trip to Zimbabwe, Zambia & Botswana
Optional Extension: Experience the amazing Busanga plains of Zambia in luxury at peak season

September 21-25: Shumba Camp, Kafue Park, Northern Zambia
Zambia is frequently referred to as "the next Botswana." With a wide variety of wildlife, including both southern African species found in Botswana and South Africa as well as eastern African species found in Kenya and Tanzania, as well as pristine habitat, it is an up and coming destination. There is no better way to enjoy it than at the exclusive, luxury Shumba Camp in Northern Zambia. Shumba has an incredible setting and unique wildlife (including two prides of tree-climbing lions), as well as truly excellent food, service and accommodations.
Pricing and Registration -- will be set when we have dates
Your safari fee includes all local airfare, lodging, meals, drinks, laundry, park fees, camp & concession fees, guide fees, vehicle transportation, safari activities, and photo instruction. All you are responsible for is your international airfare, visa fees and incidentals.
Our Operating Partners:
Journeys Unforgettable handles our local arrangements and planning extensions for our clients. Steve & Brennan have years of experience in organizing and leading trips to Botswana, Namibia and South Africa. They are both avid photographers, and have been helping organize and lead my trips with me since 2005.
JU also has a relationship with South African Airways, and may be able to help you with discounted international airfare.
Wilderness Safaris is without question the very best camp operator in Southern Africa. They own and operate many camps which are used by very high end tour operators like Kerr & Downey -- where you'd pay more and get a lot less of the photo extras we are providing for this trip. Wilderness has been working with us from the beginning on our Digital Photo safaris and always support us above and beyond the call of duty. There policy of not allowing hunting on any of their concessions also helps greatly with our access to unstressed animals. They also provide a portion of all of their revenue to local non-profit development efforts through the Wilderness Trust and Children in the Wilderness.
Testimonials:
Read what George Lepp thought about his trip with Journeys, and what many other past participants had to say.
Remember that Every trip we offer features Top of the line Pro Instruction!
Wildlife & Travel Photo Instruction: All participants will have plenty of 1-1 personal instruction time while we're in the field on game drives. We'll also have focused sessions on taking great scenics and travel photographs. There will be two full time professional nature and wildlife photographers on the trip, insuring that you're never more than a question away from professional and expert advice.
Classroom Photo Instruction: As always, we will have a projector and screen with us and will be providing optional photo instruction in digital workflow and image editing.
Remember: These are not your average African safaris. We have extra luggage room for camera equipment, extra power in the camps for re-charging your cameras and laptops, dedicated photo instruction from professional photographers, guides who have been trained to help get clients in position for good photos, less clients per vehicle (typically 3 or 4 instead of the 7 or 8 you'd get on a typical safari) and have carefully built our itinerary around getting the best photographic opportunities possible.
Dates TBD. We're still choosing between a couple options for the extension, so we'll post more details soon. If you'd like to make sure we let you know when we have all the details finalized email us at safaris [at] cardinalphoto.com. Thanks and we hope to see you on a safari soon!--David Cardinal & Lorrie Duval