Dates:
2015-07-08 18:00
-
2015-07-21 14:00

Session 1: July 8-15, 2015 (

only 1 opening

)
Session 2: July 14-21, 2015 (

only 1 opening

)
2015 is shaping​ up as another great year for Bears & Puffins
It seems like just yesterday, but 2015 will be my 16th year returning to the Cook Inlet in Alaska to photograph America's most spectacular animals. And even though I'm just back, I'm already excited to announce I plan to head back again in July 2015.
Spending a week [6 nights, giving us 5 full and two partial shooting days -- longer than other trips to the area] with Alaskan Coastal Brown Bears, often called Grizzlies, is truly a life-changing experience. Unlike the bears at Brooks Lodge in Katmai, which are stressed out and offer very limited viewing, we'll be able to see bears in their native and un-stressed environment.
One day the bears will be grazing on the nutrient rich grass and the next they'll be up to their shoulder digging in the mud for clams. Without question these are my favorite weeks of the year.
We're guests of an exclusive small lodge -- the unique Silver Salmon Creek Lodge -- catering to small groups and accessible only by plane, and the bears are right in the area, so our shooting opportunities are maximized.
Click on the bear above to visit our gallery of images from 2012,
or you can see some of my favorite images from past trips (some from our traditional photo safaris mixed
in with some from custom "family" trips we've put together to the same location):
Then--as difficult as it is to tear ourselves away from the bears--we'll take boat trips out to photograph both Tufted and Horned Puffins. This is truly a special treat, as we will be there about the only time of year that there are bears and perching Puffins to photograph. We'll have ample opportunity to work on both flight shots of the Puffins and "posed" shots from our tripods of them standing outside their burrows or returning from their fishing trips.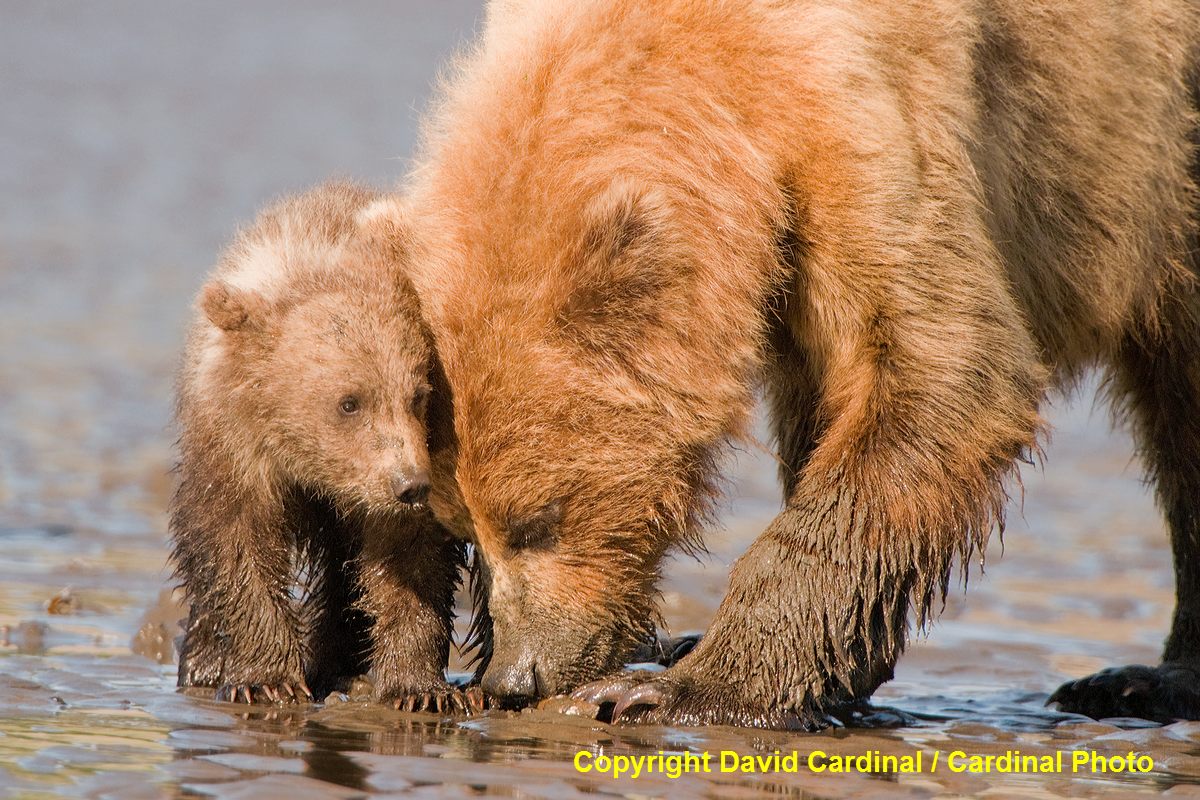 I'll be shooting with you the entire week. The trip is limited to six photographers, so we'll have plenty of time to work together. Each evening we'll talk about the next day's shooting and cover shooting strategies for making the most of it. We'll also review our shooting each day and discuss what worked and didn't work. I'll be happy to answer any questions you might have. I can't guarantee that you'll get world class images, but I'll work to make sure you have the best possible chance!
And of course we'll have plenty of exotic Alaskan scenery to photograph. From brilliant sunrises to eye-popping Lupin and Fireweed fields on the mountains there will be something for everyone. We'll also almost certainly get some chances to photograph Bald Eagles and a variety of other birds.
Both film & digital shooters are welcome. If you need help selecting or renting equipment, let us know and we can assist you. All participants will also receive a detailed package with plenty of information on how to prepare, what to bring, and how to safely photograph the bears and puffins.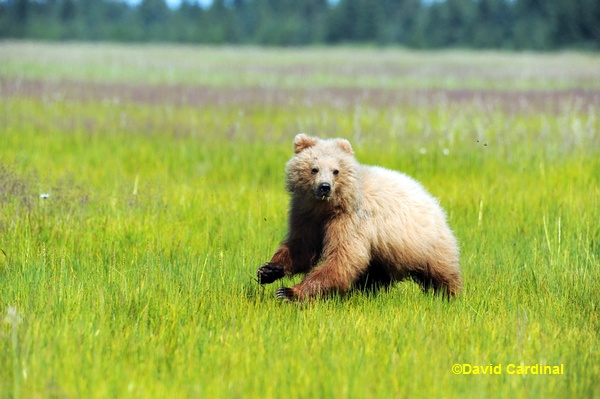 Top of the line Pro Instruction!
Wildlife Photo Instruction: All participants will have plenty of 1-1 personal instruction time while we're in the field on game drives. We'll also have focused sessions on taking great scenics, including panoramas.
Classroom Photo Instruction: As always, we will have a projector and screen with us and will be providing photo instruction in digital workflow and image editing and image enhancement using Photoshop.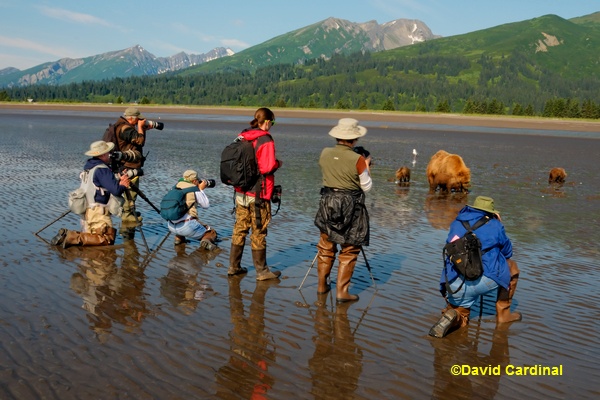 See what our participants have accomplished!
You don't have to believe us when we tell you that there are great opportunities for amazing photos on the trip,
and that you'll learn how to take them. Have a look at the participant slideshow from one of our 2013 trips:
If you've had your fill of photography, we're in one of the world's foremost Salmon fishing spots. Yards from the Lodge is world class Salmon fishing and at low tide the beach has an abundance of Razor Clams to dig for. Clamming and fishing also provide some excellent opportunities for bear photography, so you'll always want to have a camera along.
Trip Report & Update for 2015:
We'll once again have two photo safari sessions, July 8th to 15th and July 14th to 21st . Accommodations will be at the world class Silver Salmon Creek Lodge with three home-cooked meals each day (the lodge features a chef and a baker, and seldom has more than a dozen guests) and nice rooms. Since we're right in the middle of the bear rich coastal plain we couldn't be any closer to the bears, so we'll have all the time we want to photograph them. The Lodge has a boat and captain who will take us out to a Seabird Rookery featuring Common Murres, Horned and Tufted Puffins and Kittiwakes, as well as Auklets and Oystercatchers.
Bald Eagles are seen almost continually, and we can often get fairly good shots of them. We should also have some great opportunities both weeks to photograph clamming bears. Last year we even saw a pair of clamming Ravens--something very new and truly unusual. For non-shooting spouses or companions there are a range of other activities at the lodge, ranging from enjoying the spectacular views of the Cook Inlet to world-class Salmon and Halibut fishing as well as kayaking and boat tours of a nearby lake--which featured a nesting pair of Loons with young this year.
New: the lodge has a rental Nikon 200-400mm lens & tripod for those who either don't have or don't want to travel with their long lens.
It's truly a special trip so we hope to see some of you coming along with us next year!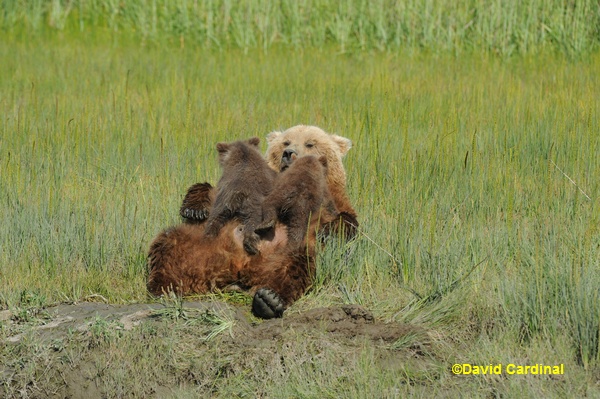 Day-by-Day Itinerary:
Day 1: Meet for dinner in Anchorage
Day 2: Morning private charter flight from convenient Lake Hood field (next to Anchorage Airport) directly to Lake Clark Park near our lodge. Weather permitting, we'll be there in time for lunch and an afternoon (and optional evening) shoot. We're likely to start seeing bears from the time we land, so be ready!
Days 3-7: 5 full days of bear photography, along with a boat trip on the lodge's own custom-built "photo-friendly" boat to visit the Puffin, Common Murre & Kittiwake rookeries. July gives us nearly unlimited shooting hours, with the brightest times mid-day providing some time for (optional) photo classes and working on images (or taking a walk, doing some impromptu fishing, or just relaxing).
Day 8: After breakfast we'll pack up and head back to Anchorage, reversing our charter flight from the beginning of our trip.
Price for 2015: $6495 per person, double occupancy, including photo instruction, all food, lodging, transportation, boat trips & guiding once at the Lodge, and transportation (air charter) from Anchorage to and from the Lodge.
Spouses welcome! $250 discount for a spouse or companion. Single supplement $1100 when available. $300 discount for a non-shooting companion.
Special "Last Chance" pricing of $6295
until we close off registrations -- which will be soon!
To Sign-up, you can register online by
visiting our secure online store, or give us a call at (650) 851-8350!
For more information:
E-mail: safaris [at] cardinalphoto.com
or Call +1.650.851.8350