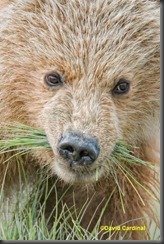 Each year I think our Alaska safaris can't get any better. But this year, our twelfth of visiting with the Bears and Puffins alongside the spectacular volcanoes and the mountains lining the Cook Inlet was the best yet. We had two fun groups (kept small as always so we can move around with the bears and provide lots of personal instruction) and our daughter Annie helping with lessons on Photo Books and with the gear hauling…
July is a special time for the bears of the Cook Inlet. Just about all the moms have brought their cubs out into the open along the water to graze, to learn to clam and to start thinking about fishing. It is still early enough that the bears are fairly relaxed and haven't starting panicking in their fall rush to put on weight for winter. We were treated to many scenes of cubs and moms playing and mothers nursing both spring cubs (born this winter in the den and first out in the world only a couple months ago) and "yearling" cubs—last years spring cubs in their final year before being kicked out by their moms.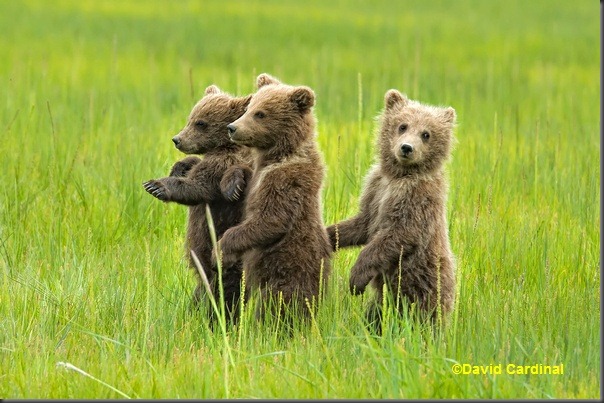 Spring cubs are barely as tall as much of the grass so they frequently stand up to see what is around them, making for excellent photo composition opportunities. Having your lens on a tripod helps make sure you're prepared for when the chance arises.
Nikon D700, Sigma 120-300mm f/2.8 Lens + 1.4x TC, 1/1000s@f/5.6 ISO 1600.
Unique among bear viewing opportunities anywhere the west side of the Inlet features wide open tidal areas where the bears have plenty of food and little reason to fear humans. The result is an amazing experience where we can literally walk while we photograph them in their natural setting without them worrying about us in the least. No platforms, no time limits. On a good day in July there can be almost 16 hours of shootable light there so there is plenty of time for photography and carving out some of the harshest hours for a siesta or some classroom work.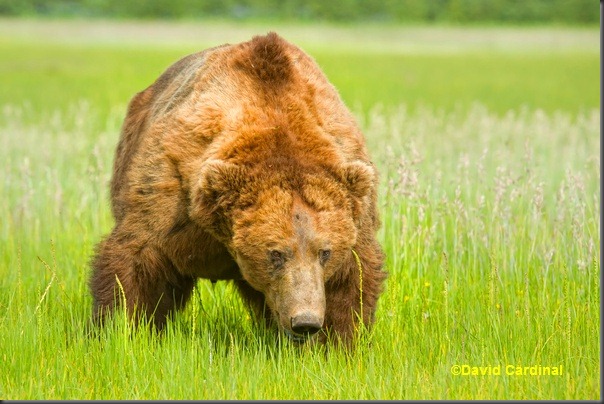 If you have never knelt down in the grass and photographed a half-ton male grizzly at eye level you've got quite an experience to look forward to. These top predators are amazingly tolerant of humans as long as we respect their space and understand their habits. It makes for the photo experience of a lifetime.
Nikon D700, Sigma 120-300mm f/2.8 Lens + 1.4x TC @ 310mm, 1/1000s@f/5.6 ISO 560
Unlike most of the Inlet though we have the luxury of staying in the amazing Silver Salmon Creek Lodge where we enjoy three home cooked meals and a friendly happy hour every day. Home baked breads and desserts make us thankful that we at least get outside and get to walk a bit with the bears. With a dedicated bear guide to handle our transport and safety I'm free to work 1 on 1 with participants (we take a maximum of 6 photographers) on their images and technique.
This year we had a fairly even mix of Nikon and Canon shooters with Tommy who shot Canon and stayed both weeks tipping the scales slightly and putting me in the minority for once

. Everyone came up with a great attitude and had paid good attention to the packing instructions we send out way in advance so things went very smoothly. Even the weather cooperated with just a couple rainy days spread across the two one week sessions—just enough to keep the dust down and the meadows green.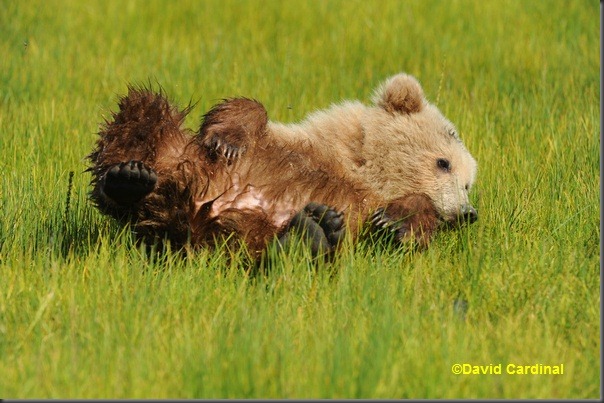 As awe inspiring as the large males are the spring cubs are just as cute. It is hard not to want to take one home but they already have sharp claws and are little bundles of muscle—no matter what they look like when they are playing in the grass like this one.
Nikon D700, Sigma 120-300mm f/2.8 + 1.4x TC @ 330mm, 1/1000s@f/5.6 ISO 400
Interestingly less bears were clamming than last year, but still more than enough to photograph. The big males don't seem to do it much and some of the moms either never learned or are too nervous about being so far from the woods. But a couple of the moms were obsessed with clamming and spent nearly every low tide hour out there stuffing themselves with "cheap" protein to help them nurse. Some of the cubs were very patient and even helped clam a little—or at least bawled until mom gave them some clams, while others disliked the whole idea and were mopey and then whiney from the get go.
One of the great things about being on the ground and near the bears is that we can clearly hear many of their vocalizations. From the whining of the cubs when they want to nurse or their bawling when they don't want to cross a creek or their "purring" when they finally get their way to the "chuff" of a mom to send the cubs up a tree or even the occassional jaw pop when one bear is nervous around another listening to the bears adds an amazing dimension that photos can't capture.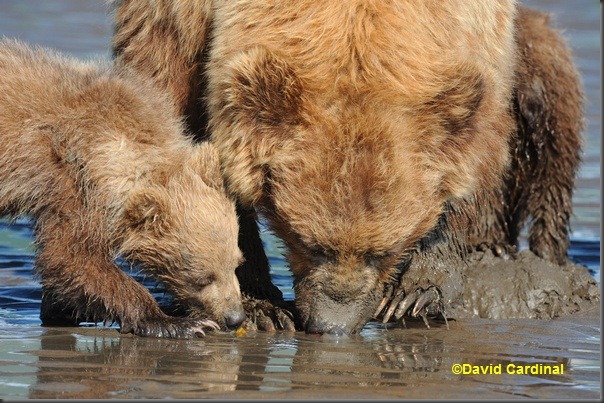 Clamming is a learned behavior for bears. Several old time commercial fishermen claim they taught bears to clam but the bears are mum about where they learned. However they got started it is a novel way to photograph mothers, cubs and smaller males find a high protein food source that won't run away—although the local razor clams will do their best to dig deeper in their tunnels.
Nikon D700, Sigma 120-300mm f/2.8 Lens + 1.4x TC @ 420mm, 1/1000s@f/8 ISO 1100
Once everyone had a good stock of bear and scenic images to work with we ventured up to the Alaska National Maritime Wildlife Refuge in the form of a shorebird rookery spread across a pair of islands. The Lodge's new boat features a photographer friendly open deck in front with a wonderful set of stairs off the bow which makes loading a landing a relative breeze. Numbers at the Kittiwake rookery were down so we didn't get some of the fascinating pattern shots from previous years but we did get some fly-bys by Bald Eagles which set the small Gulls into a panic.
The Puffin rookery was in full swing but our experiences there varied greatly from trip to trip. One day the Puffins would mostly be circling and in the water while another they were perched outside their burrows. There were more Tufted Puffins than usual mixed in with the Horned Puffins, making for a colorful mix. Common Murres seemed more plentiful than normal and it looked like they had taken over some of the areas previously inhabited by Puffins. Auklets, Oystercatchers, Cormorants and a pair of Sea Otters rounded out the critters we saw during out stay on the island.
Red (Sock-eye) Salmon were running big time providing plenty of fresh fish (along with the fresh Halibut caught off the coast) and got the bears quite interested in the goings on. Most mornings and evenings even before we went off to photograph the bears they would come to us and provide some viewing and photography opportunities right near the lodge. In all my years of photographing wildlife around the world there really isn't any equal to the experience of having these top predators co-existing—at a safe distance—from our everyday activities.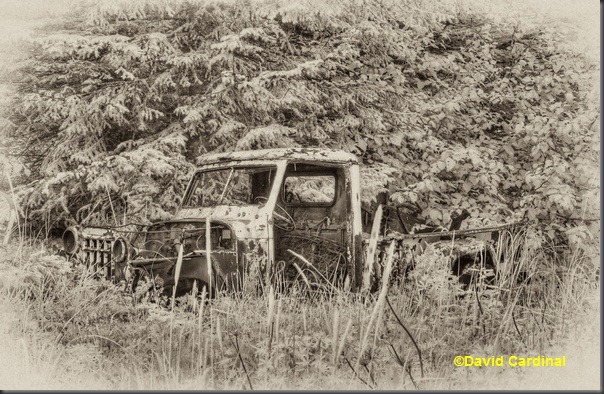 Infrared turned out to be a very popular way to capture the old time spirit of the abandoned trucks in the park. Nikon IR Converted D70
Having plenty of time in the field I was also able to teach a little bit about using HDR techniques with wildlife, photographing scenic panoramas and even some Infrared on abandoned antique fishing trucks that have been near the beach for years. And of course I had plenty of time to help folks with their images and provide critiques on the Lodge's big screen TV and projector.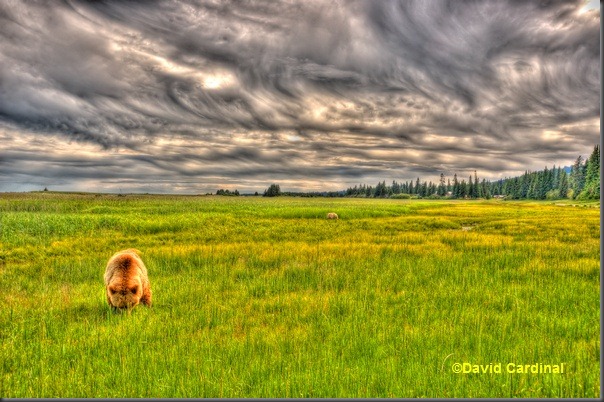 HDR is something of a novelty and not for everyone, but it definitely makes for uniquely full color saturated images of the world—and with the Semi-Manual ghost removal feature of Photomatix Pro it can even be used for wildlife. Nikon D700 24-120mm Lens, HDR.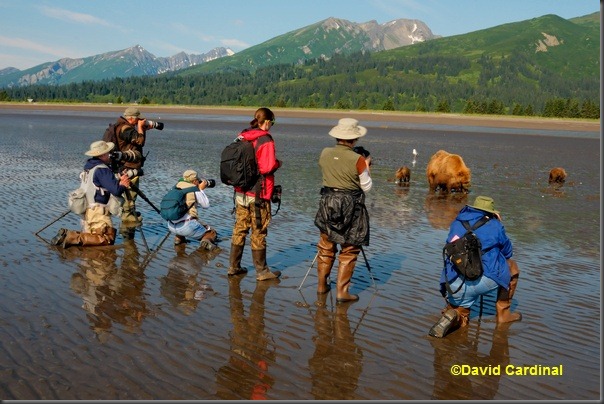 There really is no better day in wildlife photography than spending it with Brown Bears with the sun shining and the mountains and volcanoes in the background on the Alaskan coast. The only problem is topping it the next day! Mud flats make for great reflections and clear shots.
Nikon D300S w. 24-120 Lens, HDR @ f/19 ISO 800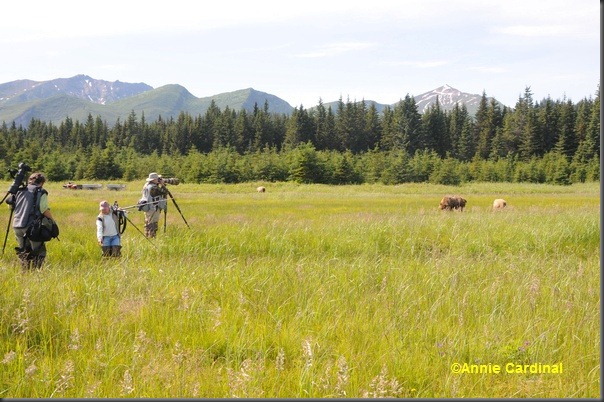 Nothing beats photographing large mammals at eye level.
Photo by Annie Cardinal, Nikon D300 18-200mm Lens, 1/250s@f/16 ISO 560
As always our safari participants contributed some amazing images for slideshows each week which I assembled and we watched as a group and shared with the other guests and the staff at the lodge. This is one of the highlights of the trip as everyone gets to reflect on just how much we've packed into a single week and how much great photography they were able to accomplish. For the first time we've made the participant shows available online for anyone to watch so you can get a better sense of what the week is like and what to expect if you decide to join us. You can see them in my Photodex Gallery.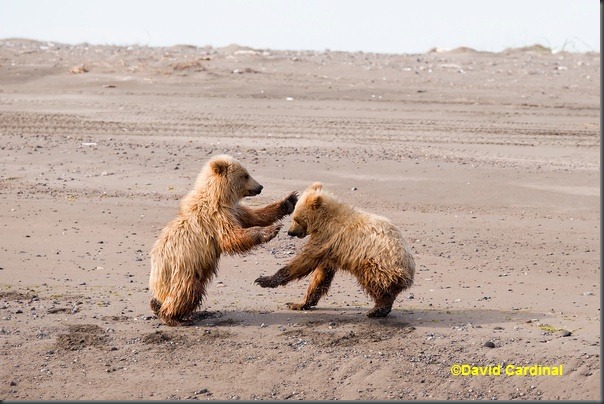 Bears play from the time they are born but the wrestling becomes increasingly serious as they grow up. These second year cubs are still "goofing around" but their play fights will help determine who are the dominant bears on the coast for many years to come.
Nikon D700, SIgma 120-300mm Lens, 12000s@f/5.6 ISO 800
So you've probably already guessed that I'll be returning next year and offering another two 1-week photo safari+workshop sessions on the same dates as this year (July 8-15 and July 14-21). These trips have sold out nearly every year (maximum 6 photographers) so if you want to go or put a small group together please think about it soon. You can sign up online or by emailing us at safaris [at] cardinalphoto.com. As always there is also the possibility of a private group trip before or after my scheduled weeks if I get enough advance notice.
Remember that non-shooting spouses are always welcome. There is canoeing, kayaking, clamming, fishing, and just plain amazing scenery and relaxing to be had in the luxury lodge & cabins where we stay. So I hope you can join us in 2012 for what is shaping up to be another "over the top" trip to Alaska!
To see some of the images captured by our participants this year we invite you to browse the participants slideshow from each of the two weeks online! Keep in mind that these were shows we put together quickly the last afternoon to show for the staff and guests at the Lodge that night. So most of the images haven't been processed and the show itself is pretty rough. But we hope it gives you a great idea of what photographers just like you can get when they join us for the trip.
Special Note on the new Sigma 120-300mm f/2.8 APO HSM OS EX Lens: As you've probably noticed from the captions on my images I was shooting with a brand new lens this year. After many years shooting with my favorite wildlife lens the Nikon 200-400mm f/4 Lens I was fortunate to be able to bring along a review unit of the new Sigma. I was blown away by the versatility of the lens and loved not just the images but the lighter weight. You can check out my full review of the Sigma 120-300mm f/2.8 APO HSM OS EX Lens to learn more.