Back To The Future With The Olympus E-P3 PEN Camera ("Olympus PEN 3")

In a market with literally hundreds of models of cameras to chose from the Olympus PEN cameras have made a name for themselves with a unique blend of old and new. The Olympus E-P3 (PEN 3) is no exception—pushing the envelope of retro metal design in one direction while beefing up its speed to the fastest in its class. There is a lot to love about the PEN 3 as a compact camera, especially street photographers, so I was delighted to take one for an extended field test covering a wide variety of shooting situations…
What Makes the Olympus E-P3 (PEN 3) Special?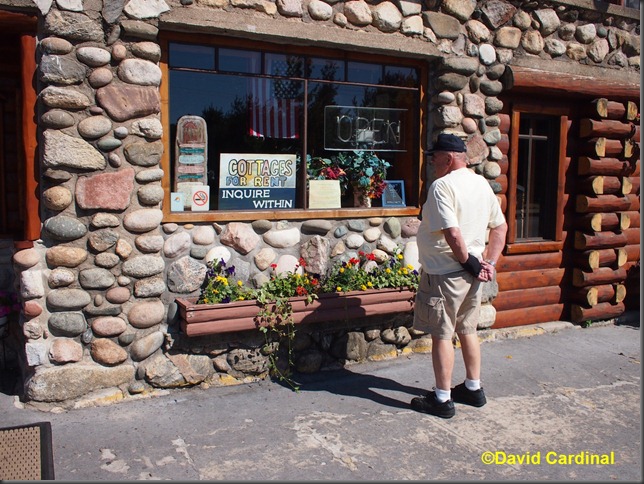 The Olympus E-P3 makes quick work of capturing street scenes with great color and clarity
The Achilles heel of small cameras has always been their speed. Slow to focus and slow to shoot they have been a recipe for frustration in the hands of anyone used to the snappy response of a film camera or a high-end Digital SLR. This is where the Olympus E-P3 shines. It's lightning fast auto-focus (at least compared to point and shoots) and nearly non-existent shutter lag make it a natural for street photography.
Conversely the weak spot of SLRs, digital and film both, has been their size and cost. Here too the Olympus E-P3 stands out as a "pocket-sized" body that still takes interchangeable micro 4/3 lenses. On both counts we need to temper enthusiasm with reality. The E-P3 is not going to suddenly let you capture sporting events you never could before but it is faster at grabbing action than any point and shoot or even small sensor interchangeable lens camera. Similarly it isn't exactly tiny and won't replace your Canon 300HS in your shirt pocket, but it is measurably smaller than the Sony NEX series and certainly substantially smaller than any digital SLR.
Street Camera For The New Century?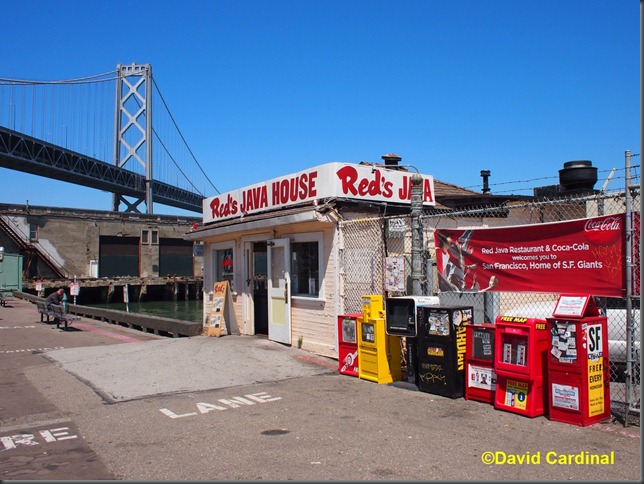 Full sunlight was no problem for the E-P3. Like most of the image samples in this article it was shot with the camera using its own Auto-focus and automatic metering.
As regular readers already know I've been searching for the perfect new "street" camera—small enough to be inconspicuous but quick enough to capture the action, solid enough to survive the handling and high quality enough that the images can be used for publication. Up until now I've been disappointed by one feature or another of each camera, but the Olympus E-P3 fits the bill. It is a perfect next generation street camera when paired with high performance lenses like the Olympus M.Zuiko 17mm f/2.8 or M.Zuiko 14-42mm f/2.8 lenses it churns out excellent images one after another.
In our new and very spoiled era of digital cameras we have become accustomed to using high ISO settings (the equivalent of film speed) to capture photographs in low light. Here is an area where the Olympus E-P3 clearly separates itself from the competition—for both good and bad. On the bright side it has a larger sensor than almost any point and shoot (except for the Sigma/Foveon models) and as a result it does a better job of letting you bump up the ISO and take images in low light. On the other hand the micro 4/3 sensors are not as large as those in Digital SLRs or in the Sony NEX family so the camera will pale compared to those in low light photography.
Image Quality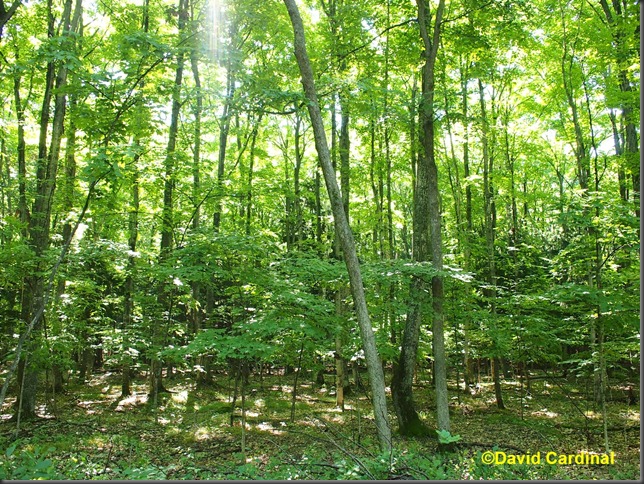 Hiking and backpacking are another great use for a compact camera with a large sensor like the E-P3 allowing the capture of scenes with tricky lighting without breaking your back with heavy gear.
For the size of camera the Olympus E-P3 captures unequaled images. They are clear and well balanced. The camera also supports Raw and also Raw+JPEG shooting which is essential for getting the most out of your images. Ironically much of the promotional material for the E-P3 focuses on its myriad sophisticated Scene and ART filter modes but most of these are just as easy to accomplish after the fact as long as the initial image is captured in Raw mode. For now Raw shooters are handicapped because Adobe doesn't yet support the PEN 3 version of Olympus Raw (.ORF) but that's likely to get fixed quite soon.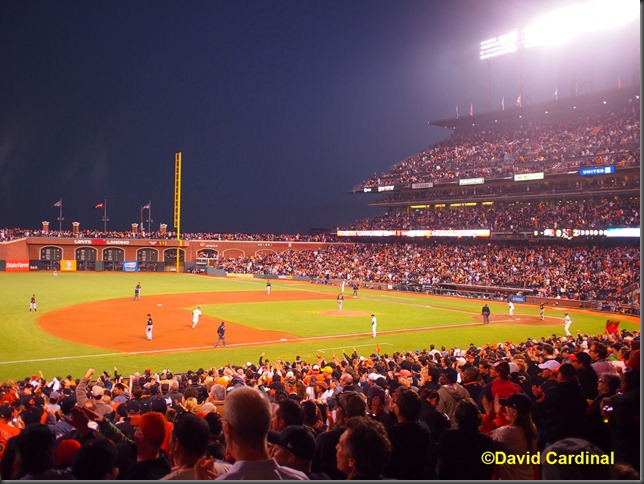 Snapshots from the crowd at a sporting event aren't exactly rocket science but it was great to see the E-P3 deliver solid results easily and quickly (for this one I just turned the dial to iAUTO & snapped)
The E-P3's sensor size positions it (like all micro 4/3 cameras) squarely in between the image quality of point and shoots (with their smaller sensors) and "APS-C" sized digital SLRs. The ringer here is the competitive Sony NEX family which achieves some of the full feature set and small size of the E-P3 but retains the larger APS-C sized sensor of an SLR. That gives the Sony a distinct edge in image quality at the cost of the larger, heavier and more expensive lenses needed to accompany it.
Serious Camera or Tweakers' Dream?
Like many new cameras the Olympus E-P3 suffers from a fundamental design paradox. On the on hand it is targeted at serious photographers who want a stream-lined camera body for fast and elegant shooting. On the other hand Olympus needs to produce the camera in volume to keep the costs (and therefore the price) reasonable so they have filled it with dozens of modes, filters and settings more typically of a gaudy consumer point and shoot. By themselves of course features and filters don't hurt anything. But when they consume valuable control and menu real estate they take away from the primary focus of the camera.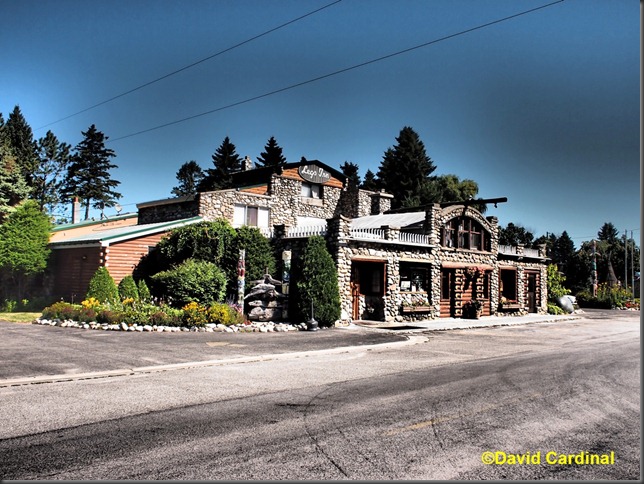 The ART filters on the E-P3 are no substitute for manual tweaking on your computer but they do provide a quick and easy alternative, like this treatment of the historic Legs' Inn in Northern Michigan.
It is definitely cute to be able to adjust a filter called "Background Blur" and see the effects real time in the LCD. But it is hard to see how the same buyer who is looking to recreate the elegant simplicity and quick handling of a rangefinder camera for street photography is going to want to peer into the LCD trying to see the effect of an array of artsy effects while life passes them by. I'd love to see a camera company have the nerve to really target a market like the classic rangefinder replacement head on and really tune the camera for that specific audience.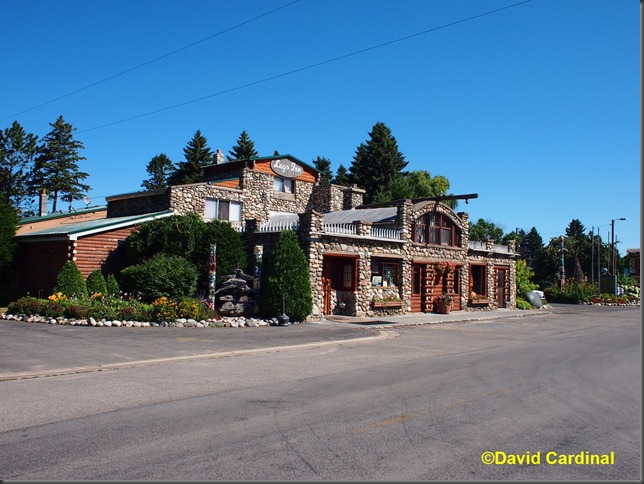 Here is the same scene of Legs shot without the ART filter.
All that said there are some great new features that all this whiz-bang technology allows. The most useful to me is the live histogram in the LCD. No more need to shoot an image then review the histogram and reshoot. With the E-P3 you can display the histogram overlaid on top of the image on the LCD while you're composing and instantly see the effects of your exposure settings.
Usability
The Olympus E-P3 adopts many of the controls found on full-size digital SLRs, including a Mode dial for setting the shooting mode and a dedicated wheel for adjusting the Shutter speed (when in Shutter priority) or the Aperture (when in Aperture priority). The main control rocker could probably be used to drive a car it has so many ways it can be moved. There is the typical 4-way rocker switch plus a center "OK" button and an outer ring which can be turned. On top of this array of ways to fiddle with your settings Olympus has added not one but two Function buttons (Fn1 and Fn2) so the controls can double up. And if you're not confused yet the LCD itself is actually a touch screen which can be used for selecting focus area, moving sliders, etc.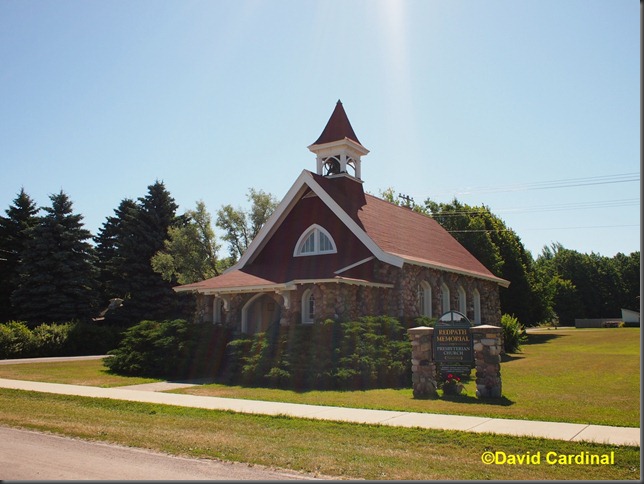 Backlit scenes in full sunlight are a great test of lens quality and camera imaging firmware. The 17mm fixed focal length M.Zuiko lens and Canon E-P3 did a great job of keeping detail in the church's stone walls despite the bright sky and lawn.
So the good news is that there are plenty of controls. But that is also the bad news. Unless you want to spend a lot of time memorizing which buttons do what when you'll find yourself picking a few simple ways of using the camera and sticking with them –probably not a bad thing. But at least almost all the features implemented through one or more of the function and control keys so you almost never need to access the menu system (found naturally under the MENU button). The Menus are mostly reserved for infrequent camera setup needs like setting the Time and Date and reformatting cards.
The manual's description of the controls and how to use them is pretty poor so be prepared to spend some time experimenting. Unfortunately Olympus has also left out any easy way to capture HDR (high dynamic range) images with the camera, which is ironic in an era where even some smartphones are incorporating the technology and Olympus did find room for such odd features as "Express Motion" (apparently another way of setting shutter speed). HDR requires that bracketing be set through the camera menus which is painful enough to keep people from doing it as often as they would otherwise.
It's All About Speed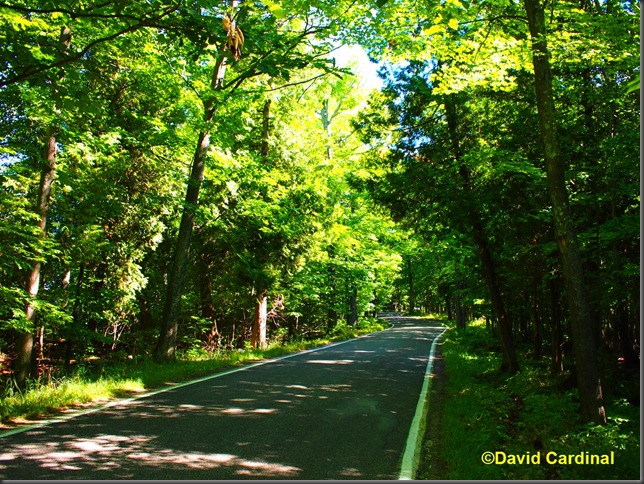 I saw this scene from my bicycle and was glad I had the E-P3 with me. I wouldn't have bothered carrying an SLR while cycling and couldn't have gotten a shot with this much detail in the shade from my point and shoot.
The most exciting thing about the PEN 3 is its speed. It is very quick to turn on, quick to focus, and quick to shoot. It is much faster than any point and shoot or micro 4/3 camera and even faster than some digital SLRs. On a visceral level it is the first compact camera I've ever used that felt responsive like an SLR. Certainly not like a top of the line pro SLR but right up there with consumer models. Unlike other compacts you can also actually hold the shutter down (after setting it to continuous shutter release) and it will dutifully keep capturing images at a respectable 2 frames per second indefinitely.
VIdeo Recording And Playback
Anyone who watches TV (or at least tennis tournaments) has probably already seen one of the many ads for the Olympus E-P3 featuring the tag line that the entire commercial was shot with one. When you're watching an HD set that's definitely a eye-opener. It's not a capability we've learned to expect from a $1K compact camera. So really that speaks for itself.
As far as the specs the E-P3 captures full 1080p video at 60fps with the option to take full resolution stills at the touch of the shutter button during the recording. Of course it can also be used to capture 720p video or lower resolutions like VGA.
You can capture Video in any of the major camera modes (P, A, S, M) and optionally have the camera use continuous autofocus. Unfortunately I found the AF to be disconcerting as it "bounced" a bit when acquiring focus as I moved around the scene. So I suspect that serious videographers will want to work with manual focus or perhaps use AF only in carefully constrained ways.
The E-P3 features built-in stereo microphones and when used with the specially designed Olympus lenses you won't even hear the camera's auto-focus in the background. With an optional adapter external microphones can also be used—typically a must for serious videographers.
You can play videos back on the LCD or through an HDMI output that supports up to 1080i playback.
High ISO & Flash Performance
I was pleasantly surprised both by the power and pattern of the built-in (pop-up) flash and by the E-P3's fairly low noise at ISOs up to 1600. David Pogue slammed the E-P3 in his review for noise when he was shooting an indoor event but he didn't say what ISO he pushed the camera to so it is hard to compare. I've included a sample image at ISO 1600 below so you can see for yourself it looks quite good.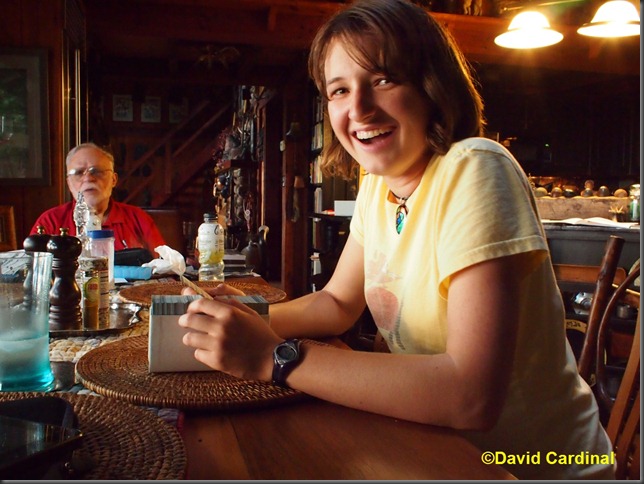 Image taken at ISO 1600 and the pop-up flash of the Olympus E-P3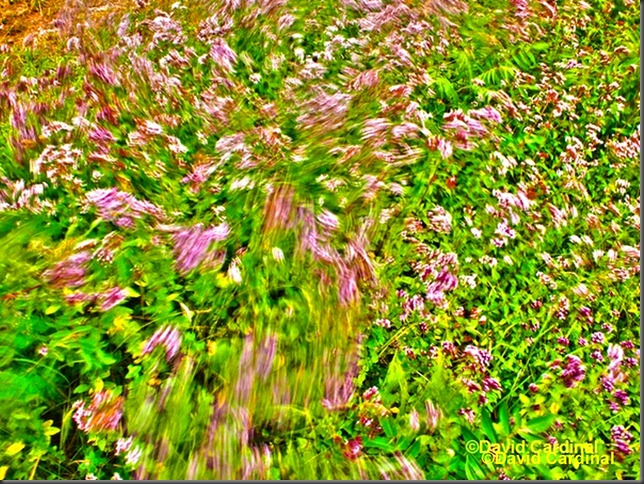 The easy to use manual controls on the E-P3 let you experiment with effects like the slow motion blur on this field of Oregano I wrote about recently.
If you want a no compromise replacement for the joy of street shooting without spending thousands on a Leica then the PEN 3 is for you. It is quick, looks cool, and with the flat 17mm lens (34mm in 35mm equivalent focal length) will fit in a cargo pocket or jacket pocket (but I wouldn't try to put it in your shirt pocket).
However if you want the full low light capabilities of an SLR in a smaller form factor you'll want to consider the Sony NEX-C3 instead. It is also tiny but its larger lenses mean it isn't really a compact camera in the traditional sense. It also doesn't have the elegant "retro" metal design of the Olympus.
And if you don't want to spend nearly $1K to snap your images and don't need the full speed of the PEN 3 then I continue to recommend the excellent Panasonic Lumix LX5 which I reviewed earlier this year. The Canon Powershot G12 is another option but the Lumix is smaller and has better image quality, although more confusing controls.
As always, if you purchase any of the products we review we appreciate your using our B&H Affiliate links like this one or clicking on one of the product display ads in the review. Thanks!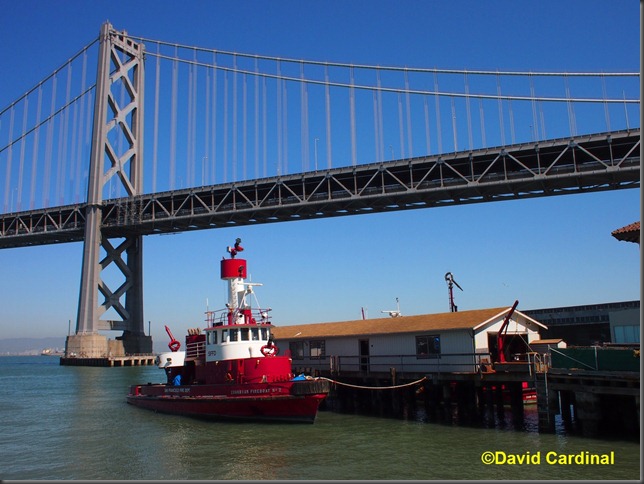 This is a classic image where a traditional point and shoot would fail because of the range of light between the full sunlit sky and fireboat contrasting with the shade on the pier. But the Olympus E-P3 handles it quite well.