B&H New York City–The Ultimate Camera Store And Then Some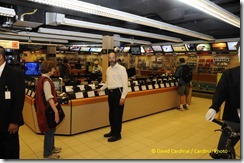 The last time I was able to visit B&H's "superstore" in Manhattan was several years ago so I was excited when I got the "cook's tour" as part of my presentation on wildlife photography there last week. I was blown away not just by the size and selection (after all we live in a land of large box stores) but by the thoughtful presentation and retailing strategies used. The experience is night and day different—and better—than visiting a Best Buy or Fry's electronics, or even many local camera stores.
First and foremost no one is on commission. So they are there to help you shop but are happy to suggest less expensive options or leave you alone if you enjoy puttering through the numerous exhibits yourself. And the exhibits are organized more like a contemporary museum of technology than like a typical slap dash retail display. Items are all in working order, clearly labeled, and organized in such a way that you can make intelligent comparisons. The HDTVs for example are all adjusted so that they have a similar viewing angle from eye level and you can actually compare their images. Try doing that at Best Buy or Frys!
The large selection of products also helps with comparisons. Want to compare headphones? You can try them out from $19 to $1999 and get a sense for what your money buys at each price level. High end display areas like home theater feature a variety of setups for different styles of viewing and different budgets. There is an entire sound proof room for auditioning microphones and an amazing playland for high end videographers with a full recording studio and several million dollars worth of studio quality demo gear.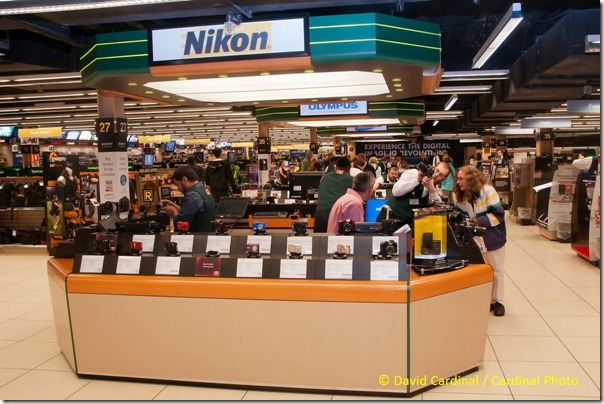 The Nikon counter complete with brand specialists at B&H in Manhattan
Camera counters are organized by manufacturer and the clerks at each are highly knowledgeable about the items on display. Throughout the store in fact the staff is well trained and specialized in the products in their area. B&H can presumably do this because their store is in one of the bet locations on the planet and is perpetually busy so they can have plenty of staff in each area. This is a complete contrast from the other electronics retail outlets I normally get to visit where they have a small number of staff with very limited knowledge even about the products that are right in front of them (there are always exceptions of course and there are some computer components folks at Fry's who really know their stuff and once in a blue moon someone in the electronics department does, but most don't add any value).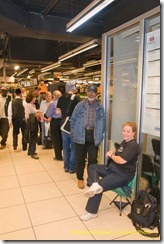 It was fun to get to present at the B&H Event Space. You can see the line for my talk stretched all the way across the store floor and fittingly around the Nikon counter. We had a great two hours of interactive presentation on wildlife photography tips, tools and techniques illustrated with some of my favorite photos from our safaris. Sigma was kind enough to provide one of their new 120-300mm f/2.8 OS HSM Lenses for me to show off and for the attendees to demo after the talk. It is an incredible wildlife lens and a relative bargain at half the price of the Nikon 200-400mm f/4 or the rumored Canon version. It's also lighter than the Nikon by a pound and a half and therefore easier to hand hold when needed.
Thanks to Belinda, Lauren, David, Steve, Yechiel and Chris for a great visit and to Isaac for a super tour. If you've never thought of a photo and electronics store as a vacation destination you should definitely try to stop by the B&H super store the next time you're in New York.
B&H isn't just about cameras. They have a seemingly endless selection of computers and accessories as well as audio-video equipment and other electronics, all the way up to fully equipped video editing workstations where budding videographers can get hands on time with the tools they are thinking of buying.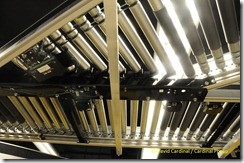 There is a high tech conveyor system to move products around the store so you can quickly get a boxed version of what you've been demoing when you're ready to buy, or they can have it waiting for you when you exit—making it easy to load up on gear without needing a shopping cart or even a basket.
The store was always busy the entire time we were there but unlike so many other retail places there was never a problem finding an employee to answer questions. I'm not sure I've ever seen a retail location outside of Asia with so many people there to help. And I can't stress enough how important it is that they are not on commission. Even our local camera store, while still excellent, often has their sales people on vendor "spiffs" so they tend to push particular products even when they are not a good fit for the customer. There was none of that at B&H.
The only knock I've heard about B&H is from people who think they are "too New York." Yes, they are busy and have lots of other customers so they won't tend to dawdle but I've never met one who wasn't friendly and helpful and if you don't waste their time they won't waste yours.