From birds to blooms in the Texas Hill Country
Mon, 2012-04-23 23:28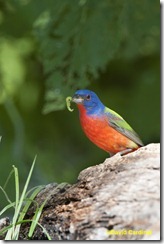 Our Texas Hill Country photo workshop drew to a close today with a full day of photography. We started this morning in the excellent blinds at BCNA, with our co-hosts Larry and Sharron Jay making sure we not only had a great breakfast, but were well set up for the arrival of the sun and songbirds.
The Painted Bunting we had heard all week and gotten a couple quick looks at finally came in near the blind and performed for us. The worm you can see in his beak is part of the reason he wasn't too excited about the feeders – he has had plenty of resources to make his own meals. In this image I captured him perched on a dead log. Of course I would have rather gotten him on a small branch, but the only shots I got of him on "right-size" branches weren't as well lit and didn't include a worm.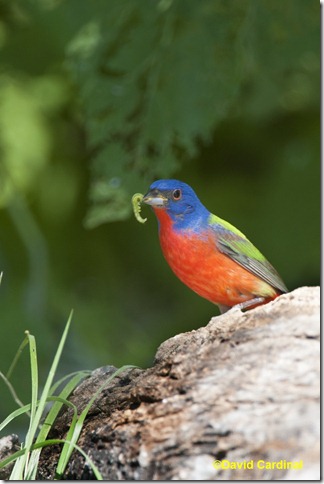 Along with the Bunting, there were a variety of other birds around, but we decided to take a bit of a break this afternoon and head up to a local wildflower grower to work with flora instead of fauna. There were plenty of beautiful flowers, but my favorites were the fields of Corn Poppies. This field has mostly Red Corn Poppies, but there are also some that are more orange in color (like those in the foreground), as well as some yellow-colored flowers.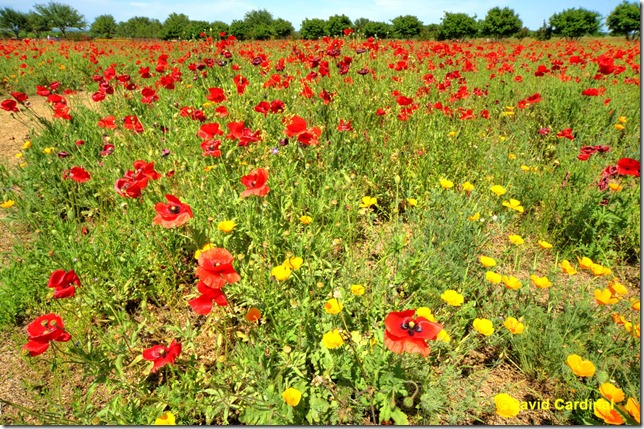 There's no doubt I'll be back with another Hill Country workshop in 2013. If you'd like to be kept in the loop, let us know by emailing safaris [at] cardinalphoto.com. – David