Cambodia Trip Report: Images of Angkor Wat & Environs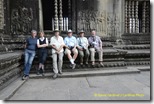 We're just back from a very successful photo tour of Southeast Asia – Cambodia and Myanmar. The first part of the trip found us exploring the Angkor and Rolous temple complexes in Cambodia, along with some of the surrounding countryside and villages. Having been visiting, photographing, and leading trips to the area for nearly a decade, the increase in tourism has been noticeable. Fortunately, there are still plenty of lightly visited temples for those energetic enough to get away from the main tour routes.

Bantay Srei was a popular favorite, as always. I gave folks a quick lesson in panoramas and HDR across the reflecting pool, as it is a great place to experiment with both techniques. Two of us also had Infrared-converted cameras and could capture shots like this one in the dappled light through the trees: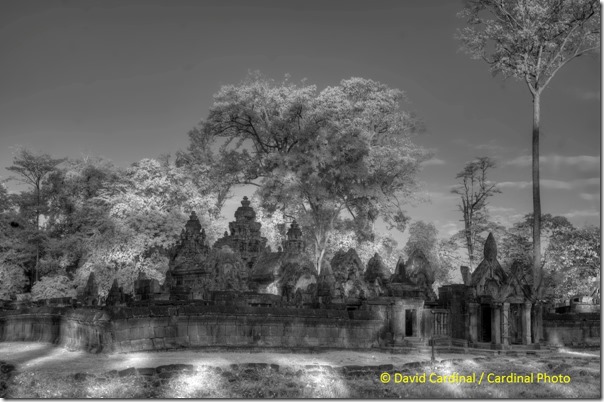 As usual there was something for everyone. Outside a band of landmine survivors played Khmer music and were a photo subject for Ellen, Carol and Dennis: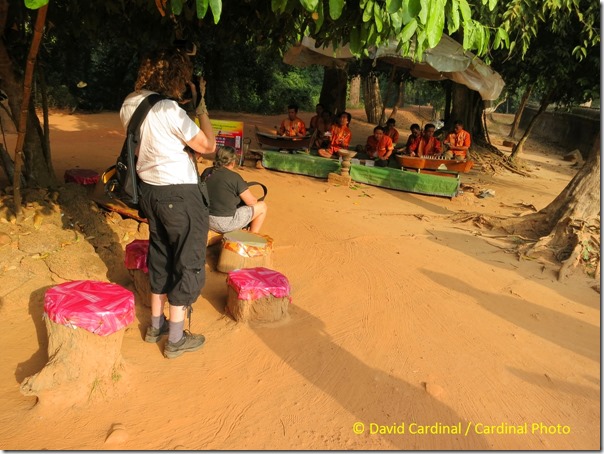 Even though Angkor Wat itself gets a little more crowded each year, it is still possible to take classic images of the temple across its reflecting pools in the early morning: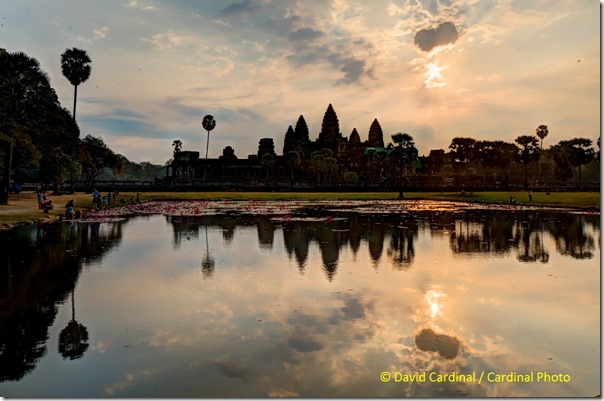 Along with the increase in Western tourists, many monks from throughout Southeast Asia continue to make the pilgrimage to visit the temples of Angkor. Almost universally they are friendly and happy to cooperate with our photographic ambitions. This very patient young monk gladly posed for several members of our group at a resting area in the midst of the remote Beng Melea temple: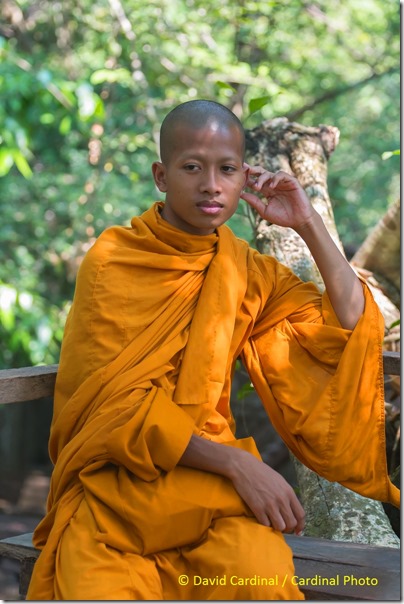 Special thanks to newsletter reader and friend, Bob McCarthy – an archaeologist helping lead the restoration of the Bayon. He spent quite a bit of time with us, explaining the "inside story" of some of the temples and their restoration process. This was a great treat for everyone, and we all learned quite a lot that isn't in the guide books. Especially fascinating to me was his explanation of how the ground had been prepared by the Khmer kings to support the massive weight of the temples through wet and dry seasons – lasting centuries – without any real foundation or pilings.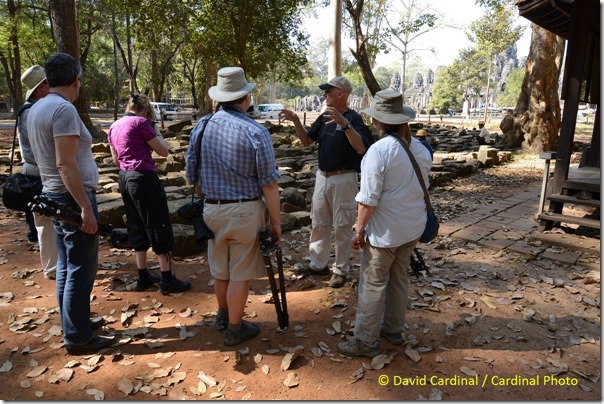 Colorful worshippers always help make for great photo opportunities at Angkor. One of my favorite wide-angle views is of this statue of Vishnu – thought to have been the original centerpiece of Angkor Wat before being moved by a Buddhist king – in the Western gatehouse (Gopura). It can be a little tricky to time the image capture for when no one is in the field of view – as you can see from the leg peeking into the scene on the right. Fortunately, a small job with the array of tools in Photoshop CS6. My Sigma 12-24mm full-frame lens on my Nikon D600 is perfect for capturing this shot: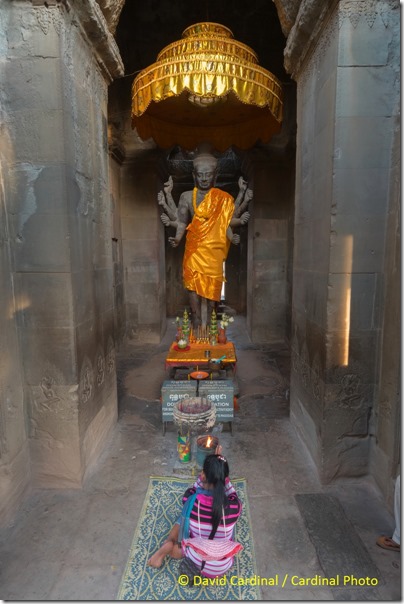 As always, once we were away from the main tourist areas, the children were open and friendly (they are friendly around temples too, but often consumed with trying to sell us postcards or knockoff guide books). This girl was out enjoying the morning on her no-doubt hand-me-down bicycle: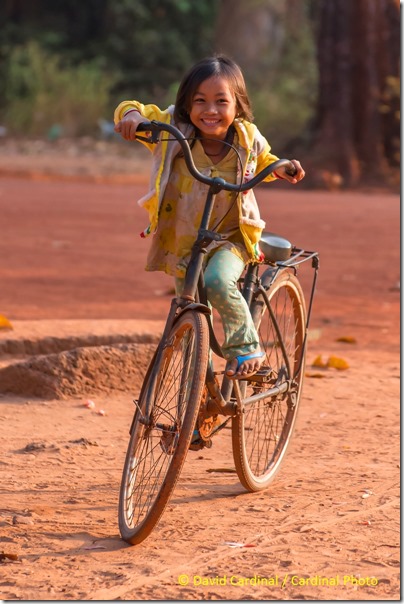 No trip to Cambodia would be complete without a visit to a local market. Not the kind that sells stuff to tourists, but the kind you find in small villages where farmers bring their produce and merchants their wares to sell to each other. This year I experimented with using my Infrared-converted D7000 as I strolled through. I didn't like the results as much as the "bursting with color" images I've gotten previous years, but did get a few images like this one of a vegetable seller that were intriguing: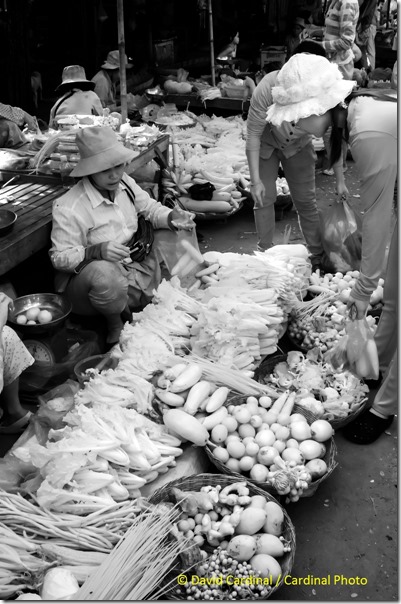 After a busy five days in Cambodia, we all headed off to the airport for Yangon, Myanmar (Burma) for the next leg of our trip. That's a subject for another blog post. If you'd like to join us when we return to Cambodia & Myanmar in December, we'd love to have you along. We've got our itinerary pretty well set, but we won't have final pricing until later in February.