Canon Announces Ground-Breaking "Video" Flash along with new Rebel D-SLRs

For anyone shooting video with a D-SLR you've already figured out that your flash is useless. Instead you need to invest in a separate video light if you want to do any shooting that requires more than ambient light. Until now with Canon's new Speedlite 320EX II which it announced today along with the Rebel T3i and T3. Read on to learn which it's such an exciting innovation…
The Canon Speedlite 320EX II has both a conventional flash tube and an LED light which can be used for video—all for $249. The lower end Canon Speedlite 270EX II flash they also introduced doesn't feature the video light and sells for $149. Both flashes can operate wirelessly at up to 16 feet from the camera, which is pretty cool and similar to the Commander capability in the Nikon CLS (Creative Lighting System) family. A plus is that the Canon flashes don't sound like they will require line of sight the way CLS does, but their range is much less. One other cute touch is the flashes have a remote button so they can be used to fire the shutter on your camera.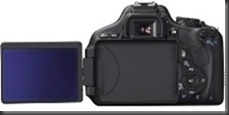 The nominal headline introduction, of the 18MP Canon EOS Rebel T3i D-SLR was actually not as exciting. Canon didn't add continuous Auto-focus—in my book a vital feature for most video situations—to the camera (the way Nikon has done with the D3100). It did add a moveable LCD which is nice but certainly not a reason to buy a new camera. Canon has also upgraded the LCD itself and the interface on the camera with more scene mode options and on camera text explanations for selections.
Canon also announced a new entry level D-SLR model, the Canon EOS Rebel T3, selling at a suggested price of $599 including an 18-55mm "kit" lens, and capturing images at 12MP as well as 720p video.
All of these products are expected to be available in March, so stay tuned for street price and availability updates from B&H.