Creating pro-quality slideshows on the go with Proshow Web
Thu, 2013-11-14 23:28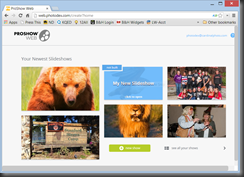 As regular readers know, I've been putting together the pieces of a easy-to-travel-with "digital darkroom" based on a tablet and software. I've written about how a tablet with Photoshop Touch can do a great job of processing images, but was still missing a good solution for creating awesome slideshows without a computer. Fortunately, Photodex, makeers of my favorite desktop slideshow software Proshow Producer, has been hard at work at an excellent version you can use over the web.

Proshow Web is a browser-based solution for creating full-on, pro-quality slideshows that can be viewed online or rendered into just about any video format – including 1080p. I've used it with my desktop in conjunction with its slick SmugMug integration, and its companion iOS app allows end-to-end slideshow construction from your iPad or iPhone. With the upsurge in Android tablets, like my new Galaxy Note 10.1 2014 Edition, I've also verified that Proshow Web is very much usable from an Android device.
How Proshow Web works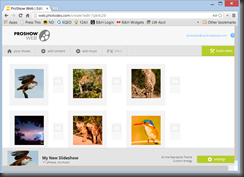 Simply put, Proshow Web creates and stores your slideshows in the cloud (on Photodex's own servers). You interact with it using either your standard internet browser, or the free iOS app. If you also own the desktop version of Proshow, you can seamlessly open a Proshow Web slideshow into it. In my case, that makes it easy to do an initial version of a slideshow from a mobile device, then later do additional editing on my desktop when I return home.

Because it operates on a server, it is actually easiest to use with photos you've already uploaded to a photo or file sharing site. In my case, I use SmugMug for my photo galleries, and have auto-upload to Dropbox set on my smartphone, so it's easy for me to grab photos from those services and put them into a Proshow Web show. Because the photos only need to go from server to server, they typically import very quickly – they don't need to be downloaded to your mobile device at all. Of course, you can also choose local photos from your phone or tablet.
Creating your Slideshow
The great thing about Proshow Web is how simple it is to create a professional-quality slideshow by leveraging all of Photodex's hard work. You simply follow along the wizard-like interface step-by-step. First, pick from one of their many well-thought-out themes to set the tone for your show, then import the images you want to use. From there you can add a soundtrack from your own tracks or some of their royalty-free music library.  You can tweak the Energy Level to speed up or slow down the tempo of your show. That's really all you need to do, but you can also tweak the stylistic effects on any of the slides, or add captions as needed.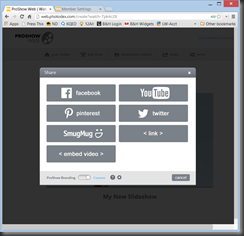 When you're ready, you can preview the show and then output it to just about any resolution video (1080p is available if you purchase a Premium account). Because the videos are generated on Photodex's own powerful servers, you can use high-quality special effects without worrying about needing to render them on your local device. The video of your slideshow can then be viewed online,  or shared to Facebook, YouTube, pinterest, twitter, SmugMug, Dropbox, or on your own website.
With a quick click of the Downloads+Videos menu, you can also download the slideshow video in several formats, including as an ISO for burning a DVD or Blu-ray disk.

Using the iOS Proshow Web app from your iPhone or iPad
Photodex provides a really-well-done, free app for iOS that makes it a breeze to create slideshows directly from your iPhone or iPad. It packs essentially all the power of the web interface into a slick touch-based iOS version. You can add images, select themes & music, change the energy level, build your show, as well as create video versions of it for sharing and download – right from the app.
Of course, since the shows live in the cloud, you can also quickly share it with other online sites without having to download and re-upload it. The functionality is all built-in.

Using Proshow Web from your Android tablet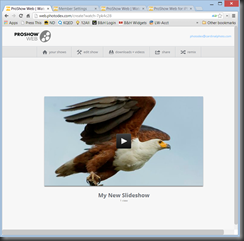 You can use Proshow Web from an Android tablet or phone via the Web browser interface (http://web.photodex.com). However, because the interface isn't customized for small screens, you'll likely be much happier using it from a tablet than from your phone. In my case, I found some issues using it with the Chrome browser on Android, but the default browser worked fine. I was able to select images from my SmugMug account, Dropbox account, or from the local photo gallery on my tablet. To use images from my phone I simply used auto-upload to Dropbox, or uploaded them to my SmugMug account, so that I could access them from my tablet or desktop.
You can learn more about Proshow Producer on the Photodex website, as well as about Proshow Web.