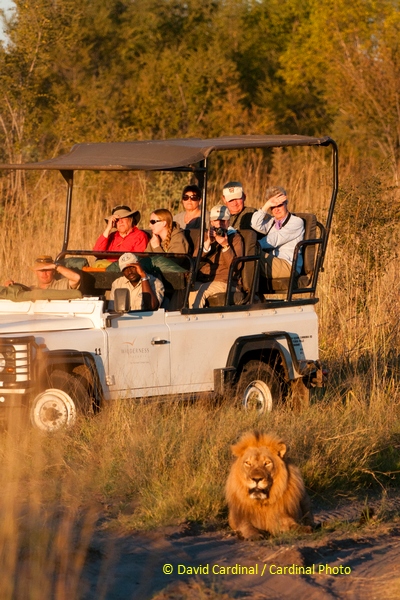 [Maximum 8 photographers, SOLD OUT]
If you'd like to see some of the best Africa has to offer, consider our September, 2013 trip to Zimbabwe and Zambia.
I'm pleased to announce our next trip back to the magical wildlife photography of the Okavango Delta and Linyanti/Savuti areas of Botswana. Once again we've been able to secure accommodations at several of the very best camps in the country--on private concessions in prime areas for photo safaris. We've made the trip modular so whether you only have a limited time to spend with us or the luxury of an extended safari you can participate. And we've added a special discount for non-shooting or casual shooting companions who don't need as much room and weight for camera gear. Read on to learn more...
The trip starts on November 29th, 2012 with an overnight in Johannesburg. For anyone desiring a taste of JoBurg & Soweto, we can book you a room for the night of the 29th and will have some type of local tour activity the morning of the 29th. Once we're all in town on the 29th, I'll provide some initial classroom instruction and work with all participants to ensure all our gear is working properly before jumping off into the bush. We'll then fly up to Maun in the heart of northern Botswana on November 30th, where we'll be treated to a short educational program with a local biologist and learn and explore a little more about the land and people that gave birth to "The Ladies Number One Detective Agency" and is often cited as the best run country in Africa. After a relaxing day learning about the area, the animals and exploring the nature trails we'll overnight at the scenic luxury Royal Tree Lodge situated on the Okavango River.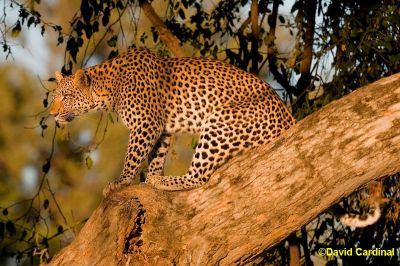 We'll then fly on December 1st by chartered plain from Maun into the heart of the world famous Okavango Delta in Botswana where we spend the next three nights at the newly rebuilt Chitabe Camp. This is my all time favorite camp for truck-based game viewing, with a long-term and dedicated staff of guides and managers who always make us feel like part of the family. On a recent trip they found a pack of 21 Wild Dogs for us--including 12 pups--and it was the experience of a lifetime to spend time watching them meet, greet, hunt, feed and play. And every visit there has resulted in amazing leopard photography opportunities and sometimes cheetah as well as lion of course. And of course plenty of antelope, giraffe, zebra and other general game animals.
From Chitabe we'll once again travel by chartered plane to a unique island camp in the northern Delta--Little Vumbura--Little Vum as it is known to its fans provides an unparalleled variety of both game and exploration opportunities. In addition to conventional truck game viewing we'll have the opportunity to explore the waters of the delta by dugout canoe (Mokoro) and by small boat. These activities provide a very different view and experience of the magical Okavango River and its Delta and will give us opportunities to get some close-up shots of Spotted Leopard frogs, Malachite Kingfisher and other normally hard to see but very colorful inhabitants of the Delta. We've also had consistent luck photographing Hyena dens with young pups on several trips there which is always a highlight. Multiple prides of lions can be seen, sometimes hunting Cape Buffalo in dramatic fashion. The variety of options available at Little Vumbura make our four nights there an ideal length of time to explore the area. The unique experience of 4 days at Little Vumbura alone may well be worth going to Africa for!
---


---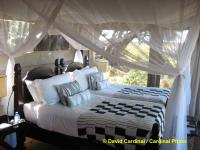 Tent at Little Vumbura Camp. All the camps we are using have deluxe facilities with indoor and outdoor showers in each tent, toilets, two large sinks, a desk with electric power points, chairs, a couch and full beds (like those pictured). The tents are all separated for privacy and front onto open areas frequented by game.
Extension to the Linyanti Region: For those with limited time to spend with us you can then head back to Johannesburg and homeward on December 8th. Or we're delighted that we'll be able to visit one of the most beautiful camps in all of Africa for an optional extension to King's Pool Camp in the Linyanti. Once again we'll head up there by chartered plane with views of the Okavango Delta and the Linyanti River and Zib lagoon on the way--and an overflight of the famous Savuti Channel which we'll be visiting from the ground. King's Pool is sited directly on the Linyanti and hippos are often found directly in front of the camp's tents and dining area. It is a top of the line luxury camp so the "tents" are really elaborate bungalows with plenty of small touches which make any stay there a pleasure. But of course the highlight is the wildlife. The river setting makes King's Pool an excellent place for Giraffe and often herds of Elephant coming down to the river to drink. Birds are also in abundance with nesting colonies of Bee-eaters and frequent Fish Eagle sightings being just a couple of the unusual images we expect to be able to capture. We'll have plenty of time to explore the area and the grandeur of the Premier camp during our 3-night stay there. On December 11th, those who join us for the extension and I will head back to Johannesburg, unless you'd like us to help you arrange additional sightseeing or safari extensions.
Pre-trip Special Extension--Soweto: For those with a little extra time to arrive early and an eagerness to learn more about the diverse cultures and history of Johannesburg and Soweto we are arranging a special custom tour. This means arriving in Johannesburg one day early (November 28th instead of November 29th). Please let us know if you're interested. Final pricing will depend on how many folks sign up.
Our Operating Partners:
Journeys Unforgettable handles our local arrangements and planning extensions for our clients. Steve & Brennan have years of experience in organizing and leading trips to Botswana, Namibia and South Africa. They are both avid photographers, and have been helping organize and lead my trips with me since 2005.
Wilderness Safaris is without question the very best camp operator in Southern Africa. They own and operate many camps which are used by very high end tour operators like Kerr & Downey -- where you'd pay more and get a lot less of the photo extras we are providing for this trip. Wilderness has been working with us from the beginning on our Digital Photo safaris and always support us above and beyond the call of duty. There policy of not allowing hunting on any of their concessions also helps greatly with our access to unstressed animals. They also provide a portion of all of their revenue to local non-profit development efforts through the Wilderness Trust and Children in the Wilderness.
Testimonials:
Read what George Lepp thought about his trip with Journeys, and what many other past participants had to say.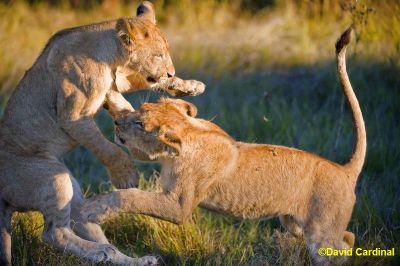 If there is sufficient interest we may offer a further extension to the Central Kalahari to get a glimpse of the world of the Kalahari bushmen. Let us know and we'll get you more information on that opportunity.
This trip is limited to a maximum of 12 clients--a great ratio when you consider we'll have two pro photographers as leads--spread across 3 vehicles giving everyone lots of room. We are offering a discount for non-shooting companions who don't need the extra luggage allowance and vehicle space we normally purchase for all our photo clients.
The main safari from November 29 to December 8th is priced at $13,900 all inclusive except for your airfare to Johannesburg. There is a $400 early bird discount if you book by December, 2011, and a $1,000 discount for non or casual shooting companions. You can sign up online now or please let us know if you have any questions please by email: safaris [at] cardinalphoto.com. Trip balance is due 50% 90 days prior to the trip and 50% 60 days before the trip.
We'd love to have you join us on one of these "Trips of a lifetime". After having been all over the world, there is no place better for photographing wildlife than Botswana. For anyone who is serious about photographing animals the trip is worth it!--David Cardinal
PS If you're not ready to sign up yet but want to be kept informed about future safaris, please email us at safaris [at] cardinalphoto.com to let us know. For more information: E-mail: safaris [at] cardinalphoto.com or Call +1.650.851.8350
Ready to experience the wildlife safari of a lifetime?
Sign up now to guarantee your space!
Remember that Every trip we offer features Top of the line Pro Instruction!
Wildlife & Travel Photo Instruction: All participants will have plenty of 1-1 personal instruction time while we're in the field on game drives. We'll also have focused sessions on taking great scenics and travel photographs. There will be two full time professional nature and wildlife photographers on the trip, insuring that you're never more than a question away from professional and expert advice.
Classroom Photo Instruction: As always, we will have a projector and screen with us and will be providing optional photo instruction in digital workflow and image editing.
Remember: These are not your average African safaris. We have extra luggage room for camera equipment, extra power in the camps for re-charging your cameras and laptops, dedicated photo instruction from professional photographers, guides who have been trained to help get clients in position for good photos, less clients per vehicle (typically 3 or 4 instead of the 7 or 8 you'd get on a typical safari) and have carefully built our itinerary around getting the best photographic opportunities possible.