Extreme Value Nikon D7000 Vertical Grip Now Available (Neewer/Meike Grip, $40!)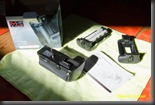 A big reason I've waited so long to buy a Nikon D7000 even after my enthusiasm with my review unit earlier this year was the new format vertical grip. I wasn't looking forward to carrying two vertical grips since I'd also want my current one for use with my Nikon D700 and Nikon D300s. But I also didn't want to shell out the cool $219 for the OEM Nikon MB-D11 Vertical Grip (when they are in stock), since I already had one vertical grip. I'd had good luck with Zeikos "knock-off" grips before but at $99 the Zeikos alternative vertical grip didn't seem like enough of a savings to justify going with a lesser product. Enter the amazingly priced Neewer Vertical Battery Grip for Nikon D7000
…
The grip is available for just about $40 from Amazon (it isn't currently sold by B&H. As with other third party vertical grips it is definitely not as solidly built as the Nikon version. So if money is no object I'd stick with Nikon. But so far (I've only had it for a week) the Neewer grip has worked very well. It comes with both a "cartridge" for a spare EN-EL15 to power it and a "cartridge" for AA batteries. As with other grips the new long life rechargeable AA batteries are an excellent option. Like the Nikon version it takes 6 AA batteries, something of an unusual number since most chargers come in multiples of 4 but the EN-EL15 option seems ideal since you can use your current D7000 charger and they last nearly forever anyway.
For those who might wonder about the purpose of adding a vertical grip, there are several. First, it allows you to add additional battery capacity to your camera for extended shoots. Second it allow you to hold the camera vertically with a solid grip. Third it adds a shutter release, AF sensor thumb control and command and sub-command dials for use when in the vertical position. Finally with some cameras like the D300/D700 it can increase the frame rate but that doesn't appear to be the case with the Nikon D7000 which has 6fps from the get-go.
In my case battery life is not high on my list of reasons for a grip (after all I can always just keep a spare battery in my pocket and swap it out in a few seconds). I'm motivated by the handling of having a vertical shutter release and AF button plus dials. The Neewer provides all that along with the familiar recessed space to hold the rubber cover for the connector once you take it off your camera.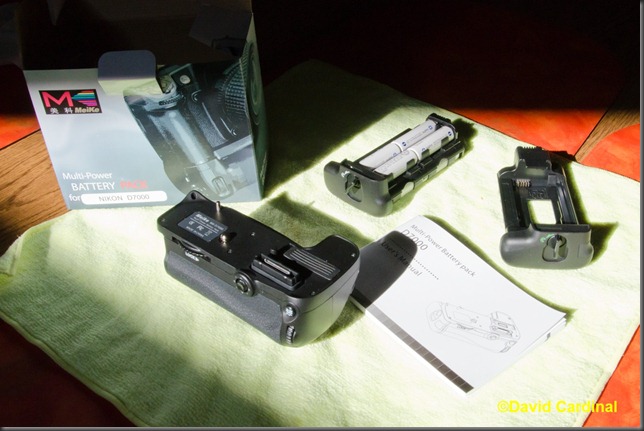 The Neewer Vertical Grip (box comes branded as Meike) includes the grip, two battery holders
and a manual. For $40 it might be the best deal you've gotten in a long time on a D-SLR accessory.
So I'm sold on the inexpensive version, at least so far. At $40 it's certainly an inexpensive accessory that you can experiment with to see how it fits your shooting style! As always if you buy one let us know of your experiences.