Making Something out of Nothing
Sat, 2009-05-30 23:52
One of the great things about modern cameras is how they can help you make something out of nothing...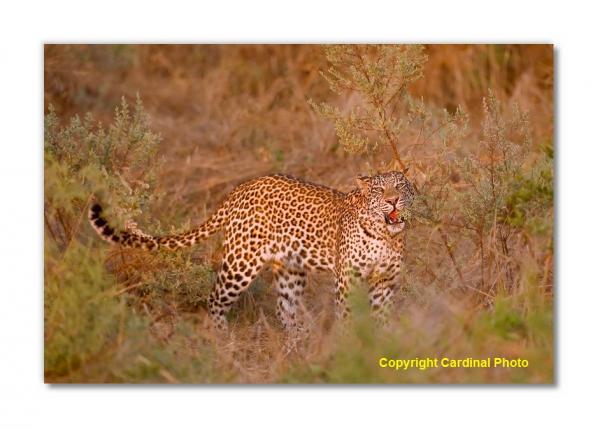 Leopard After Sunset
I was reminded of that when I was looking for some new banner images for this site. The photo of a Leopard that I chose is one that would not have been possible even two years ago. The sun was setting and the scene was almost entirely in shade except for a tiny bit of light shining on the leopard. It was chomping on a branch so I needed to have some shutter speed to freeze the motion. So my first problem was that I needed to shoot at ISO 3200 to get the 1/1000s shutter speed I wanted (I was shooting hand held from a truck with my 200-400 wide open at f4). If I'd been closer I might have had my 70-200 f/2.8 on the D3, but because of the distance only the 200-400 gave me the range I needed. Fortunately the D3 came through with a low noise image even at ISO 3200. My next problem was the image size. Even with my long lens I needed to crop the raw image a bit to create the composition I wanted. Fortunately the 12MP resolution of the D3 made that a snap. Finally the shade and high ISO combined to drain nearly all the color out of the image. But I was able to subtly add most of it back using Photoshop. The resulting image, while it is not the equal of the same scene shot in perfect light, is perfectly usable. You can see the image I started with below. This is a tribute to the FX sensor found in the Nikon D3 and now also in the Nikon D700. At $2350 from Amazon, less than half the price of the D3, the D700 is certainly the better pure value if all you need is the sensor. But if you need the 9+ fps or other features of the D3, the Nikon D3 is definitely the cadillac of the product line at $4350 from B&H, with a current free shipping offer.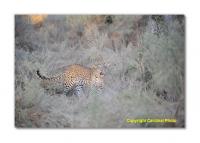 Original Raw file of Leopard Shot: Original Raw file of Leopard Shot at ISO 3200
Original Raw image (rescaled, of course)