Nikon 70-300mm AF-S VR Lens: Compact and Competent
No lens has been more of a workhorse in the Nikon lineup than the mid-range pro zoom. Starting life as an 80-200mm f/2.8 lens for film, it has gone through many iterations until the current Nikon 70-200mm f/2.8 AF-S VR II Lens version. However, its $2400 price tag, 8" length, and 3.4 lb. weight mean that it isn't right for everyone or for every situation.
Enter the sleek, slender, but still well-built Nikon 70-300mm AF-S VR Lens. At 1/4 the price and less than half the weight of its bigger brother, with a built-in focusing motor (AF-S) for fast focusing, the lens is a tempting alternative for travel assignments or everyday use. It's extra range (300mm versus 200mm) also means that it doesn't require a teleconverter to bring distant subjects into the frame.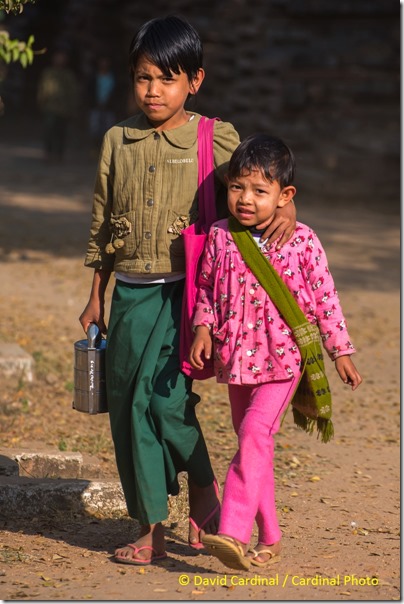 It's hard to complain about a $600 lens that provides excellent images throughout a 4:1 zoom range along with fast focusing. Don't expect it to massively isolate the subject like its bigger f/2.8 brother though.
Field Test of the Nikon 70-300mm Lens in Southeast Asia
Wanting to know how this lens's appealing combination of features stacked up in the field, I took one to Asia with me for our Cambodia and Burma photo tour instead of my usual 70-200. The first thing I noticed is that the lens fit nicely into the main compartment of my ThinkTank Speed Freak belt pack, instead of requiring a separate pouch like my 70-200 f/2.8. The lens was solid, and the zoom and focus rings both operated smoothly.
In the course of three weeks, I shot over 2,000 images with the lens, combined with my Nikon D600 and my full-spectrum-converted Nikon D7000. Overall I was quite pleased. The images were crisp, and the focus motor did its job by letting me quickly capture action in local markets and on streets.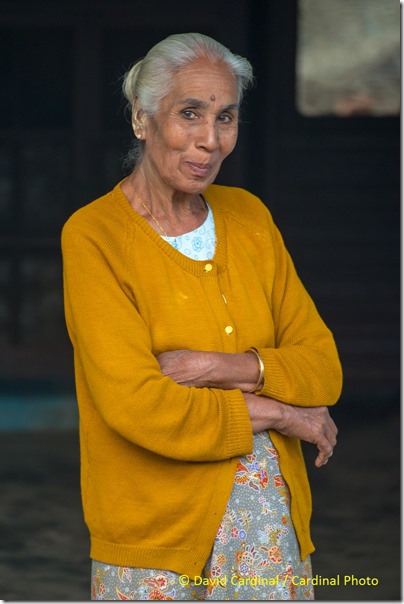 While "everyday life" (EDL) shots are a classic use of the larger 70-200mm f/2.8 lens, the compact 70-300mm version is less threatening to many people. Especially when used on a smaller camera body it doesn't look quite as scary.
Light falloff and Vignetting
One big advantage of Pro glass is less light falloff. Showing up as vignetting, especially when using a full-frame body, light fall off used to be a fiercesome enemy to battle after the fact. There is no question that the 70-200 f/2.8 does a much better job of staying bright in the corners than the 70-300, especially at the long end. However, with Photoshop CS6 and Lightroom 4, Adobe has begun providing some excellent, built-in, filters to correct for light fall-off and other lens problems. While that isn't a free lunch, it makes it a lot more acceptable to use mid-range zoom lenses instead of feeling obligated to drag full-up Pro lenses around.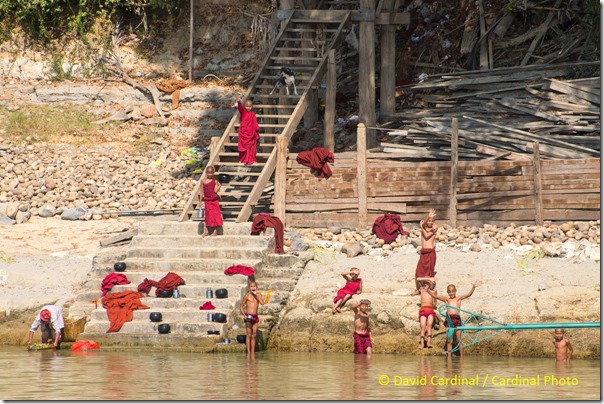 The 70-300 isn't just for portraits. As a travel lens, the 300mm length is ideal for closing in on distant scenes like these novice monks washing themselves and their clothes in the Irrawaddy River.
Sharpness and Subject Isolation
Sharpness also used to be the province of Pro glass. With the advent of modern CAD-designed lenses, though, more and more mid-range zooms are delivering acceptable image sharpness. The 70-300 is no exception. Images were technically very sharp when properly focused. However, apparent sharpness of an image also has a lot to do with how much the subject "pops" out from the background. The slower (smaller maximum aperture) 70-300 doesn't do as good a job of isolating portrait subjects. As a result the images can lack the sheer intensity of those shot at f/2.8 with Pro glass, even though the subject itself is actually almost as sharp.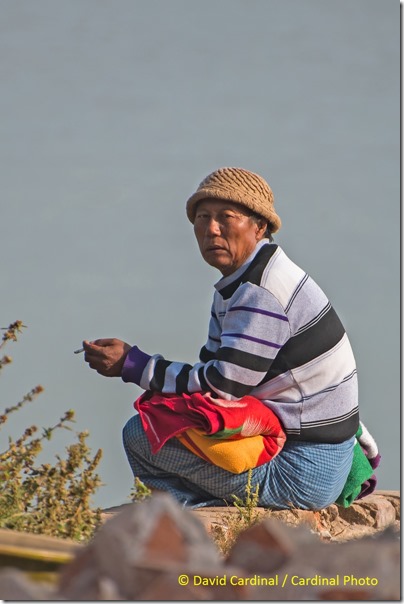 The center of the Nikon 70-300 provides an even light field and crisp image details, even when fully zoomed in to 300mm, like in this image shot at 300mm wide-open at f/5.6 from a pottery-making village along the Upper Irrawaddy.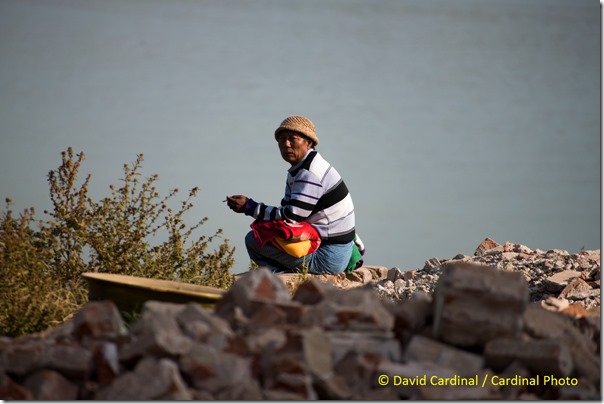 The uncropped version of this image shows the light falloff that is present when the 70-300 is used fully zoomed to 300mm without lens correction applied in Photoshop or Lightroom.
If you are on any type of limited budget (money, space, or weight) but can afford to spend $600 and carry a long zoom, the Nikon 70-300mm AF-S VR Lens is for you. An excellent travel companion that's easy on the pocketbook and fits in a large beltpack, you won't have to be ashamed of the images you capture with it. If, however, you have the $3,000 to spend on a Nikon 70-200mm f/2.8 AF-S VR II Lens and a Nikon Teleconverter, then clearly that combination is still faster, slightly sharper, and provides greater subject isolation.
In my case, I relished the flexibility of carrying the 70-300 for the trip, and didn't miss the bulk of my larger 70-200 or the hassle of swapping a Teleconverter, but I did miss being able to push my aperture wide to f/2.8 to isolate my subjects. I just couldn't quite make my portraits pop the same way I can with my larger, heavier lens. I might still add a 70-300 to my bag for when I'm traveling light, but it won't replace the 70-200 for major projects.