Nikon D4S Field-tested: All the camera you can fit in one body
Thu, 2014-05-15 15:01

After two weeks of nearly constant shooting with the Nikon D4S during my photo workshops in Texas, I am more impressed than ever with the camera. I've already posted about its ultra-high-ISO capability, but this field test was more about how it performed as an action camera in both good and poor light situations. In short, it delivered. The Autofocus is the fastest I've ever used, and the nearly instant triggering of the shutter allowed me to capture more peaks of action than with any other DSLR I've used….
Camera Performance
Speed is one of the major reasons to shell out for a Nikon D4S. At 11 fps with a tiny shutter lag, it is one of the fastest DSLRs on the market. It's capacious buffer is good for over 100 Raw files (depending on settings) or 200 Fine-quality JPEGs.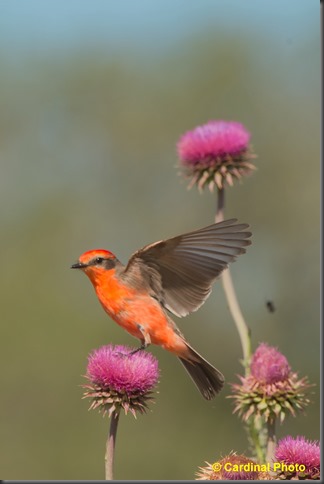 I can't say that I scientifically measured what percentage of "in action" images I got with the Nikon D4S,
but I'm certain it is more than I ever have before. Many times I was able to get photos of songbirds taking off and landing,
something that is never easy (they don't exactly glide, or give much warning either way)
This Vermillion Flycatcher was no exception. Even though he only made a few passes at the thistles, I got
several frames of him with wings out either landing or taking off.
The Nikon D4S captures 16MP still images, and can record 1080p video at 60 fps. Serious videographers will appreciate its support for simultaneous uncompressed HDMI and processed H.264 video output.
Camera Ergonomics & Controls
Once you get over the fact that the Nikon D4S is one of the largest and heaviest DSLRs ever made – weighing about 3 pounds – and find a way to support it, the controls are fun to use. There are plenty of them, with buttons and joysticks and dials littering every surface of its large body – with key ones like the AF stick, control wheels and shutter release duplicated for vertical shooting.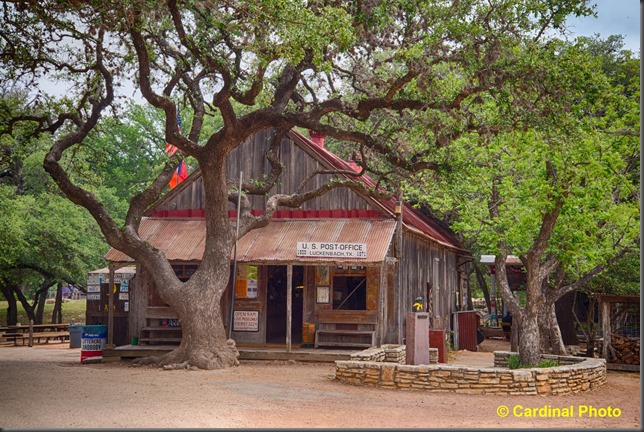 Even the awesome sensor of the Nikon D4S can use some help
once in awhile, like with HDR for this high-contrast shot of the
famous Luckenbach General Store in Texas.
I love having bracketing information displayed in full (both number of frames and f-stop range) in the viewfinder. AF Point selection also features a nice viewfinder display, including a very cute (if unexpected) iconic rendering of "3D" when that mode is selected. Most of the typical Nikon pro DSLR controls are exactly where you've come to expect them (metering, ISO, bracketing, the newish AF switch with button, extra buttons along the lower back, preview and function buttons, command dials, etc.)
Image Quality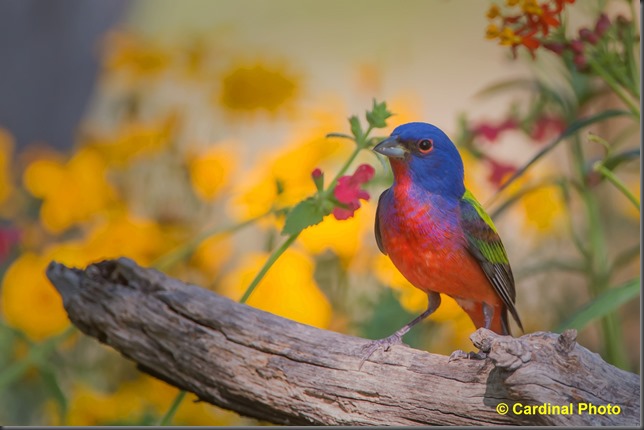 Painted Bunting from our Hill Country Photo workshop & safari
Nikon D4S, Nikon 200-400mm lens + TC 14E, f/6.7@1/2000s, ISO 1600, +1/3 e.v.
As you'd expect from an expensive full-frame sensor, the pixel-for-pixel image quality of the Nikon D4S is excellent. It rates a 89 from DxOMark, the same as the 89 for Nikon D4, although less than the record-setting 96 for the much higher-resolution Nikon D800e. It is noticeably above the similarly-priced Canon 1D X, that scored an 82 – beating it in nearly every category. The only knock on the image quality of the Nikon D4S is the obvious one that the sensor is 16MP, when most other cameras feature anywhere from 20MP to 36MP. As long as you have enough lens and compose well, that's plenty for most of us, but in situations where cropping is needed or it is hard to frame exactly the extra resolution found in the Nikon D610, or Nikon D800 would be quite useful.
Nikon vs. Adobe: JPEG vs. Raw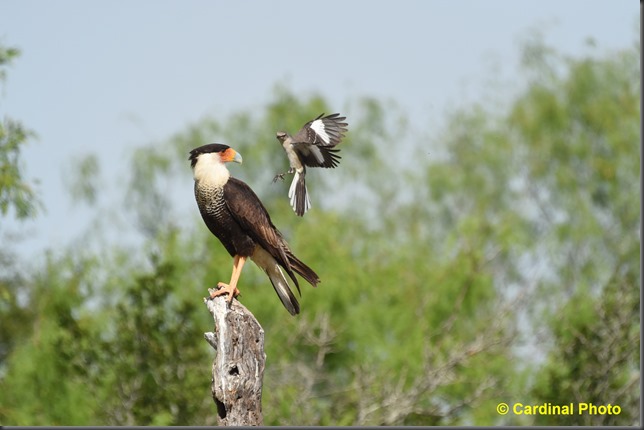 This is an un-retouched JPEG straight from the Nikon D4S, from our South Texas Photo Safari
Northern Mockingbird "mobbing" Crested Caracara
Nikon 200-400mm f/4 Lens, TC 1.4E, f/8@1/4000s, ISO 1250
(image has been resized & watermarked, but not otherwise modified)
While I've been a died-in-the-wool Raw shooter for over a decade, the JPEG noise reduction and overall image processing on the Nikon D4S is so good (and Adobe support for it is so new), that I often found it hard to do as well with Adobe's software operating on Raw images as the camera did on its JPEGs. This was particularly true with noise reduction. After some tinkering in Camera Raw (you can do the equivalent in Lightroom), I came up with some settings that worked pretty well: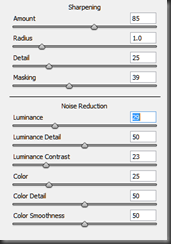 These are the settings I found in Camera Raw (for Photoshop CC)
that most closely mimicked the Nikon D4S's own JPEG processing.
If you experiment yourself and come up with some alternatives, let me know!
Why is the camera so big?
The question I get asked most when showing people the Nikon D4S is "why is it so big?" The simplistic answer is that it take a lot of power, and a lot of electronics, to create 11 crisp, noiseless, autofocused, correctly metered, FX frames per second. For a slightly more detailed answer I conducted a quick experiment based on my findings about about the quality of camera-encoded JPEGs on the Nikon D4S. I re-shot my test image with my Nikon D600 (with upgraded shutter, so basically a Nikon D610), also at ISO 6400. The JPEG was, predictably, quite a bit noisier than the one from the Nikon D4S. Less predictable, Photoshop did a much better job of cleaning it up (with the settings posted above) than the camera did. E.g. roughly speaking the Nikon D4S contains noise reduction & sharpening technology that is nearly a match to Photoshop, while the Nikon D600 and Nikon D610 don't.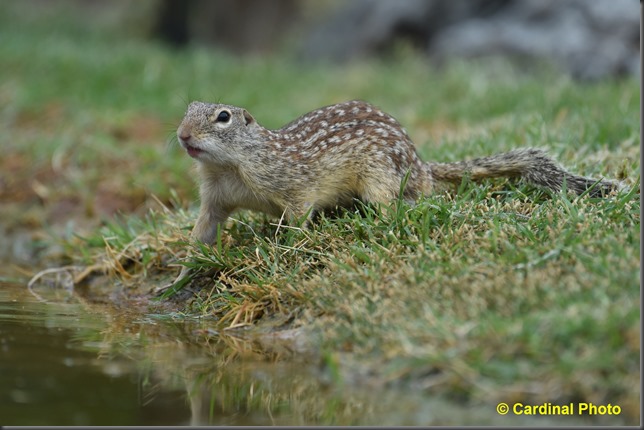 Mexican Ground Squirrel
Nikon D4S, Nikon 200-400mm f/4 Lens, Nikon TC-14E II
f/8 @ 1/2000s, ISO 1250, Matrix, 0 e.v.
That said, even after cleaning up the Nikon D600 image in Photoshop, it was (also not surprisingly) still not as nice as the one from the Nikon D4S. So you do get what you pay for, whether or not you shoot Raw or JPEG.
If you want the ultimate in camera performance (I don't shoot Canon enough to know how it compares to the Canon EOS-1D X, but the Nikon D4S is certainly Nikon's flagship), and can live with the 3 lbs. weight, $6500 price tag, and resolution more suited to action than modern landscapes, run out and buy one! For me, the size and weight make it tough to justify carrying a Nikon D4S every day, and if I don't carry it for all my work, it is a lot of money to spend. That leaves me torn, but I may wind up renting one from BorrowLenses for my major wildlife projects instead.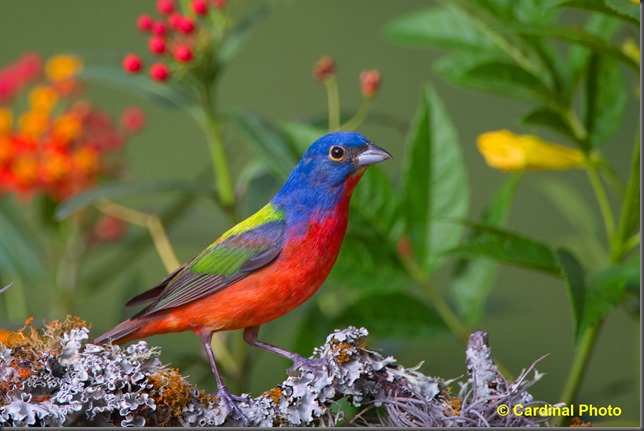 It's hard not to like photos of Male Painted Buntings.
The Nikon D4S certainly does a great job of capturing their colors!
That brings me to one of the frustrating product gaps Nikon has opened up. There is no longer a mid-range performance camera. Until a couple years ago, you could add a vertical grip with battery to your mid-range Nikon (Nikon D300, Nikon D300S, and Nikon D700) to get 8 fps when needed. I loved that capability, but now to get 8 fps you need to shell out $5K or more and lug around a full-time 3 pound beast. At least the new shutter on the Nikon D610 has pushed it up to 6 fps, which is getting close.
Nikon D4S Tech Specs
Lens Mount
Nikon F
Camera Format
Full-Frame (1.0x Crop Factor)
Pixels
Actual: 16.6 Megapixel
Effective: 16.2 Megapixel
Max Resolution
16.2MP: 4928 x 3280
Aspect Ratio
3:2, 4:5, 16:9
Sensor Type / Size
CMOS, 36.0 x 23.9 mm
File Formats
Still Images: JPEG, RAW, TIFF
Movies: MOV, MPEG-4 AVC/H.264
Audio: Linear PCM
Bit Depth
14-bit
Dust Reduction System
Yes
Memory Card Type
CompactFlash
XQD
Focus Type
Auto & Manual
Focus Mode
Automatic (A), Continuous-servo AF (C), Full-time Servo (F), Manual Focus (M), Single-servo AF (S)
Autofocus Points
Phase Detection: 51
Viewfinder Type
Pentaprism
Viewfinder Eye Point
18.00 mm
Viewfinder Coverage
100%
Viewfinder Magnification
Approx. 0.70x
Diopter Adjustment
- 3 to +1 m
Display Screen
3.2" Rear Screen LCD (921,000)
Screen Coverage
100%
Diagonal Angle of View
170.0°
ISO Sensitivity
100-25600 (Extended Mode: 50-409600)
Shutter
Type: Electronic & Mechanical
Speed: 30 - 1/8000 sec, Bulb Mode
Remote Control
MC-37, 36A, 30A, 25A, 23A, 22A, 21A, DC2, ML-3, WR-T10, 10, A10, 1, (Optional)
Mirror Lock-Up
Yes
Metering Method
3D Color Matrix Metering, Center-weighted average metering, Spot metering
Exposure Modes
Modes: Aperture Priority, Manual, Programmed Auto, Shutter Priority
Metering Range: EV -1.0 - EV 20.0
Compensation: -5 EV to +5 EV (in 1/3, 1/2 or 1 EV steps)
White Balance Modes
Auto, Cloudy, Color Temperature, Direct Sunlight, Flash, Fluorescent, Incandescent, Preset Manual, Shade
Flash Modes
1st Curtain Sync
Hi-Speed Sync
Off
Rear Curtain/Slow Sync
Rear Sync
Red-eye Reduction
Slow Sync
Slow Sync/Red-eye Reduction
Max Sync Speed
1 / 250 sec
Flash Compensation
-3 EV to +1 EV (in 1/3, 1/2 or 1 EV steps)
Dedicated Flash System
iTTL
External Flash Connection
Hot Shoe, PC Terminal