Nikon D800e: Awesome tool for environmental portraits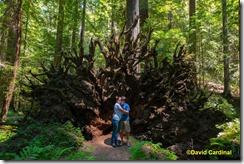 The super-high resolution of the Nikon D800e isn't useful just for studio photographers, or even pure landscape shooters. Every nature and travel photographer also has a need for environmental portraits – those iconic images that combine portraits of animals or people with their surroundings to create a sense of place….
Environmentals, as they are often called, have become increasingly popular in nature magazines over the last decade, and have always been a staple of travel and adventure publications. They put a unique strain on a digital camera because, by definition, the subject is small in the frame, meaning a need for high-resolution to grab detail – while at the same time featuring often rough outdoor lighting conditions.
I was happy I had a Nikon D800e to take this portrait of a couple standing next to the overwhelming roots of an overturned Redwood. Having them in the scene helps convey the sheer magnitude of the fallen giant, and of course conveys a small piece of their weekend adventure as well.
I used a bit of flash fill from an SB-900 to help light the faces, since we were in a very shaded portion of the redwood grove, and it seemed easier than trying to move the root ball and fallen trunk into the sun. (Note that right now the Nikon D800e is very hard to get ahold of, since they are being made in a limited quantity, but you can place an order for the very similar, and perhaps more generally useful Nikon D800 at B&H for $2999)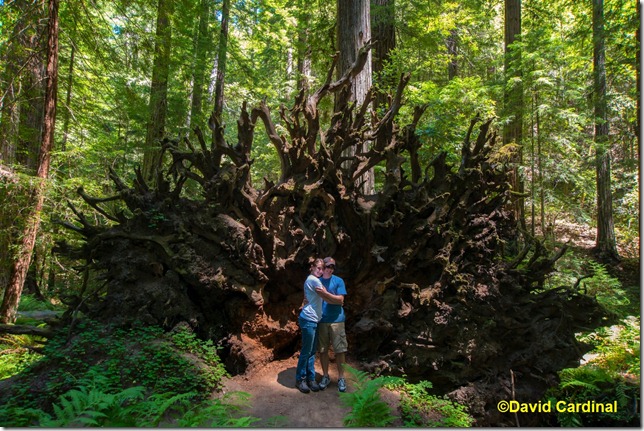 Montgomery Woods Redwood Grove, Mendocino County, California
Nikon D800e, Nikon 24-85mm f/2.8-f/4 lens, f/5.6@1/60s, ISO 800