Nikon D810: Solid upgrade to Nikon D800 -- Available for pre-order!
Thu, 2014-06-26 17:09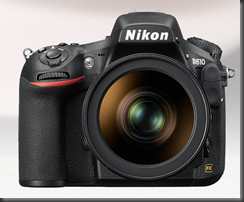 Starting in late July, Nikon will be shipping its anticipated update to the Nikon D800/e. The Nikon D810 is an upgrade in nearly every aspect of camera and video performance, although each single change is not dramatic. Faster frame rate (5fps full-frame, 7fps DX with battery pack), improved Autofocus, improved sensor with better low-light performance, upgrades for videographers, and a removed low-pass filter (ala the "e") with improved anti-moire are some of the highlights. The price is the same as the original Nikon D800e price – $3300. The new model will likely be very popular with owners of the current models, and with some D600 owners looking to get more resolution and a few more features. We'll review the camera when it is available, of course! In the meantime, if you're gung-ho, you can pre-order a Nikon D810 from B&H for $3296.95.
Below are Nikon's overview and the full press release:
Nikon's Overview of the D810
Early this morning, Nikon announced its newest FX-format camera, the D810, bringing the best in D-SLR image quality, video features and performance to professional photographers and cinematographers. Featuring a new 36.3-megapixel sensor without an OLPF and boosted by Nikon's EXPEED 4 image processor, the Nikon D810 is the ultimate multimedia marvel with enhancements to image quality, speed and workflow.
· A multimedia HD-SLR for photographers and cinematographers
· New FX-format 36.3-megapixel CMOS sensor with no optical low pass filter (OLPF)
o Extremely high-resolution, broad dynamic range and stellar sharpness
· Bolstered by EXPEED 4 Image Processor that offers enhanced image quality and a 30% overall boost in performance
o Overall performance enhancements (white balance, reduced false color/moiré)
o Wider ISO range (64-12,800) for improved low-light performance (expandable to ISO 32 and 51,200)
· Advanced Scene Recognition System, Picture Control Profiles, Highlight weighted metering options all contribute to enhancing image quality and resolution for all types of photographers
· Powerful video features for cinematographers
o Full HD 1920 x 1080 video at 60/30/24p and versatile FX and DX crop modes
o Uncompressed digital video HDMI output to an external device while recording to SD or CF memory cards
o Zebra stripes for over exposed areas, full manual controls and full time AF
· Enhanced 51 point Multi-Cam 3500 FX Autofocus system
· New RAW Size Small format (12 bit) provides increased flexibility in workflow
· Engineered for versatility and performance with bright viewfinder and 3.2-inch LCD screen
o An "i" button added for quick access to commonly used settings
· Available in late July for a suggested retail price (SRP) of $3,299.95 (body only) and in multiple kit configurations