Nikon DSLRs over the years: From the Nikon D1 to the Nikon D4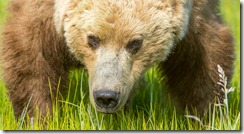 I was fortunate enough to be able to shoot with a Nikon D4 on my recent Alaska photo safaris. It was a blast, and allowed me to get some great images that I probably wouldn't have gotten with previous DSLRs – especially those requiring High ISO shooting. It gave me the chance to reflect back on the last 12 years of my photography of bears in Alaska, starting with film and progressing through the D1 and nearly every other Nikon DSLR since. I put my thoughts together in an article for Extremetech on how the improvements in DSLRs have enhanced our ability to photograph.
As always if you want to join us for our next trip to photograph these gentle giants, you can sign up for next year's trips on our website.