Nikon unleashes D7200 chock-full of features from full-frame, but will it finally satisfy as a D400?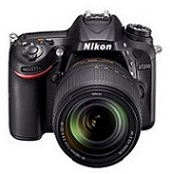 For Nikon shooters looking to purchase or upgrade a DX-format DSLR (e.g. APS-C, or "crop" sensor), the new Nikon D7200 has plenty to offer. The camera features the powerful 51-point Multi-CAM 3500 II Autofocus module first introduced in the full-frame Nikon D750. The upgraded EXPEED 4 processor also allows for 6 fps shooting, and 100-shot JPEG bursts. NFC makes pairing the camera with a mobile device over WiFi a cinch (a welcome change from pecking at small screens!). Other nice upgrades include…
The Nikon D7200 also has a nearly 100% optical viewfinder with an integrated OLED display for shooting information, magnesium alloy body parts for increased durability, and 150,000-cycle shutter. Lower power consumption means the camera is rated at 1,110 photos per charge (or 80 minutes of video). The EXPEED 4 also allows for Autofocus down to –3 ev, as well as higher-ISO settings – up to 25,600 and even a 102K ISO black-and-white mode. Like several other recent Nikons, the D7200 has removed the low-pass (Anti-alias) filter, to get maximum image resolution from its 24MP sensor. Interestingly Nikon doesn't say anything about the sensor, which is listed as .1 MP higher-resolution than that in the Nikon D7100. That probably means it is essentially the same, and improved imaging results come from the upgraded processor and AF systems. Videographers will also appreciate the model's support of 60 fps 1080p video.
Will the Nikon D7200 quiet the clamor for a D400?
Despite the nice upgrades, the Nikon D7200 doesn't address the issues raised by those clamoring for a successor to the Nikon D300 and Nikon D300s. It doesn't have the "pro-style" control set, 10-pin connector, or quite the same super-substantial feel – although Nikon does continue to improve the construction of its D7000 family with each new iteration.
Getting your hands on a Nikon D7200:
The Nikon D7200 is available for pre-order for $1196 for the body only, or you can also get the new Nikon D7200 with 18-140mm kit lens for $1497 after instant savings of $200 at B&H. The cameras are scheduled to ship later this month, possibly by March 19th.
Nikon's full press release:
Equipped with the latest high-performance AF system, and offering for continuous capture of decisive moments with shooting of up to 100 JPEG*1 Digital SLR camera D7200, which achieves the superior image quality and more advanced functions that will inspire users to be more creative with their photography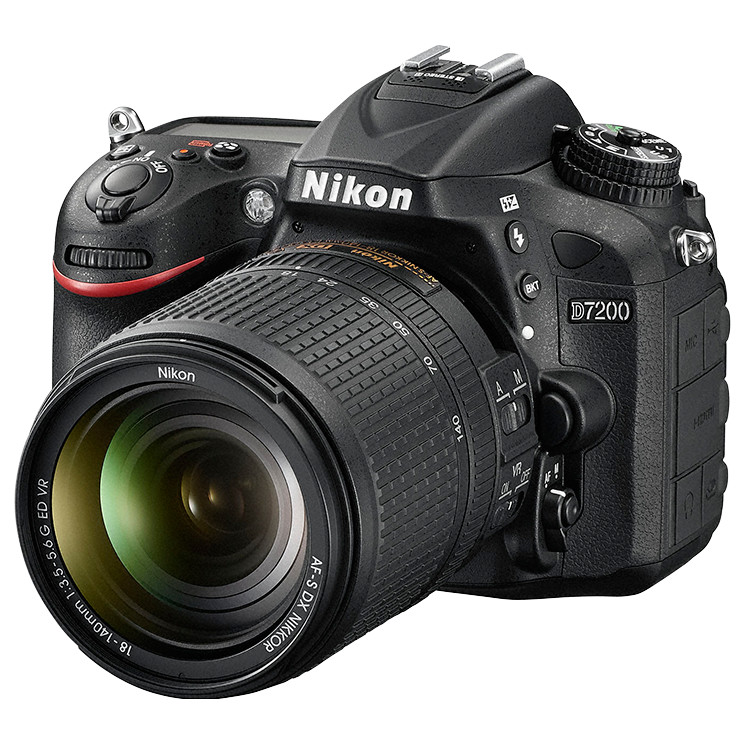 TOKYO - Nikon Corporation is pleased to announce the release of the D7200, a DX-format digital SLR camera that expands possibilities for shooting and expression with the latest autofocusing system and the ability to capture up to 100 shots*1 with a single burst of continuous shooting.
Nikon will also release the new ME-W1 Wireless Microphone for off-camera recording of movie sound.
The D7200 equipped with the new AF sensor module so well received when it was first adopted with the D750 and EXPEED 4 high-performance image-processing engine is a high-performance DX-format camera that offers greater focus-acquisition performance, such as the ability to capture up to 100 shots with a single burst of continuous shooting, and even better image quality.
It is equipped with an NFC-compatible*2 Wi-Fi® function that allows users to instantly and easily share photos they have taken with the camera with many people via social media using a smart device. The D7200 is also equipped with enhanced movie-recording functions, including a time-lapse photography function that supports exposure smoothing, as well as functions that enable enhanced control over audio recording.
The D7200 enables full-scale imaging expression with superior still-image and movie quality through the combination of the compact system afforded by the extremely agile Nikon DX format and the durability of high-end models.
*1When a 16-GB SanDisk SDHC UHS-I memory card (SDSDXPA-016G-J35) is used, and an ISO sensitivity setting of ISO 100 is applied.
*2Supported only by the Android™ OS.
D7200 Primary Features
A new 51-point AF system that demonstrates the outstanding in autofocusing performance

The new 51-point AF system, for which the same Advanced Multi-CAM 3500 II autofocus sensor module built into the D750 has been adopted, offers the same 51 focus points available with the D7100 while achieving a broader detection range that begins at just -3 EV (ISO 100, 20°C/68°F). This enables overwhelmingly better AF performance when shooting dark or dimly lit scenes and when capturing subjects or scenes exhibiting little contrast. Certain capture of the intended subject, even in dark situations, is possible.

Certain capture of decisive moments with shooting of up to 100 JPEG*1 or 18 14-bit RAW images with a single burst of continuous shooting

A larger buffer enables capture of up to 100 shots*1 with a single burst of continuous shooting at approximately 6 fps*2. Up to eighteen 14-bit RAW (lossless compressed) images can also be captured with a single burst of continuous shooting. (at an image area setting of DX (24x16) and an image quality setting of JPEG fine) For faster continuous shooting, setting image area to 1.3x (18x12) enables shooting at approximately 7 fps. This, along with increased AF performance, ensures certain capture of the best moments.

*1When a 16-GB SanDisk SDHC UHS-I memory card (SDSDXPA-016G-J35) is used, and a ISO sensitivity setting of ISO 100 is applied.
*2Measured in accordance with CIPA guidelines.

The EXPEED 4 image-processing engine for even better image quality

The D7200 is equipped with the same EXPEED 4 image-processing engine adopted for high-end models. This enables use of a broad range of standard ISO sensitivity settings, from ISO 100 to 25600, with both still images and movies, for sharp and clear imaging with which noise is effectively reduced, even at high sensitivities. In addition, the absence of a low-pass filter maximizes the superior resolution of the high effective pixel count of 24.2-million pixels and the excellent rendering capabilities of NIKKOR lenses for sharp rendering of even the finest details in subjects.

An NFC-compatible*1 Wi-Fi® function*2 that enables image transfer and remote shooting with smart-device collaboration (NFC support)

With a built-in Wi-Fi® function, users can easily transfer images to smart devices such as smartphones and tablets. Still images can be downloaded to a smart device immediately after they are captured for sharing with others via e-mail attachment or upload to a social networking site. In addition, as the NFC*1 is supported, a Wi-Fi® connection can be easily established by simply touching the D7200 to an NFC-compatible smart device, enabling remote shooting from a smart device using the camera's live view display shown in the smart device's screen*2.

*1Supported only by the Android™ OS. Connection may be difficult to establish depending upon the smart device used or environmental conditions. In such situations, use normal means to establish a Wi-Fi connection.
*2The Wireless Mobile Utility app must be installed on the smart device before the Wi-Fi function can be used (the app can be downloaded free of charge from the smart device's app store).

Full-scale movie recording with a variety of functions

The D7200 is equipped with a number of full-HD movie functions that are nearly equal to those of high-end models. It is the first Nikon DX-format camera to be equipped with a time-lapse photography function capable of exposure smoothing, which smooths abrupt changes in exposure between frames. It also offers features such as a dedicated Movie Shooting menu and Auto ISO Sensitivity Control, with which exposure is controlled with adjustment of sensitivity only with movie recording in M mode. The Flat Picture Control, effective for color grading, and functions for recording sound with movies have been enriched with the addition of Frequency Response and Wind Noise Reduction settings. The D7200 offers two movie formats, one that uses the DX (24x16) image area and one that uses the 1.3x (18x12) image area. The 1.3x (18x12) image area produces a telephoto effect that brings distant subjects closer, and also enables selection of the 60p movie frame rate.

Additional Features

A Picture Control system with which support for the Flat Picture Control and the Clarity adjustment item (for still images only) have been added, as has the ability to apply adjustments in finer increments
An optical viewfinder with approximately 100% frame coverage, and for which an OLED has been adopted at the bottom of the viewfinder
A 1.3x image area (uses 15.36-million pixels). As the 51 focus points cover the full range of the 1.3x image area, superior focus acquisition performance is demonstrated even with subjects exhibiting great movement
Built-in flash equipped with a commander function
Continuous shooting with no limit on the number of images that can be captured, enabling creation of beautiful star-trail photos and the like (in CH and CL release modes at shutter speeds of 4 s or slower)
Use of a magnesium alloy ensures an highly durable body that is effectively sealed for superior resistance to dust and water drops
A highly precise and durable shutter that has passed release testing for 150,000 cycles after incorporation into the camera
Designed for low power consumption that enables capture of approximately 1,110 still images*, or recording of approximately 80 minutes* of movie footage with a single charge

*Still images: Measured in accordance with CIPA standards. Movies: Measured with actual recording in accordance with CIPA standards. Both values apply to use with a EN-EL15 Rechargeable Li-ion Battery inserted in the camera.
ME-W1 Primary Features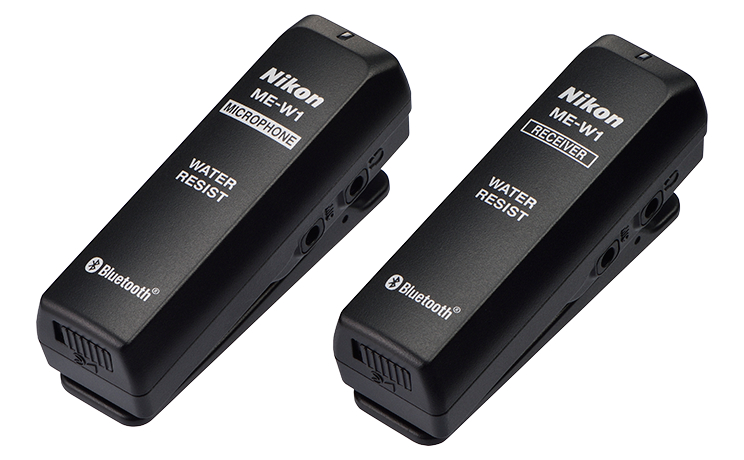 When recording movies with a Nikon digital camera equipped with an external microphone connector (digital SLR camera, Nikon 1 camera, COOLPIX camera), the ME-W1 enables clear off-camera audio recording when the intended subject (sounds) is too far away for effective recording using the camera's built-in microphone, or an external microphone attached to the camera's accessory shoe.
Bluetooth® specification Power Class 1 support enables recording of sounds as far away as approximately 50 m
Water-resistant for worry-free use, even outside
Both distant sounds and those near the videographer can be recorded, and two-way communication* between a distant subject and the videographer is possible

*Requires use of third-party headphones or earphones.

Stereo sound can be recorded when ME-1 Stereo Microphone (sold separately) is connected to the microphone component