Participant Guestbook & Testimonials
Comments Listed by Event: Texas, Alaska, Africa, Southeast Asia:
Participant Feedback from our Texas Bird Photo Safaris
"Loved the trip. Would like to do it again next April. Accommodations were great and the Jacksons were a pleasure to be with. Hope they have room next April. We would like to do it again. Best pics of each species that we have gotten. Hawks and Cara Cara were spectacular. Learned a lot. Will definitely add some of your other trips as our schedule will allow."--Richie & Barbra V., Boca Raton, Florida
"We're still in South Texas and having a great time. Your workshop was the highlight of our trip. It was wonderful."--Walt & Nancy C., Sea Ranch, California
"We had very good photo opportunities in every session except on afternoon which was slow. The set ups were well planned and accommodating. I would classify myself as a wannabe photography; I enjoy for my personal use. I learned that my camera is a much more capable tool than how I had previously used it. By listening to David and watching how he used his gear, I learned much about operation of my camera. Now I want to learn more and become more proficient which will involve practice that I look forward to doing. I did get photographs that were good for me, and I learned much about taking a more critical look at my work which helped me improve while I was there. This trip was a great learning experience for me. David was more than accommodating in explaining how the equipment worked at the proper level of sophistication for the situation. It was clear that David had mastered the Nikon system... I really enjoyed the trip, and I would love to do another one in the future."--Rhodes and Sara Robinson, Florida
"The opportunities were all there. We got photographs we would never have expected and the intense and lengthy shooting sessions allowed us to improve our skills nicely. We learned a lot and we had an incredible time. We will be looking at your 2010 schedule as it is released and try to fit in another trip with you."--Larry & Debbie Jackson, San Angelo, Texas
"Thanks for a great week filled with a large variety of birds. The arrangements were well organized, food & accomodations were superb. I was greatly pleased with the photographic arrangements and with the pictures that I took. The photo instruction was informative. It was a wonderful experience."--Paul C., McLean, Virginia
"The trip arrangements were fine. The accommodations and food were very enjoyable. The photography was exactly what I expected. I definitely learned from this event, not only from David but from the other members of the safari. I would do it again."--Mike P., Houston, Texas
"David Cardinal leads an outstanding photo safari to the South Texas Lens & Land ranches. In five days we were able to photograph over 35 different bird species which far exceeded my expectations."--Mel Ellingsen, Illinois
"I enjoyed the safari very much. The instruction was interesting also."--Lt. General Donald Aldridge (ret.), Nebraska
"Good trip. Worth my time and money. Thanks for the opportunity to learn about a new photo opportunity."--Jim Boyd, Texas
"Excellent safari!! [...] The short class on nature photograph shooting the Great Kiskadee nest was very informative."--Art Nelson, Washington, DC
Participant Feedback from our Southeast Asia (Cambodia & Burma/Myanmar) Safaris:
"The trip to Cambodia and Myanmar in 2011 exceeded all expectations! I'm glad I got to see the temples surrounding Siem Reap, and I absolutely fell in love with Myanmar! The people were incredibly welcoming ... not at all what I thought they would be like after living under military dictatorship for 50 years and the sights were amazing! Logistically, The accommodations were excellent - equaling or exceeding those found in the United States or Europe. The food, too, was good (given the usual precautions of eating when overseas). I also appreciated we traveled by air between the major locations as the infrastructure of their highways systems was such that it would have taken a lot of time away from our photography. As for the photography, well, it was superb! As you know, I brought home over 10,000 images (after deleting the obviously bad ones). To say I was pleased with them would be an understatement. I would be happy to be a reference if you ever need one." -- Adam F., Redondo Beach, California
"The trip was excellent. I appreciated such activities as the walk along the river bank in Yangon, where the loading and unloading of boats was taking place; the stop at the train station in Kalaw; the market walks; the handicrafts people at work (the lacquer people, for instance). Accommodations were uniformly good to excellent. Food was always excellent and the opportunity to order freely from the menu was much appreciated, as was including the occasional wine and beer in the meal." -- Charles C., Virginia
"First let me say, I had a great time and would certainly recommend the trip to others and consider going on your other trips as well. Managing so many details and personalities! I thought you did a great job with both. You have the trip so well organized and have found great people to work with locally such that the logistics go amazingly well. I learned a lot about Cambodia, Myanmar and photography, so my goals were all accomplished. Some of my favorite photos are from the unplanned time where we were just sitting observing life go by." -- Donna C., Portola Valley, California
"I wanted to thank you for dedicating your resources to create an exceptional and multi-dimensional learning experience in Cambodia and Myanmar. I learned a lot & really enjoyed and appreciated the photo safari. As I have mentioned, I am looking forward to your 2012 So. Texas birding trip" --Bill F., Troy, Pennsylvania
"My husband, Jerry, and I enjoyed our photo safari to Cambodia and Myanmar very much. David Cardinal is not only a nice man, he is extremely helpful and accommodating. He chose areas to photograph that were not the usual and areas where we had as few people other than natives as possible. We have done several other photo trips with David and felt the same on those." --Betty W., Sugarland, Texas
"The photography was wonderful, and a challenge to me since I normally take landscapes, nature and animals,... but I have such of variety of photographs to work with, that I'm delighted with the results."--Charles G., Arcadia, California
"Thank you David for sending along pictures of our trip. Everytime I look at the pictures I'm reminded of how exciting and wonderful the trip was. And I want to thank you for making it possible and sharing this incredible experience with you." --Beverly Z., Oakland, California
"Totally awesome. I got some amazing photos."--Alison P., Portola Valley, California
Participant Feedback from our Alaska Grizzly Bear & Puffin Safaris:
"I had an incredible time! David helped me improve my wildlife photography dramatically, and I'm very pleased with my images. I would LOVE to join David on another safari!!"--Therese T., Houston, Texas
"I really hope to be able to attend another one of your workshops. I also meant to tell you that I submitted one of the photos I took on the Alaskan Safari to the Photographer's Forum Best of Photography 2008 contest, and was selected as a finalist and was published in their special edition issue. You might remember this photo, I have it attached. I hope everything is well, and I look forward to a chance to work with you again."--Glen Cheriton, Palo Alto, California
Congratulations to Glen for this photo he took on our Alaska Bear Safari and which won as a Finalist in the Photographers Forum best of 2008 contest.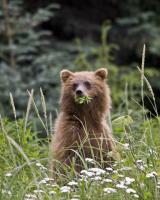 Alaskan Brown Bear Cub by Glen Cheriton: Award winning photo taken by a participant on one of our 2008 safaris
"I wouldn't have done anything differently. I thought the logistics - accommodation, food etc - were excellent. The bears visiting at night added a little frisson! We liked the fact that there were other things we could do as well like fishing and the trip on the lake.
We learned quite a lot, specially in terms of gear. We noticed an improvement in our photography throughout the week. Part of that comes from the time and opportunity to play around with settings etc, the other part from learning from you and the other participants. We appreciated the special session on histograms.
The whole thing was fun, relaxing and informative. We would definitely consider joining your Africa or Burma trips although not this year since we're still paying the wedding off.
Thank you again for a most, most pleasurable trip."--Karen Thurman, London, UK
"We had a great trip. We made it home perfectly. Thanks so much for creating a great experience for both me and Becky. It was a unique moment in our lives."--Bill D., Redwood City, California
"I took some phenomenal photographs. There were endless opportunities for taking pictures, and I definitely got better ones than I expected. I learned a tremendous amount, and as always, realized how much more there is to know. I really appreciated the onsite instructions - whether to hold the camera vertically or horizontally, what kind of features to look for depending on the light or location of the bears, how different camera settings affected the photographs, etc. Overall I loved it! I wish I had spent more time learning to critique my photographs and edit them, but I didn't want to stop exploring and experiencing Alaska to do it!"--Becky Logan, Woodside, California
"The photography sessions were far beyond my expectations. I never thought one would even want to observe grizzly bears as close as we were. Every day home I wish to be back. I'm very satisfied with the images on my new camera. The arrangements were [also] splendid. All of your safaris sound great and hopefully we can arrange to be with you again."--Nancy McEnzie, Minnesota
"The photography exceeded all expectations and I learned plenty from the instruction! Don't know how [the accomodations and food] could have been any better It was a wonderful experience."--Ken Patterson, Georgia, See Ken's Photo Gallery from Alaska 2007
"I had such a wonderful time. I can't wait to show you my image of the mom and three spring cubs with the rainbow! Thank you again!"--Keith & Wanda Davenport, Missouri
"I finally got my bears up on my website. I'm really pleased with my photos. Thank you and thanks for a great trip."--Katherine Pierce, Florida
"The Lodge is one of my favorite spots in the world,getting back there was wonderful. Being that close to bears, safely, is such a joy that I'd be happy to be there even without a camera. Hope you get a chance to do a book on the trip. THANKS FOR A WONDERFUL TRIP !!"--Betty Hoyt, Flagstaff, Arizona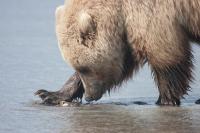 Alaskan Brown Bear Clamming by Betty Hoyt
Participant Photo Gallery from Alaska 2007 (Joe Minutella)
"THE WHOLE EXPERIENCE EXCEEDED MY EXPECTATIONS, AND I AM DELIGHTED WITH MY PHOTOGRAPHS. THE SAFARI WAS EVERYTHING I HOPED FOR. OUR GUIDE, WAS RESPECTFUL OF THE BEARS GETTING US CLOSE WITHOUT STRESSING THEM AND I APPRECIATED HIS IN-DEPTH KNOWLEDGE OF THE ANIMALS. NO SUGGESTIONS YOU ALL DID A GREAT JOB. GOOD VALUE FOR MONEY!"--Bill & Claire Wales, Scotland
"The photography was excellent and I got more and perhaps better pictures than I expected. The periodic poor weather was a blessing in disguise as it gave me the time to review the daily "shoot".
I and the others benefited greatly from your instruction, both during the "group" learning sessions and the "one-on-one or two" demonstration times. What was even better was your patience during the instructions, your generous tolerance of our interruptions and your good-humored willingness to repeat stuff again and again for "slow learners" like me!
"In my opinion, the first computer-added learning session should be a "slow moving" demonstration of how to use DigitalPro as this is the "basic" program you use to show us images. By the way, I now love your program and I have stopped using Adobe Bridge and will be giving up Lightroom."
I thought the safari was excellent, I think it would be better if there was an extension to Brooks to photograph the grizzlies fishing at the cataract/waterfall. [Note from David: We have an option to do this in 2007 if anyone is interested--Brooks is expensive & crowded, but you get a good chance at the "waterfall" shot of a bear catching salmon]
I would go to a safari with you and have recommended it highly to my friends."--Dr. Provash Ganguli, Canada
"The photo opportunities with the bears were terrific.
The instruction was beneficial. Your willingness to be flexible with what was covered made it more suited to people's interests.
I think that it could be useful to ask about people's expectations/objectives at the beginning of the safari to help guide the schedule for the week. [Note from David: That is now part of the standard pre-trip planning]
I am interested in a future safari." --Rich Zahren, Pennsylvania
"SUGGESTIONS WERE BENEFICIAL. LOVED THE CUBS. MET OR EXCEEDED OUR EXPECTATIONS. GOOD VENTURE."--Jim & Bettie Boyd, Texas
"I THOUGHT THE SAFARI WAS A FABULOUS SUCCESS AND I REALLY ENJOYED THE COMPANY AND THE PHOTOGRAPHY.
THE LODGE WAS DELIGHTFUL AND PERFECTLY SET UP FOR A SAFARI. AS FOR THE FOOD, EVERY MEAL WAS A REAL TREAT. BEST I'VE EVER HAD ON A WEEK-LONG TRIP. THE LODGE STAFF WERE FRIENDLY AND VERY GOOD, AND JOHN WAS A GREAT GUIDE IN SKILL AND PERSONALITY.
THE PHOTO OPPORTUNITIES WERE EVERYTHING I EXPECTED AND MORE. I HAVEN'T BEEN THROUGH ALL MY IMAGES YET, BUT SO FAR I'M VERY PLEASED THAT THEY WERE EQUAL TO OR BETTER THAN MY EXPECTATIONS.
WE ALL FELT WE CAME AWAY BETTER PHOTOGRAPHERS BECAUSE WE HAD THE OPPORTUNITY TO SHOOT 12 HOURS A DAY AND TRADE INFO IN THE FIELD WITH EACH OTHER AND YOU. AND I CERTAINLY LEARNED HOW TO APPROACH BEARS - AND PROBABLY LOTS OF OTHER WILDLIFE - IN THE FIELD.
OVERALL I WAS VERY PLEASED WITH THE SAFARI, AND MONEY AND SCHEDULE PERMITTING, I WOULD COME BACK EVERY YEAR. I WOULD LOVE TO GO ON ANOTHER SAFARI WITH YOU. AFTER READING ALL THIS YOU TRULY UNDERSTAND HOW MUCH I ENJOYED TO SAFARI AND SHOOTING WITH YOU. WE WILL DO IT AGAIN
IT'S MIND BOGGLING, BUT I BROUGHT BACK ABOUT 4700 IMAGES, SO GIVE ME A COUPLE OF WEEKS."--Gordon Large, Pennsylvania
"I was worried about accommodations since this this the first trip I had taken since being widowed last year. The accommodations were just perfect. I couldn't have picked a better arrangement. The food was wonderful. I actually gained weight during the Safari! I would just like to buy a recipe book when one is available!
The photography was wonderful. I came home with a total of 3,999 photos and several DVD's of video! Our group was lucky to have had such beautiful weather, and the frequency of trips to the field was great. No time to get bored at all! The trip was better than I had expected!
Yes, I did learn a lot from the photo instruction, especially on the use of shooting in Aperture mode.
Overall, I really enjoyed the Safari and definitely plan to go on another one. I have passed the information on your website along to other photographers in my area."--Nancy Putman, Alabama, See her trip photo Gallery
Participant Feedback from our African Wildlife Safaris:
"Absolutely top notch accommodations & food... It was a great photo trip for me. The water provided us with some extra special shots, I thought, and the luck was with us as far as lion hunts, kills, and hyena babies. I liked the mini classes also. And David and Dana are a great duo -- David so knowledgable about all aspects it is scary, and Dana shepherding us into good positions to shoot and extra help on editing... I thought it was all good. I have used Lightroom for three years and still learned a lot... I thought it was a splendid trip, as a game viewing safari and as a photographic experience. Only issue I have is not enough down time, but as the Brazilians say, I can rest in my grave -- or some such thing!!" -- Judy (2011), California
"The arrangements were all excellent. The big tables for laptops and recharging made things much easier. The hotels and camps met expectations. The food was all quite good. Excellent opportunities to take the photos. I got a lot of good photos and a number of new species... David Cardinal and Dana Allen added tremendous extra value to the photo safari with their daily workshops on Lightroom, Photoshop and shooting technique. We had a great time" Larry & Debbie J., Texas
"The trip to Botswana was so fabulous. I keep thinking about every aspect of it --- from coming around that corner on the road and running literally into the wild dogs to the incredible dung beetle with his lazy lazy mate!! Thank you for a wonderful time. Hope I can join another trip soon."--Judy H., Portola Valley, California
"Carol and I enjoyed the trip for all sorts of reasons, not least of which was the chance to be by your side for a time and enjoy you as a person and as a wonderful photographer. I think it ran as smoothly as any such trip we have ever taken.You put us in front of some absolutely stunning opportunities to view the wildlife and environment of that part of the world ( including many firsts for us from lions up trees to being yelled at by so many elephants all at once, to the wild dogs and on and on). Haven't really started to dig into the photos yet but they seem very good indeed."--Jim & Carol L., Locust, New York
"I would like to thank you for an excellent trip."--Jerry & Betty W., Houston, Texas
"It has certainly been an enjoyable two weeks. The great camaraderie among the group added significantly to the incredible wildlife and photo experience. I think we all want to thank Dana and David again for they outstanding leadership of the trip. The sequence of the camps was great and each had something new to show us. Also, their great instruction on photography was very helpful."--Dick V., College Station, Texas
"Trip was definitely worth it-would do it again in a heartbeat. Not only a great learning experience-as it is each time you go to Africa, but made some friends that i know I will be in touch with for a long long time." -- Karine Aigner, National Geographic Senior Photo Editor
"I had a trip of a life time and truly enjoyed meeting you. It was a real pleasure getting to know everyone and the staff, driver/trackers throughout our trip. I had a great time chatting with all of you while we reviewed our photos. It was an all around terrific experience learned different tips from each other, and the tips and tricks for taking professional pictures from David, James and Dana were perfect." -- Bonnie Monahan, California
"Thanks for everything I had a really great time on the trip. If I have any questions I'll give you a call. I would love to Go to Alaska one of these days also."-- Paul Gruner, Florida