Sigma 24-105mm f4 Global Vision Lens Delivers the Goods in our Field Test
Sun, 2014-04-27 22:45
by David Cardinal
There is no question that Sigma has really upped its game with its new family of Global Vision lenses. I love the GV-version of the Sigma 120-300mm f/2.8 OS HSM Lens, and continue to feel it is the world's best lens for vehicle-based wildlife photography. This month I've had the pleasure of shooting with its new Sigma 24-105mm OS HSM Lens on both a Nikon D4S and a Nikon D7100. The short version is that the lens lives up to the Global Vision brand, but read on to see whether it might be the right mid-range zoom for you:
Fit, Finish & Features
Like all of Sigma's Global Vision lenses, the 24-105 has a gorgeous, deep black, finish. It is built very solidly, and all the switches and rings are firm and feel like they will last forever. Nikon shooters may be a little tweaked that the Zoom ring runs the opposite way from most Nikon lenses, which does take a little getting used to. The lens also features an MF/AF switch, and an switch for its Optical image Stabilization (OS) mode.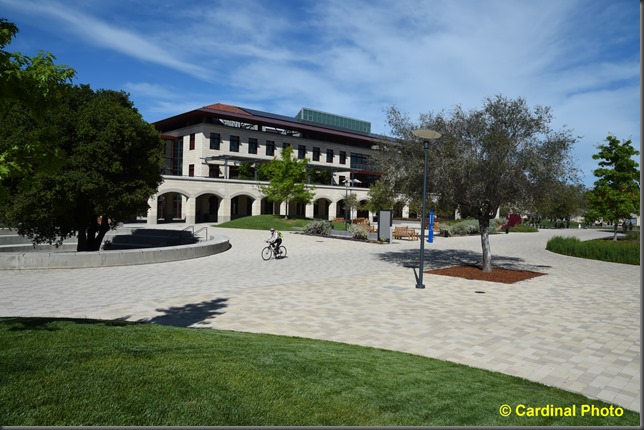 The 24-105 is part of a growing trend of introducing high-quality f/4 lenses, like the Nikon 70-200mm f/4, that are smaller, lighter, and less expensive than their f/2.8 brethren, by giving up their final stop of aperture. With the improving low-light capability of modern DSLRs, the extra stop of light is a lot less important than it used to be – although of course the faster-focusing and better subject isolation of an f/2.8 lens are also lost. Unless you really make a living as a photo journalist or portrait photographer from your mid-range zoom, the $900 price, lighter weight, and longer zoom range of the 24-105 are very attractive compared to lenses like the Nikon 24-70mm f/2.8 Lens, or its Canon equivalent. It is optically superior to Sigma's own 24-70mm f/2.8 lens.
Image Quality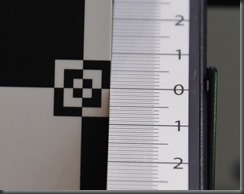 I was impressed by both the raw sharpness of the 24-105 (see the accompanying photo I took as part of adjusting its microfocus settings), and the relative lack of distortion. I can't really find any fault with the technical quality of any of the images I shot with it. It doesn't score quite as high at DxOMark as the much larger and more expensive OEM f/2.8 models, but it is very close on Sharpness, only a little behind on distortion, and ahead in lateral chromatic aberration.
I found that the images I shot with the lens required no particular fixes, although using the Lens Correction profile for it provided by Adobe in Camera Raw helped straighten out the small amount of pincushion distortion in my images.
Customizing the lens with Sigma's USB Dock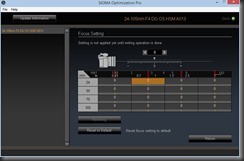 One unique feature of Sigma's Global Vision lenses is that they can be customized using an add-on USB Dock (about $150) and Sigma's free Optimization Pro software. In the case of the 24-105, you can tweak the Autofocus settings for each of four different focal lengths and four different subject distance ranges. These 16 distinct settings make the lens one of the most customizable on the market. I've written a detailed how-to on the process of calibrating the focus on the lens using a SpyderLENSCAL that will be published on Datacolor's website. Stay tuned, as we'll definitely post a link when it goes live.
This lens fills a large and obvious niche between lower-priced and lighter mid-range zooms like the excellent Nikon 24-85mm AF-S Lens, and high-end f/2.8 mid-range zooms. It's closest direct competitor is the Nikon 24-120mm f/4 AF-S VR Lens, which is $400 more expensive. The Sigma compares very well with the Nikon, scoring higher on the DxOMark test, and I suspect will anecdotally seem sharper to many photographers, since there have been some unhappy users of the Nikon version for whom it is not as sharp as they expected.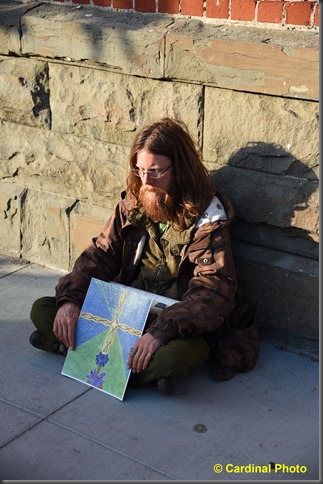 Artist outside concert in San Francisco
Nikon D4S, Sigma 24-105 @ 62mm
f/5 @ 1/1000s, ISO 400
So if you're looking for the best mid-range zoom you can buy in the $1K price range, look no further than the Sigma 24-105mm OS HSM Lens. It is as good or better than anything in its price range, and comes amazingly close to the performance of f/2.8 lenses that are over twice its price.
You can purchase the Sigma 24-105mm OS HSM Lens for $899 from B&H. Please use one of our links if this review has been helpful, as affiliate revenue is how we fund the expenses of running this free site. Thanks!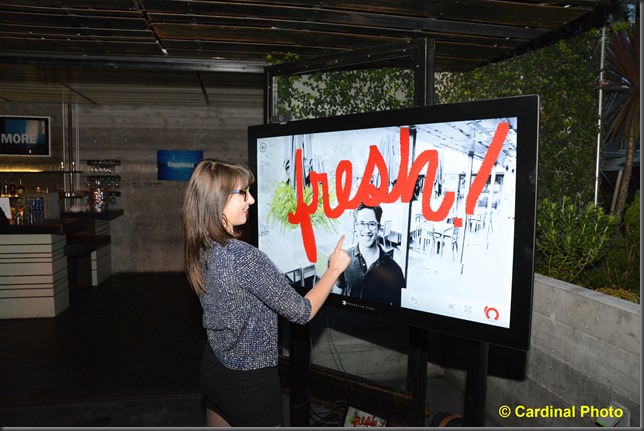 Even at the wide end of 24mm, the lens has very little distortion, as you can see in this photo
of an L.A. Artist Microsoft had hired to demo its large touch-enabled display at an evening event.