Sigma 24-70, Another "Pro Value" Champ from Sigma
Sigma continues to impress me with their updated versions of pro and semi-pro lense for D-SLRs. They provide excellent value with pricing below the Nikon and Canon versions while not sacrificing image quality. Their new 24-70mm f/2.8 full frame HSM (same as USM or AF-S) is no exception...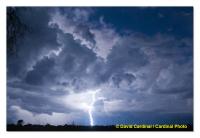 Okavango Delta Lightning Storm
Lightning over the Okavango Delta
Nikon D700, Sigma 24-70mm f/2.8 Lens, Lightning Trigger
I used the Sigma 24-70 as my exclusive mid-range zoom for several months including on my African safari and was thrilled with the images. They compared well with similar images that I'd taken with the Nikon version of the lens, both test targets and real-life subjects. I wouldn't want to say it was 100% as sharp as the Nikon--I don't think it is. But it is very, very close and it sells for half the price (around $900 instead of $1800). Just as important to me it is smaller and about 8 ounces lighter, making it a welcome addition to my camera bag. It was refreshingly free of color fringing making it useful for tricky shots like this lightning image.
| | |
| --- | --- |
| | Sigma has re-designed the lens from their older version to optimize it for the new families of full frame D-SLRs. They've also added ultrasonic motors to the lens for faster focusing (which they call HSM, Canon calls USM and Nikon calls AF-S). |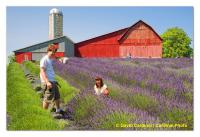 Organic Farmers Harvest Lavendar in Northern Michigan
Organic Farmers Harvesting Lavendar
Nikon D700, Sigma 24-70mm f/2.8 Lens
The lens is also fairly free from distortion, as this image of harvesting a lavendar crop shows with the barn in the background and the image below of one of the tents on our African Photo Safari. The natural color rendition is also quite good.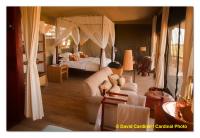 Tent Interior from our African Photo Safari
Tent Interior, African Photo Safari
Nikon D700, Sigma 24-70mm f/2.8 Lens
The image of flowers demonstrates the very nice edge to edge brightness of the lens. On a test target I could detect a slight difference between the Sigma and the larger and more expensive Nikon, but the differences were very minor and not visible in typical images. While I really loved using the Nikon 24-70mm f/2.8 and it is clearly a cadillac lens, for anyone on a limited budget or wishing to save a little weight and room the Sigma is an awesome alternative.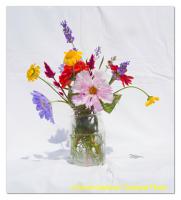 Local Flower Arrangement

Flower Arrangement for local Art Show
Nikon D700, Sigma 24-70mm f/2.8 Lens
The Sigma is a real value as you can snag one for $899 from Amazon or for $899 from B&H. Make sure you are getting the new HSM version (the one our links point to). There is an older, less expensive version but the new one is optimized for use with both small sensor and full frame digital cameras plus it has the much faster focusing motors. For purists the Nikon 24-70mm f/2.8 AF-S is $1886 at B&H and the Canon 24-70mm f/2.8 USM is $2299 at B&H.