Sigma 35mm f/1.4 DG HSM lens: One very sweet piece of glass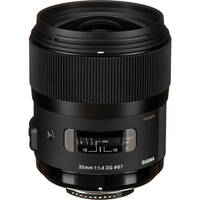 While Sigma may be best known for value-priced, often consumer-targeted, lenses, it is steadily improving its reputation for Pro glass. With its new Global series of lenses it feels it is really ready to start tackling Nikon and Canon head on. I've been fortunate to be able to review the first of this new line of lenses, the Sigma 35mm f/1.4 HSM Lens. At half the price of its Nikon equivalent I was skeptical it could really deliver at the same level…
Let's just start by saying I was amazed. Even taking it out of the box it became clear this lens represents a new step up for Sigma. It is gorgeous and built like a tank. Obviously it isn't tiny, since no full-frame f/1.4 lens can also be small and do a good job, but it is a good shape and a pleasure to use. Like the Nikon model, it has an onboard focusing motor, so it is quick to respond.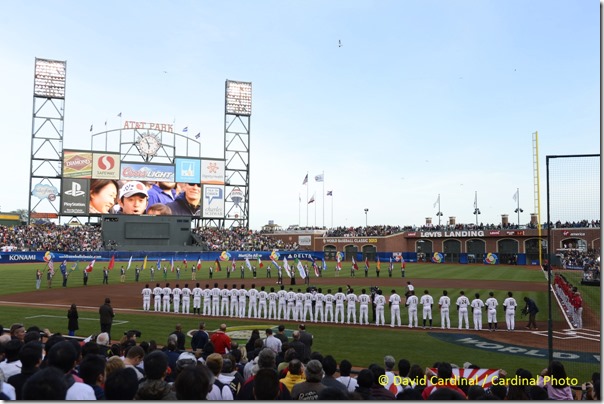 The Sigma 35mm f/1.4 HSM Lens isn't the smallest option and is certainly no pancake lens,
but it takes amazingly clean images and is of course lightning fast.
More importantly, the lens is tremendously sharp. I really couldn't find any images that wouldn't resolve down to the pixel level, even with my 24MP Nikon D600. Wondering if I was being to easy on the lens, I double-checked my results with the much more elaborate testing conducted by DxO for their DxOMark site. The new Sigma rated higher than the Nikon 35mm AF-S f/1.4G Lens across the board (I checked ratings with several different full-frame and DX-format cameras). This despite the Nikon selling for double the price.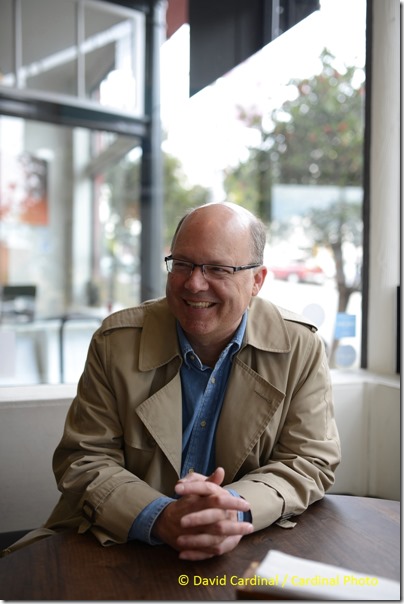 The very shallow DOF of f/1.4 can help isolate a subject when shooting
in tricky lighting conditions like this backlit casual portrait.
The Sigma lens is Internal focusing (IF), as you'd expect from a high-end prime, so it doesn't rotate or change its length when you focus. Refreshingly, it focuses down to a tight 11.8" – making it not quite an official macro lens, but great for close-up work. Its 9 circular aperture blades give it a pleasing bokeh, and its state-of-the-art coatings do a great job of dealing with lens flare.
As a flagship of the Global lens line for Sigma, the lens can work with a USB dock to allow custom tuning of the lens with Sigma's Optimization Pro software. Unfortunately, the USB dock was not available during my initial review, so I'll be posting a separate review on the Optimization Pro software later. AF Switch and lens cap design have also been improved.
One feature missing from this lens that you'll get on the much more expensive Nikon or Canon versions is an "M/A" mode. In that mode the photographer can tweak focus on the lens even while it is in AF mode. Like the Nikon and Canon versions, the Sigma does not have built-in image stabilization.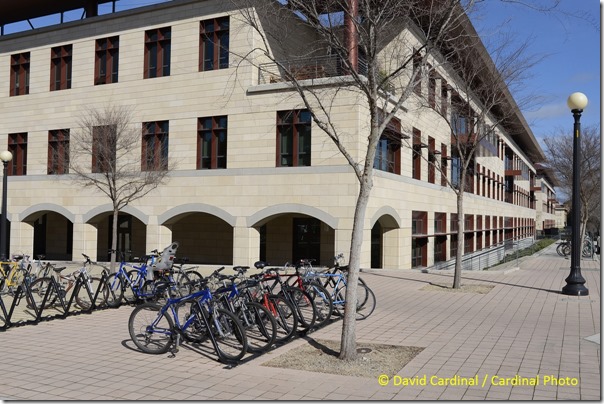 The straight lines in this uncorrected image of a rectilinear building demonstrate
how little distortion the Sigma 35mm f/1.4 HSM Lens has.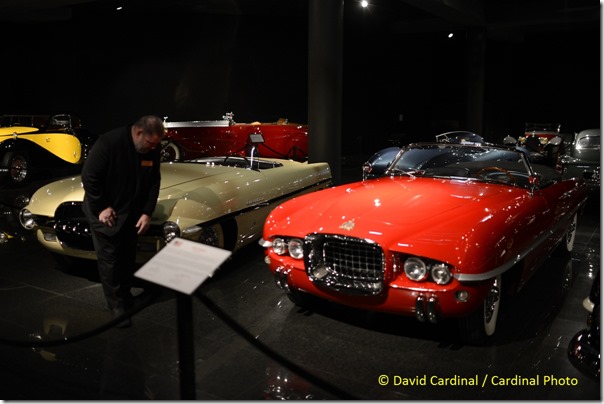 Shooting wide-open on such a fast lens allows capturing images in the near dark,
but you need to be very careful of the limited Depth of Focus when you do.
This image was at ISO 1600, 1/180s, which wouldn't have been possible with a slower lens.
If you're in the market for a razor-sharp, ultra-fast wide-angle lens, you'll love the Sigma 35mm f/1.4 HSM Lens which you can pick up from B&H for $899.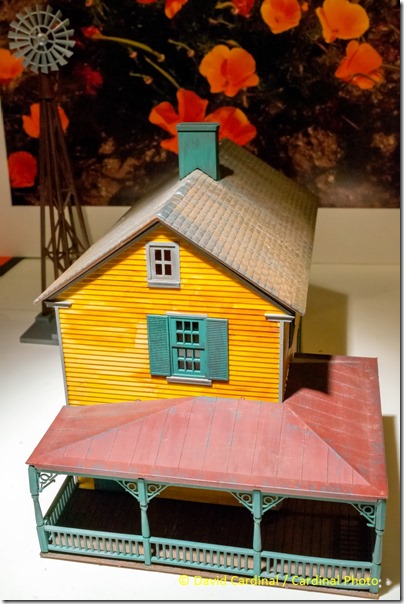 Quick test shot of a model house from just over 1 foot away.
I used f/16 to show the maximum DOF the Sigma can attain.
I was pretty pleased and would be happy to use the lens
for photographing bouquets of flowers, for example.
Image is at ISO 1600 since I was hand-holding, so noise is from that.
Official Specs:
Aperture Range: f/1.4-16

With a bright maximum aperture of f/1.4 this lens allows you to capture images with beautiful defocused background bokeh effects in darker conditions - using faster shutter speeds and lower ISO sensitivities.
Hyper Sonic Motor (HSM)

This lens' motor is driven by ultrasonic waves to provide quiet, high speed autofocus. This Hyper Sonic Motor (HSM) ensures high speed and quiet AF as well as full-time manual focus override by rotating the focus ring.
Floating Internal Focus System

For stable focusing, this lens moves its inner lens groups without changing the lens length. It also compensates for astigmatic aberration and provides extremely high optical performance for close-up photos.
Minimum Focusing Distance: 11.8"

This lens has a minimum focusing distance of 11.8" so you can capture wide-angle close-ups from nearly a foot away.
Anti-Flare Super Multi-Layer Coating

This lens' coatings reduce lens flare, internal reflections and light scattering that can occur between the surfaces of its glass elements.
USB Dock & SIGMA Optimization Pro Software

Because of its redesigned series of lenses, Sigma developed proprietary software (SIGMA Optimization Pro) and an optional USB docking system that allows you to update the lens' firmware and adjust its parameters such as focus. The 35mm f/1.4 DG HSM A1 Lens is compatible with the USB Dock.
Special & "F" Low Dispersion Elements

This lens incorporates "F" Low Dispersion (FLD) glass elements, which have performance equal to that of fluorite, and Special Low Dispersion (SLD) glass elements. By optimizing the power alignment of the lens, chromatic aberration has been corrected, achieving high image quality through the entire focusing range.
DG Lens for Digital & 35mm Film SLRs

This is a large-aperture lens with wide angles and a short minimum focusing distance. Because of its great peripheral illumination, or lack of vignetting, it is an ideal lens for DSLR Cameras and traditional 35mm SLRs alike.
Sigma's Artistic A-Series Lens

Sigma has organized all of its interchangeable lenses into three product lines: Contemporary, Art and Sports. The Art line delivers high-level artistic quality with a focus on sophisticated optical performance and abundant expressive power. The SIGMA 35mm f/1.4 DG HSM is the first lens from the Art line. Developed with an emphasis on artistic touch, Sigma's Art line lenses are designed to meet the expectations of users who value a creative, dramatic outcome above compactness and multifunction.
Front Filter Thread Diameter: 67mm

The 67mm front filter thread is fixed, allowing rotating polarizing filters to be used with the lens.
9x Circular Aperture Blades

With nine circular blades, the lens' diaphragm delivers very pleasant, soft bokeh background effects.
Brass Bayonet Mount

This lens incorporates a brass made bayonet mount which has both high accuracy and durability. A special treatment to reinforce it is applied to the surface, giving it greater strength and making it highly durable for long-term use.
Ease Of Use

For better usability, the designs of the lens cap and AF/MF switch have been improved, as well as the rubberized lens hood attachment. In order to ensure accuracy and precision, all metallic parts and the new Thermally Stable Composite material are housed internally.
Quality Control & Sigma's MTF "A1" Measuring System

Sigma used to measure lens performance with the standard MTF (modulation transfer function) measuring system, using conventional sensors. However, they have since developed a proprietary MTF measuring system - dubbed "A1" - using 46MP resolution Foveon direct image sensors. Previously undetectable high-frequency details are now within the scope of their quality control inspections.
By the Numbers:
Focal Length
35 mm
Aperture
Maximum: f/1.4
Minimum: f/16
Camera Mount Type
Nikon F
Format Compatibility
35mm Film / Full-Frame Digital Sensor
DSLR (APS-C Sensor)
Angle of View
63.4°
Minimum Focus Distance
11.81" (30.00 cm)
Maximum Reproduction Ratio
1:5.2
Groups/Elements
11/13
Diaphragm Blades
9
Image Stabilization
No
Autofocus
Yes
Filter Thread
Front: 67 mm
Dimensions (DxL)
Approx. 3.03 x 3.70" (7.70 x 9.40 cm)
Weight
23.46 oz (665 g)