Sony A7 II Field-tested: A pro-friendly upgrade to the full-frame A7
Wed, 2015-01-28 22:34
With its high-performance hybrid focusing system (combining both phase detection and contrast detection in a mirrorless camera) Sony has been breaking down one of the final barriers for mirrorless to take over a bigger chunk of the DSLR market. Sony's A7 was widely praised for its image quality, but faulted for not having the sort of rugged build needed for day-in, day-out, use. Sony has addressed that shortcoming with the beefed up Sony A7 II model – that also features a uniquely-powerful, sensor-based, image stabilization system. I've been shooting with it for several weeks now, and there is a lot to like…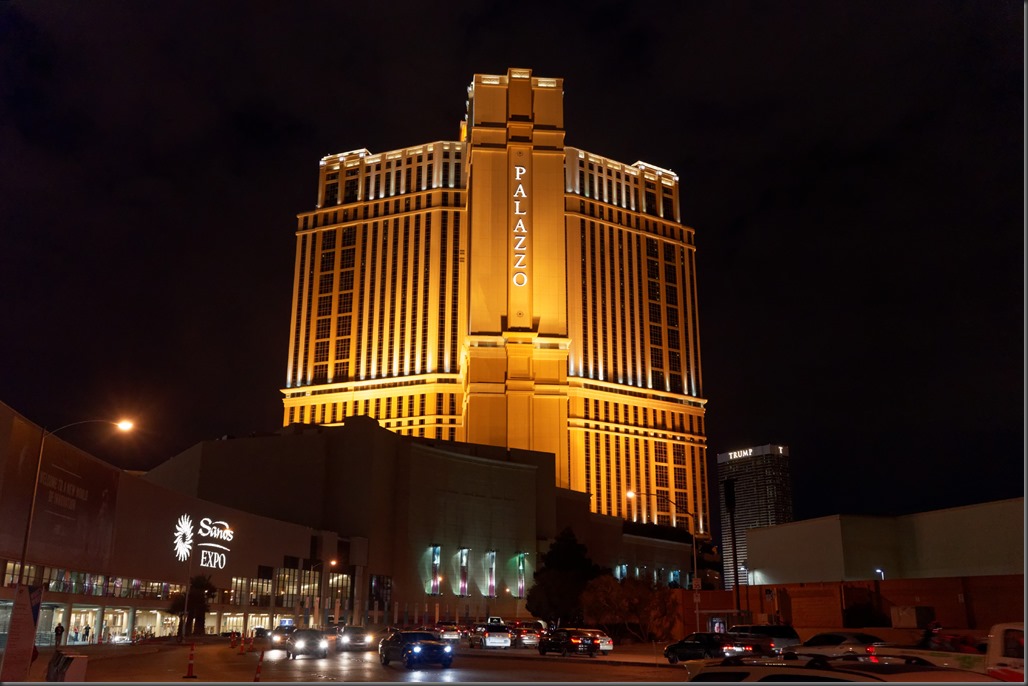 The Sony A7 II has the excellent low-light image quality you expect from a well-implemented full-frame camera.
I was able to capture this image of the last night of CES with a fast enough shutter speed to keep the signage and even the pedestrians sharp.
Sony A7 II, Sony 24-70mm f/4 lens. 1/60s @ f/4, –.3ev, ISO 1600 @ 31mm
Full-frame quality images in a compact body
There is no question how the Sony A7 II is positioned. It is simply the smallest camera that gives you top-of-the-line full-frame image quality along with the flexibility of interchangeable lenses and high-performance Autofocus. At 1.22 lbs, the Sony is almost a half pound lighter than either the Nikon D610 or the Canon 6D it competes against. The Sony actually comes out a bit ahead of the Canon in overall image quality benchmarks, and only slightly behind the Nikon (show in the following graphic). Having image stabilization in the body should also give the Sony a slight edge in lighter lenses for equivalent performance, although the current lenses like the 24-70mm Zeiss design I tested has OIS in the lens anyway. Fortunately, the lens-based and sensor-based systems work well together.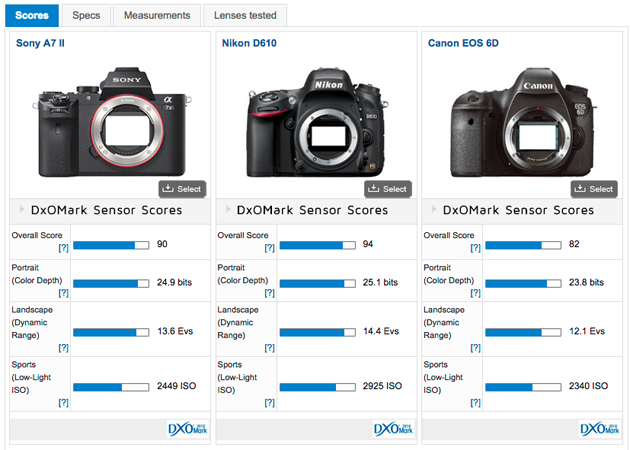 DxOMark puts the Sony A7 II only slightly behind the Nikon D610, and solidly ahead of the Canon 6D.
The combination of a very-high-speed burst mode, and Sony's hybrid AF make the camera a natural for action photography. The EVF is not quite as friendly for action as an optical viewfinder, but the difference is very slight. For landscapes, the Sony's sensor provides no-compromise color and detail, although the EVF can desaturate colors, so you'll want to confirm the color of your compositions by eye.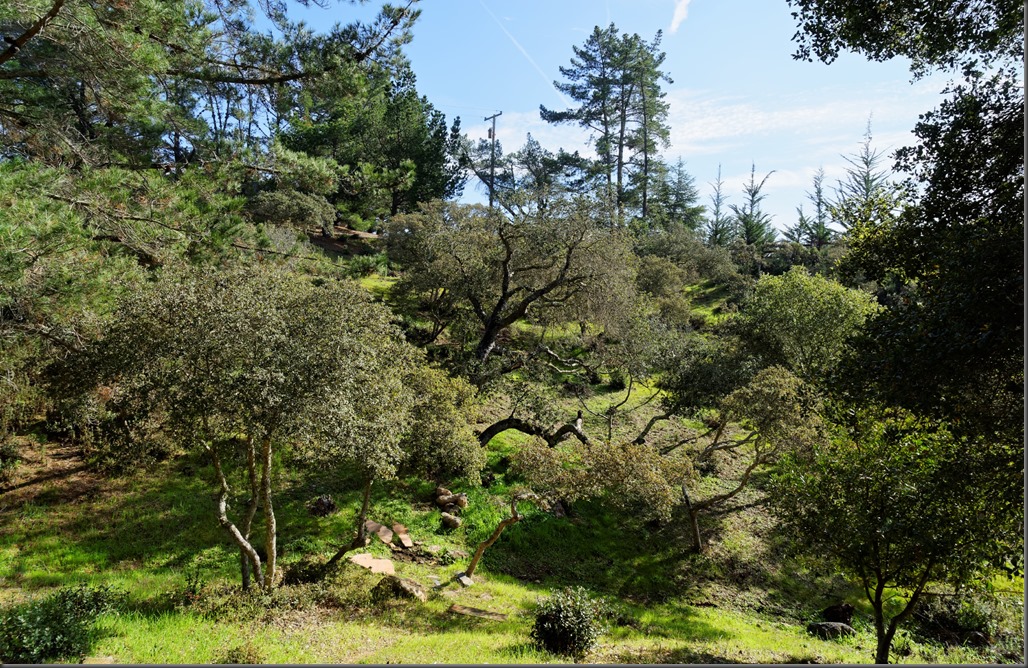 This image was shot on Auto mode, and processed using my standard Travel & Nature preset for DxO Optics Pro
Sony A7 II, 24-70mm f/4 Sony Zeiss lens, 1/100s @ f/9, ISO 100.
As you'd expect for a large-sensor Sony, video quality is excellent. For serious videographers, it also features both an external mic and external headphone jack. The dedicated record button is placed in a somewhat novel position sort of on the back top corner of the camera. It is a little awkward to get to until you get used to it, but at least it won't get hit by accident (this is a contrast with the regular shutter button, which is huge – and which you can use for video when the camera is set in the video mode).
Prosumer, not pro, ergonomics
The Sony A7 II has a large, easy-to-find-in-the-dark shutter button, simple on-off switch, and very accessible control dials. That's the good news. However, being used to shooting with a full-frame DSLR, I definitely had some gripes about the interface on the camera. First, the exposure compensation is on a non-locking dial that extends out over the edge of the camera. As owners of cameras like the Nikon D7000 know, this is a recipe for problems – as the dial can be turned accidentally when taking the camera out of your bag, or moving it around clothing. Second, it isn't lit in any way. When shooting in the dark you need to either have your own small light or rely on the LCD to tweak your exposure.
The other controls on the back of the camera are also arranged in "point and shoot" form, with a small ring having the familiar ISO, motor drive, and display settings around the edges, and the Menu and Play buttons on opposite sides of the camera from each other. This isn't a huge deal, and might even be an advantage if you're used to working with a point and shoot, but it is very different from the layout of most pro bodies.
One area where the Sony really shines is its Electronic ViewFinder (EVF). It quickly (not quite instantly, but close) switches on when you move your eye up to the camera, and is clear enough to allow you to check focus and composition. Shooting data is also easily viewed, and as with most EVFs, you can see the effects of your adjustments live as you are looking at the scene. If you didn't know it was an EVF you could easily imagine you were looking through an optical version.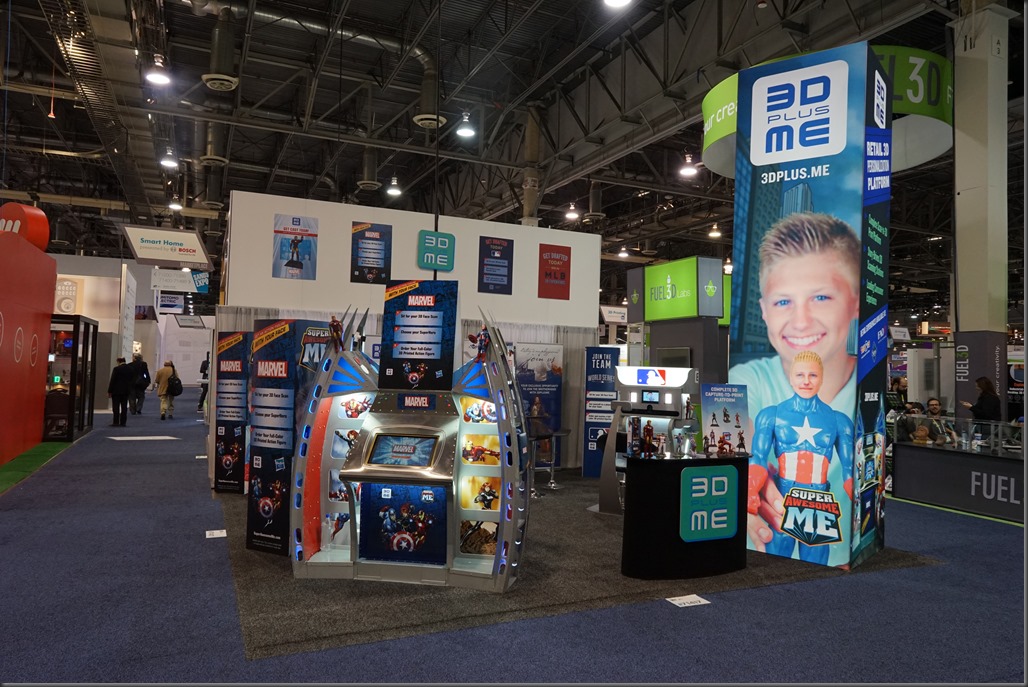 This (down-sized) JPEG from the CES show floor demonstrates that the Sony A7 II is more than capable of being used in an Automatic "point and shoot" mode and still producing excellent images in tough situations. I was able to leave the camera in Auto mode most of the time, except when I needed to finesse the shutter speed or deal with particularly tricky highlights by dialing in minus exposure compensation.
More pro lenses needed
Sony offers a reasonable selection of high-speed prime lenses, and of mid-range zooms, but has a dearth of high-performance zoom lenses for its mirrorless family. You can use other Sony lenses with adapters, but I don't know anyone who selects that as a first choice when working. If Sony wants to make more of a dent in the market with its excellent mirrorless models, some f/2.8 zooms need to be in the works. In the meantime, the good news is that the thin camera body makes it possible to use Sony's full-frame lenses with its Sony LA-EA4 Adapter and retain full functionality.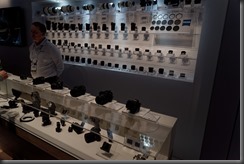 Sony has plenty of lenses in its arsenal, as this display from their booth at CES shows, but they are spread across several different types of cameras and mounts. That necessitates using adapters in many cases, like for the A7 family.
Should you buy a Sony A7 II?
If you're looking for the image quality you can only get with full-frame sensor, and you don't want to mess with the size and weight of a DSLR, then the Sony A7 II is an excellent choice. You aren't saving any money, though, as the Sony will set you back $1700, and you can get a Nikon D610 for a little less ($1500), or step up in performance to the brand new Nikon D750 for $2300 – and both of those full-frame Nikon's outscore the Sony in overall image quality. Canon shooters can compare it to the Canon 6D at $1800.
Official Specifications:
Lens Mount
Sony E-Mount
Camera Format
Full-Frame
Pixels
Actual: 24.7 Megapixel
Effective: 24.3 Megapixel
Max Resolution
24MP: 6000 x 4000
Aspect Ratio
3:2, 16:9
Sensor Type / Size
CMOS, 35.8 x 23.9 mm
File Formats
Still Images: JPEG, RAW
Movies: AVCHD Ver. 2.0, MPEG-4, XAVC S
Audio: AAC LC, Dolby Digital 2ch, Linear PCM (Stereo)
Bit Depth
14-bit
Dust Reduction System
Yes
Memory Card Type
SDXC
SDHC
SD
Memory Stick PRO Duo (High Speed)
Memory Stick PRO HG-Duo
Memory Stick XC-HG Duo
Image Stabilization
Sensor-Shift, 5-Way
Video Recording
Yes
Resolution
1920 x 1080: 60 fps, 30 fps, 24 fps
1440 x 1080: 30 fps
640 x 480: 30 fps
Video Format
XAVC S
1920 x 1080p / 60 fps (50 Mbps)
1920 x 1080p / 30 fps (50 Mbps)
1920 x 1080p / 24 fps (50 Mbps)
AVCHD
1920 x 1080p / 60 fps (28 Mbps)
1920 x 1080i / 60 fps (24 Mbps)
1920 x 1080i / 60 fps (17 Mbps)
AVCHD
1920 x 1080p / 24 fps (24 Mbps)
1920 x 1080p / 24 fps (17 Mbps)
MP4
1440 x 1080 / 30 fps (12 Mbps)
640 x 480 / 30 fps (3 Mbps)
Aspect Ratio
16:9
Video Clip Length
Up to 29 Minutes
Audio Recording
Built-in Mic: With Video, Stereo
Focus Type
Auto
Focus Mode
Continuous-servo AF (C), Direct Manual Focus (DMF), Manual Focus (M), Single-servo AF (S)
Autofocus Points
Phase Detection: 117
Contrast Detection: 25
Viewfinder Type
Electronic
Viewfinder Size
0.5"
Viewfinder Pixel Count
2,359,296
Viewfinder Eye Point
27.00 mm
Viewfinder Coverage
100%
Viewfinder Magnification
Approx. 0.71x
Diopter Adjustment
- 4 to +3 m
Display Screen
3" Tilting LCD (1,228,800)
Screen Coverage
100%
ISO Sensitivity
100-25600 (Extended Mode: 50-25600)
Shutter
Type: Electronic & Mechanical
Speed: 1/8000 - 30 second, Bulb Mode
Metering Method
Center-weighted average metering, Multi-zone metering, Spot metering
Exposure Modes
Modes: Aperture Priority, Auto, Manual, Programmed Auto, Scene Selection, Shutter Priority, Sweep Panorama
Metering Range: EV -1.0 - EV 20.0
Compensation: -5 EV to +5 EV (in 1/3 or 1/2 EV steps)
White Balance Modes
Auto, Cloudy, Color Temperature, Color Temperature Filter, Custom, Daylight, Flash, Fluorescent (Cool White), Fluorescent (Day White), Fluorescent (Daylight), Fluorescent (Warm White), Incandescent, Shade, Underwater
Burst Rate
Up to 5 fps at 24 MP for up to 50 frames
Flash Modes
Auto
Fill-in
Hi-Speed Sync
Off
Rear Sync
Red-eye Reduction
Slow Sync
Wireless
Built-in Flash
No
Max Sync Speed
1 / 250 seconds
Flash Compensation
-3 EV to +3 EV (in 1/3 or 1/2 EV steps)
Dedicated Flash System
P-TTL
External Flash Connection
Hot Shoe
Continuous Shooting
Up to 5 fps
Self Timer
10 seconds, 2 seconds
Number of Shots: 1-5
Interval Recording
No
Internal Memory
None
Connectivity
1/8" Headphone, 1/8" Microphone, HDMI D (Micro), Micro-USB, Multi Interface Terminal
Wi-Fi Capable
Yes
Battery
1x NP-FW50 Rechargeable Lithium-Ion Battery Pack1020 mAh
AC Power Adapter
AC-PW20 (Optional)
Dimensions (WxHxD)
5.0 x 3.8 x 2.4" / 126.9 x 95.7 x 59.7 mm
Weight
1.22 lb / 556 g