Sony NEX-6: King of the mirrorless cameras?
Mon, 2013-06-03 20:00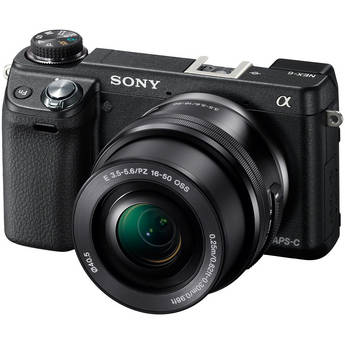 Mirrorless is one of the fastest growing segments of the camera industry. While DSLRs and point and shoots have begun to lose their luster, these mid-size, mid-range alternative cameras have a growing fan base. Among mirrorless cameras, Sony has taken something of a high-road, with a relatively large APS-C sensor. Combined with state of the art features, that has made Sony's NEX family market leaders. I've spent the last few weeks shooting with the newest, and most feature-rich, of the cameras, the Sony NEX-6 and wanted to pass along my thoughts…
Big sensor in a small camera: APS-C sensor size
A big part of the charm of a camera like the Sony NEX-6, or any other mirrorless, is their small size and weight compared to DSLRs. Sony's choice of APS-C-sized sensors for its cameras is both a blessing and a bit of a curse in this regard. It provides Sony with the best native imaging performance, especially in low light, but also means that lenses wind up being just as big and expensive as the ones designed for most "crop sensor" DSLRs [which includes all consumer and most prosumer DSLR models].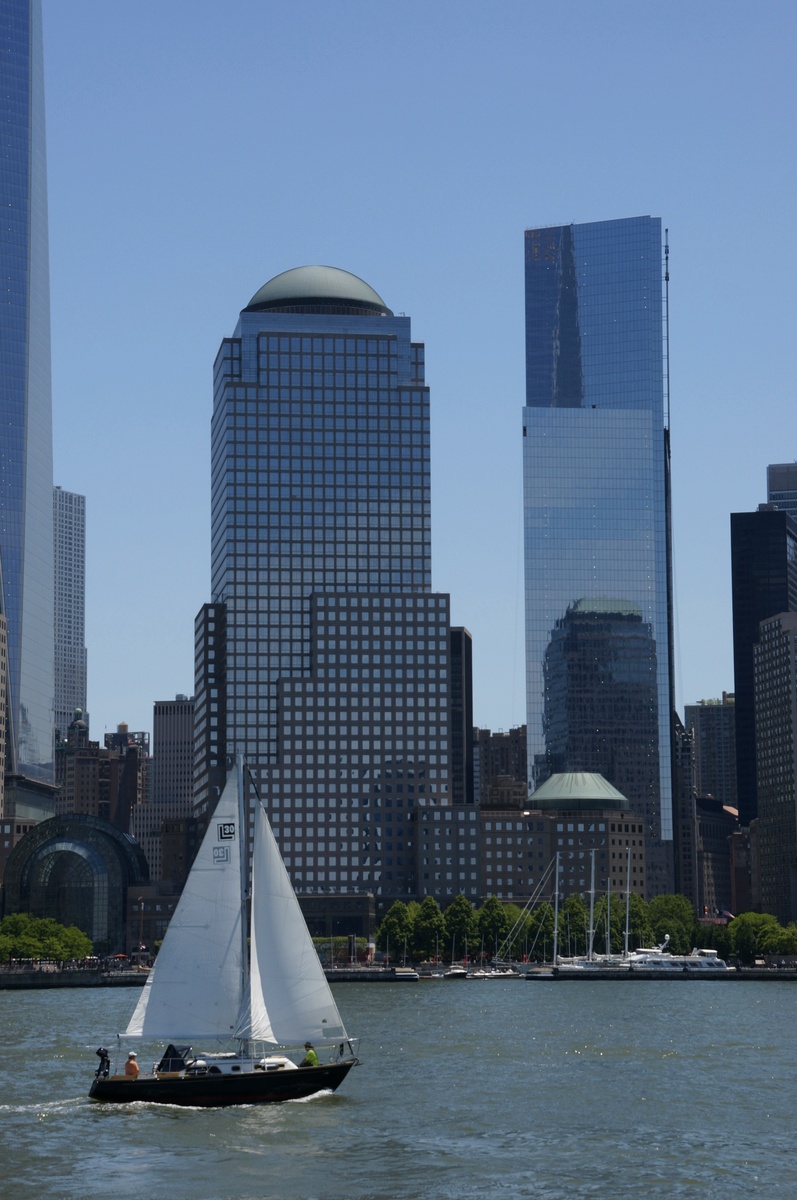 This "from the camera" JPEG shows that the Sony does a great job
as a general purpose travel camera.
As a result, once you pair the Sony NEX-6 (or any other model) with an all-in-one zoom like the excellent Sony 18-200mm lens, the size of the lens can come to dominate the overall camera. At first I didn't like the resulting "front-heavy" balance, but I actually got used to it quite quickly. It also means that the lenses cost about the same as their DSLR equivalents, with several of the nice lenses for the Sony NEX family costing over $1K.
Image Quality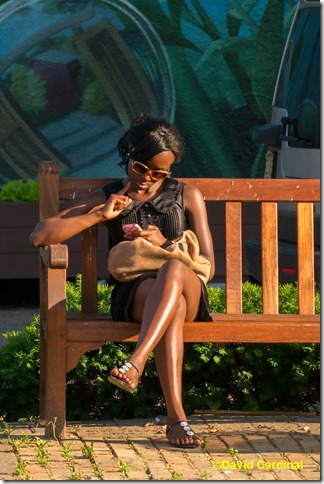 Woman on a bench
Sony NEX-6 with Sony 18-200mm lens @ 200mm
1/320s @ f/6, –1/3 ev, ISO 400
Sensor size is just a spec, it's the results that count. in this case, the Sony NEX-6 definitely delivers. Given Sony's multi-decade history in developing digital sensors, first for TV and then for still cameras (even the Nikon D1 used a Sony sensor), it is not surprising that image quality out of the camera is excellent. Sony has put a lot of work into the in-camera image processing as well, but for any images I'm going to use in a serious way I typically end-around all those bells and whistles by shooting Raw (or Raw+JPEG) and processing the Raw file in Photoshop or Lightroom.
Obviously, the Sony NEX-6 is limited in its pure image quality by its pixel size, but here too Sony has done something smart. It actually reduced the resolution of the NEX-6 from the 24MP of the NEX-7 to a more manageable 16MP. For anything less than a full-frame sensor I think that is a good resolution – offering enough detail in good light to allow for some cropping, but providing the larger photosites needed to get reasonable images in low light. As a result the Sony NEX-6 actually has larger pixels than many prosumer DSLRs like the Nikon D7100 and even a smidge larger than the ones in the Canon 7D.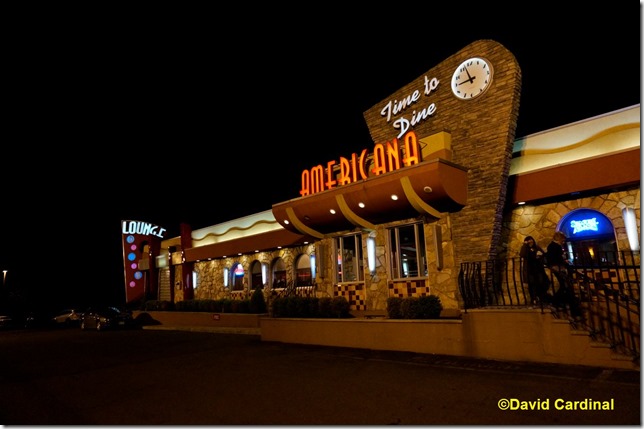 Americana Diner, New Jersey
Sony NEX-6 with Sony 16-50mm lens @ 16mm
1/160s @ f/4, ISO 2500
This is directly from the camera, except for scaling to fit this web page
The unprocessed (except for the in-camera creation of the JPEG) diner image above, shot at ISO 2500, gives you an idea of what the Sony NEX-6 is capable of in low light. It is clean, with low noise, and good color. Even a few years ago a result like that would have been impossible with anything other than a $5K, 3lb. pro DSLR. By ISO 3200, though, more serious noise starts creeping in that is difficult to fix.
Speed
As in so many areas, mirrorless cameras are a set of contrasts when it comes to speed. Activating the Electronic Viewfinder (EVF) or LCD before shooting can cause a frustrating delay before you get your shot off, and typical contrast detection autofocus found in mirrorless cameras is slower than the phase detection in DSLRs.
Sony has worked to address both these issues. It's new EVF turns on pretty quickly when you put your eye up to the camera (although for some reason mine often had a quick flash of the camera menu before showing me the scene). And it has innovated with a hybrid AF system that combines some phase detection with contrast detection for very reasonable focusing speed.
The upside is that the much simpler mechanics of a mirrorless camera allow very high frame rates. The Sony NEX-6 is capable of 10fps in burst mode, although that is without focus tracking. With focus tracking the rate is still quite quick, but not as easily measurable. I found its burst mode to be the equivalent of shooting with a very high-end pro model DSLR – as long as I didn't need the focus to be tracking a rapidly moving object at the same time.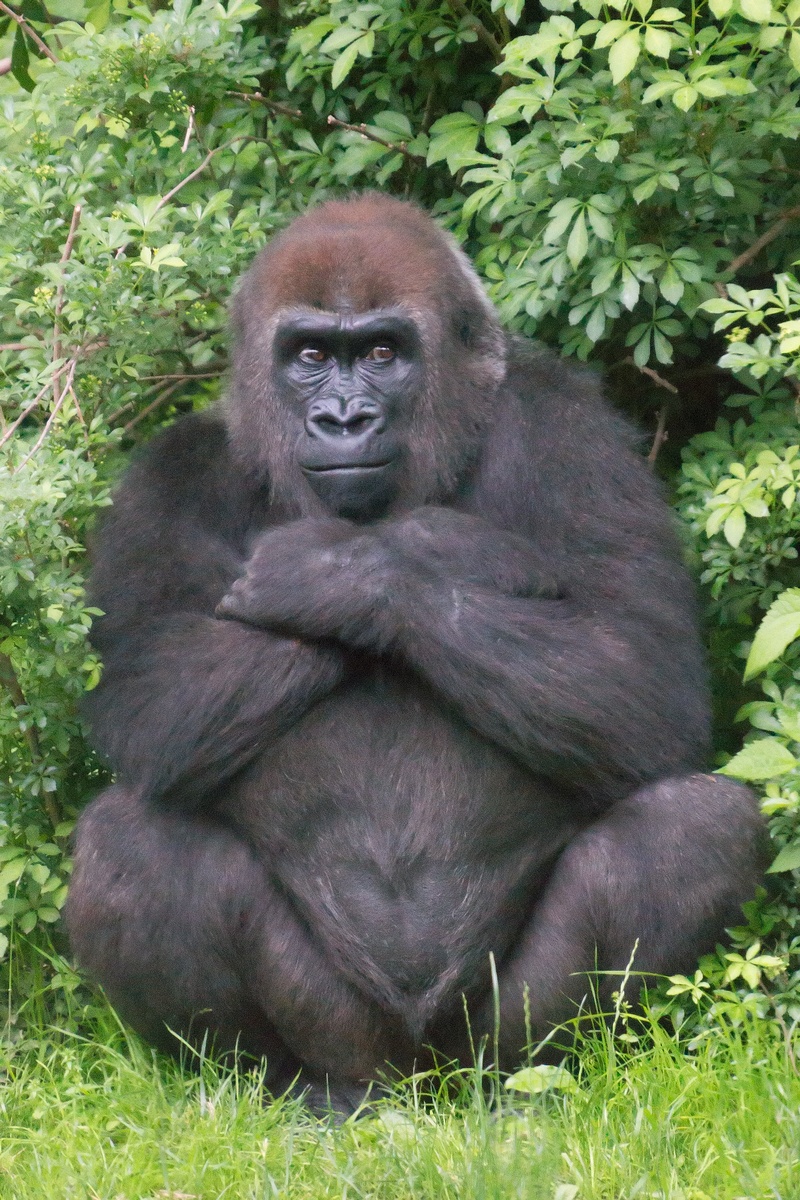 Even at ISO 3200, like in this dark Bronx Zoo exhibit,
the NEX-6 does an amazing job for a small camera.
Controls & Features
Unfortunately, the smaller the camera, the more controls either get forgotten or stuffed into menus. Ironically, that often means DSLRs are the easiest of any cameras to learn – since most of their functions each has its own button or dial. Sony provides a fairly good compromise between complexity and usability with the NEX-6. There is both a traditional "Intelligent Auto" mode and a "super-duper" version that will kick in advanced features like HDR as needed (but like most in-camera HDR solutions, it doesn't work with Raw files). For more advanced users, there is a full array of Aperture, Shutter, and Manual settings. In between is a wide-variety of Scene modes for quick "presets."
You can set the camera to show you a tip on what each setting means as you move the various dials. I found that especially helpful at night, since the controls themselves are not lit so would be difficult to work without a flashlight on hand otherwise. As with most small cameras, the LCD can become an unfortunate clutter of tiny glyphs when you are trying to sift through the display modes, but there doesn't seem to be a way around that given how many features are packed into such a small package.
The Sony NEX-6 has a full range of features, including excellent 1080p video, that I showcased in my earlier writeup. The audio was also surprisingly good for a built-in microphone. Many of the other features relate to in-camera image processing, which I continue to think is wasted on most serious shooters – who are going to want to look at and edit their images on a better screen. This model also does not have a touchscreen, which seems to bother some reviewers, but frankly I didn't miss it. One less thing to hit accidentally.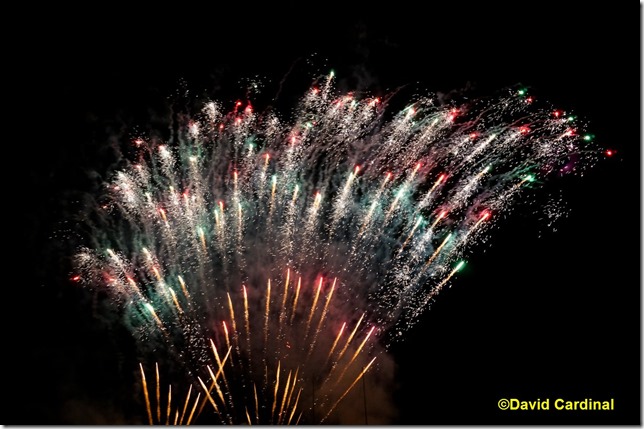 While some point and shoots offer a Fireworks mode,
the Manual mode on the Sony NEX-6 works just as well.
Applications
Almost unique among standalone cameras, the NEX-6 supports Sony's new downloadable application ecosystem (through its built-in WiFi capability). Sony and others have begun to provide applications which can augment the camera's native functionality. There are currently about a dozen for the Sony NEX-6, including some for HDR, bracketing, time-lapse, etc. Most of them are just "simple" substitutes for post-processing that would otherwise be done on the computer, but some like the HDR and time lapse actually help you capture the images you need for a particular purpose. I'm excited by the long-term potential of camera applications, especially as they open up new realms of shooting solutions, but currently the ecosphere is fairly limited, so it remains to be seen how much investment developers will make in the Sony NEX platform.


The NEX-6 features a built-in panorama mode, which does stitching in camera.
The result is a 16MP image, recorded into a 4MB JPEG
The sweep angle is hard-coded, and the camera is sensitive to your panning speed,
so it takes some practice to get images like this (resized) one of an evening celebration to look the way you want.
EVF: Pros and cons
For many of us who are used to looking through the bright optical viewfinders on quality DSLRs – and seeing the world with our own eyes – the need for an electronic viewfinder has been the Achilles heel of shooting with a mirrorless camera. Fortunately technology has been on the march, and the Sony NEX-6 features what may be the best EVF on the market. At over 2MP, it provides a high-resolution view of the scene in front of you. It also avoids the fatal "lag" found in many older or less expensive models.
Best yet, the EVF is built right into the camera. Some older models required a bulky (and additional cost) EVF to be placed in the hot shoe. To me, that completely eliminated the possibility of pocketing the camera and lens, and much of the charm of shooting mirrorless. As one reader pointed out though, the external models often provide a 90 degree tilt feature, which is handy for tripod shooting.
Helping compensate for the "digital" view of the world, an EVF offers some real advantages. The first is that the camera can show you in realtime what your picture will look like. Exposure compensation changes, for example, can be pre-visualized easily, rather than needing to be imagined. Another benefit I hadn't thought about in advance is instant image review in the viewfinder. This feature is great when you want to know if you've gotten just the right facial expression or scene composition without taking your eye from the viewfinder. You'll want to turn it off, though, if you are doing a lot of action work, as it means you are looking at your previous frame rather than anticipating the next one.
All in all, I could live with the Sony NEX-6 EVF (if you demo a unit, make sure and adjust the diopter of the EVF with the small, hard to fiddle with wheel to its right, otherwise it can look out of focus), but not surprisingly I still prefer the quality optical view provided by my Nikon D600.
Overall Evaluation: Should you buy one?
For its size, the Sony NEX-6 is an amazing camera. It provides DSLR image quality in a nearly point and shoot package – while being much faster than any point and shoot. The downside is the requirement of an EVF, as well as relatively expensive and large lenses – compared to other mirrorless systems like micro 4/3 and Nikon 1. Whether you should buy one depends on a few factors:
If you are already using a DSLR system (especially a full-frame version), and like how it works for you, I wouldn't rush out to switch. The inconvenience of learning new controls and buying all new lenses and accessories is almost certainly not worth it.
If you don't have a DSLR, but are looking to buy your first one, or upgrade from your point and shoot, the Sony NEX-6 may well be the way to go. Sony is heavily committed to the product line, so it is likely to continue to expand and improve. Plus if you've been using the LCD on your point and shoot or smartphone, you can keep using the LCD on the Sony NEX-6 or try out the built-in EVF. You'll love the huge increase in speed and in image quality.
If you have an older DSLR and are trying to decide whether to go mirrorless or purchase a new DSLR, its really a matter of priorities. If optical viewing is as important to you as it is to me, you're better off sticking with a new DSLR. Same if you have tons of lenses you want to keep. Otherwise I'd definitely give the Sony NEX-6 a try. With the "kit" lens and the Sony 18-200mm lens, you've got a full "semi-pro" rig for about $2K.
Remember that at 10 oz. with a 4 oz, excellently crafted, 16-50mm lens, you get an amazing amount of photographic functionality at under 1 pound with the Sony NEX-6.
Technical Specifications of the Sony NEX-6
Lens Mount
Sony E Mount
Camera Format
APS-C (1.5x Crop Factor)
Pixels
Actual: 16.7 Megapixel
Effective: 16.1 Megapixel
Max Resolution
16MP: 4912 x 3264 @ 3:2
Other Resolutions
13.6MP: 4912 x 2760 @ 16:9
7.1MP: 3568 x 2000 @ 16:9
3.4MP: 2448 x 1376 @ 16:9
8.4MP: 3872 x 2160 @ 16:9
8.4MP: 3568 x 2368 @ 3:2
4MP: 2448 x 1624 @ 3:2
23MP: 12416 x 1856
15MP: 8192 x 1856
12MP: 5536 x 2160 1
Sensor Type / Size
CMOS, 23.5 x 15.6 mm
File Formats
Still Images: JPEG, RAW
Movies: MPEG-4, MPEG-4 AVCHD
Audio: AAC
Bit Depth

Not Specified By Manufacturer

Dust Reduction System
Yes
Noise Reduction
Yes
Memory Card Type
Memory Stick Pro Duo
Memory Stick PRO HG-Duo
SD
SDHC
SDXC
Image Stabilization

Not Specified By Manufacturer
Video Recording
Yes
Resolution
1440 x 1080: 30 fps
1920 x 1080: 60 fps, 24 fps
640 x 480: 30 fps
Aspect Ratio
4:3, 16:9
Video Clip Length

Not Specified By Manufacturer

Audio Recording
With Video, Stereo
Focus Type
Auto & Manual
Focus Mode
Single-servo AF (S), Continuous-servo AF (C), Manual Focus (M) , Focus Lock AF Area Mode
Autofocus Points
99
Viewfinder Type
Electronic
Viewfinder Size
0.5"
Viewfinder Pixel Count
2359296
Viewfinder Eye Point
23 mm
Viewfinder Coverage
100%
Viewfinder Magnification

Not Specified By Manufacturer

Diopter Adjustment
- 4.0 to +1.0 m
Display Screen
3.0" Widescreen Tilting LCD (921600)
Screen Coverage

Not Specified By Manufacturer

Live View

Not Specified By Manufacturer
ISO Sensitivity
Auto, 100-3200 (Extended Mode: 3200-25600)
Shutter
Type: Electronic
Speed: 30 - 1/4000 sec in Bulb Mode
Metering Method
Center-weighted average metering, Multi-zone metering, Spot metering
Exposure Modes
Modes: AE Bracketing, AE Lock, Aperture Priority, Auto, Manual, Programmed Auto, Shutter Priority
Compensation: -3 EV to +3 EV (in 1/3 EV steps)
White Balance Modes
Auto, Cloudy, Custom, Daylight, Flash, Fluorescent, Incandescent, Shade 2
Burst Rate
Up to 10 fps for up to 16 frames
Flash Modes
Auto
Fill-in
Off
Second-curtain Sync
Slow Sync
Built-in Flash
Yes
Effective Flash Range

Not Specified By Manufacturer

Guide No.
19.69' (6.0 m) ISO100
Max Sync Speed
1 / 160 sec
Flash Compensation
-2 EV to +2 EV (in 1/3 EV steps)
External Flash Connection
Hot Shoe, Wireless
Continuous Shooting
Up to 3 fps
Self Timer
10 sec, 2 sec
Connectivity
HDMI C (Mini), Micro-USB
Software Requirements
Windows: XP (SP3), Vista (SP2), 7
Mac: OS X 10.3 or later
Battery
1x NP-FW50 Rechargeable Lithium-Ion Battery Pack, 7.2VDC
AC Power Adapter
AC-UB10 (Included)
Operating/Storage Temperature

Not Specified By Manufacturer
Dimensions (WxHxD)
4.8 x 2.8 x 1.1" / 12.2 x 7.1 x 2.8 cm
Weight
10.1 oz / 286 g camera only
Focal Length
16 - 50 mm
Comparable 35mm Focal Length: 24 - 75 mm
Aperture
Maximum: f/3.5 - 5.6
Minimum: f/22 - 36
Angle of View
83° - 32°
Minimum Focus Distance
9.8" (24.89 cm)
Magnification
0.215x
Maximum Reproduction Ratio
1:4.7
Groups/Elements
8/9
Diaphragm Blades
7
Autofocus
Yes
Image Stabilization
Yes
Filter Thread
40.5 mm
Dimensions (DxL)
Approx. 2.6 x 1.8" (6.60 x 4.57 cm)
Weight
4.1 oz (116 g)