Dates:
2015-05-05 16:00
-
2015-05-11 09:00
Maximum 8 photographers (usually sells out)
[After a very successful 2014 event, we're looking forward to 2015]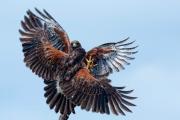 Based on the continued success of the Lens and Land (Images for Conservation) ranches in the Rio Grande Valley and the great trip we all had this year and last year (a sold out safari with a full set of satisfied participants), I'm pleased to announce that I'll be leading another photo safari to the Lens and Land ranches next May. We'll have 4 full days (and an optional 5th full day) of private shooting at the premier award winning Dos Venadas and Campos Viejos ranches which are only open to guided groups. Hardy Jackson, our co-host, won the most recent Valley Land Fund photo contest on his ranch, Campos Viejos so you'll have every chance to take similar award-winning images (most recently this Harris Hawk image won the Grand Prize in the 2012 NWF Photo Contest.)
South Texas is a unique location and the best place I've ever found to photograph those elusive North American woodland bird and raptor species that have eluded your "life photo" list.
The safari fee of $1950 includes all ranch fees (these are private properties which the owners have put a tremendous amount of effort into making bird photography paradise, so shooting on them is not inexpensive), guide fees and photo instruction, both in the field and workshop sessions on digital workflow and image editing as well as lunch for the four days we'll be shooting. For those interested we are also providing accommodations for a limited number of participants in an exclusive lodge right on the property for $1275 per person double occupancy ($200 discount for a companion sharing), including 5 nights of lodging, all meals, drinks, snacks as well as local transportation and pick up and drop off at the airport. If you have your own transportation but would like to stay at the lodge the room we offer a $250 per person discount off that amount. Or you can stay in nearby Rio Grande City and drive up to the ranches each day.
We're offering a $150 per person early bird discount if you sign-up by January 17th. That's in addition to a companion discount if two of you sign up.
If you can join us for the 5th day of shooting, it is an additional $250 for the day, including lunch, and (optionally) $250 for lodging, meals, and transportation.
Trip Background:

Green Jay
Nikon D2H, 200-400f/4

Wherever you've photographed before in the US, you'll be awed by South Texas. With a density and diversity of bird species matched only by a couple remote areas of Africa, the four counties making up "The Valley" as south Texas along the Rio Grande is called offer over 600 species of birds including 30 endemic species. Better yet, many of these birds are colorful and spectacular to look at.

By itself the presence of birds is not enough to create a photographic opportunity. We've all been to "birdy" locations where the birds were heard and not seen, or seen only through a scope. But fortunately for bird photographers, several of the ranch owners in southern Texas have created photo paradises within their ranches by adding feeders, watering holes and photographer friendy blinds. The most well known of these groups is Texas Lens & Land, the brainchild of long-time photographers and conservationist John Martin as well as Steve Bentsen, who now manages the loosely organized group.
Moose Peterson and I were fortunate enough to be able to spend a few days shooting on the Lens & Land ranches in 2006, including Steve's ranch. In my case I was looking for new destinations for my photo safaris as well as great images of hard to get species for my own files and after a week there I was totally sold. The species diversity combined with the improvements made for photographers and the local hospitality make the location a no-brainer winner. In a few days of shooting we got stunning images and captured commercial quality images of 39 species of woodland birds. This year I brought a group of participants back for another exciting week. Migration was in full swing so we each recorded new species every day.
At all the ranches the feeding and watering stations were well designed with attractive backgrounds. In a semi-desert area like southern Texas water in particular is an incredible bird magnet. Birds you could spend days trying to find in the open will flock to a drip watering station. This enabled us to get nearly non-stop action most of the time. Several ranches also put out carrion at feeding stations designed to bring in raptors including the unique and colorful Crested Caracara and the hard to find Harris's Hawk.

Green-tailed Towhee
Nikon D2H, 200-400f/4

Local specialties include Green Jays, Painted and Indigo Buntings, Curved-bill and Long-billed Thrashers, a variety of Sparrows and Orioles as well as the beautiful Great Kiskadee, Golden-fronted Woodpecker and many others. Between sessions photographing birds we were also treated to views of mammals including Coyotes and Javelina.
I'm always skeptical about photo blinds. There are so many ways to build them wrong that they can often be more trouble than they are worth. But the blinds on the Lens & Land properties are a joy to use. They are comfortable, with chairs and even outdoor carpeting in some. And using the blinds allowed us to be quite close to the action at the carefully situated feeders and watering holes. That not only allowed us to photograph some species which might not have approached if we were out in the open but allowed me to be very effective with my 200-400mm lenses--while allowing those participants with 500's or 600's plenty of room to work.

Painted Bunting
Nikon D2H, 200-400f/4 

If you have it, make sure to bring your macro gear as well. Cactus flowers will be in bloom and make for some great "flower portraits". Plus there are all sorts of little creatures if you're interested in photographing them.

Bronzed Cowbird
Nikon D2H, 200-400f/4 

The bane of many native birds and birders, even the Bronzed Cowbird can look magnificent in the right light.

Day 0 (May 5th): Arrive at McAllen (airport or drive). Head out to the lodge for a welcome dinner for those staying with us at the Lodge.

Day 1-4 (optionally day 5): 4 or 5 days of shooting on private ranches inter-mixed with some workshop sessions on digital workflow and image editing--along with plenty of great home-cooked food along with the ever popular "happy hour" each evening.

Last Day: Transfer back to McAllen airport or we have lots of other good ideas for bird photo destinations in the Rio Grande Valley you're of course welcome to explore.
(the trip has sold for three straight years, so try to plan soon! You can Sign-up Now)
For more information:
E-mail: safaris [at] cardinalphoto.com
or Call +1.650.851.8350