Southeast Asia Trip Report–Destination Myanmar (Burma)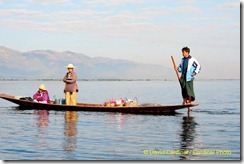 After a busy five days in Cambodia we reluctantly took our leave and jetted off to Myanmar. After a short connection in the Bangkok airport (Bill was ecstatic to find they had Durian ice cream there but the foot massages were a bigger hit with most of the folks) we arrived in Yangon (formerly Rangoon and still the largest city in Myanmar) in time to see sunset on the way into town. We get asked a lot about whether it is difficult to get permission to travel in Myanmar and the answer is absolutely not—tourists are welcomed. And once there no country has friendlier people…
Shwedagon Pagoda: More Gold Than Fort Knox?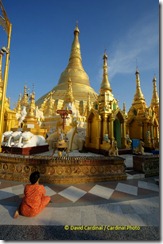 The most amazing sight in Yangon and perhaps in all of Myanmar is the Shwedagon temple and its amazing gold pagoda. The temple itself is a wonderful experience with hundreds of Burmese visiting there to pray, give offerings, or just to have a comfortable place to walk and talk out of the city's heat. It was wonderful to come from the mostly abandoned temples of the Khmer at Angkor to one which was so alive and such an important part of everyday life for Buddhists in Yangon and throughout Myanmar.
Devout Buddhists from around Myanmar and the rest of Asia often make a pilgrimage to the Shwedagon and "make merit" by sweeping around the pagoda as part of their trip. They and many of the locals also make it a point to worship at the shrine dedicated to the day of the week of their birthday like the woman in this photo. The Burmese traditional calendar is based on a lunar calendar and each week has eight days with Wednesday being split in two. Each day of the week has its own totem and determines the choice of the first letter of a Burman's given name.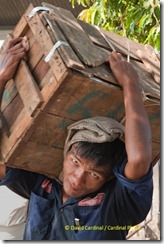 For the curious the Shwedagon pagoda actually doesn't contain more gold than Fort Knox, but at nearly 100 tons of gold plate and leaf in the dome it has several billion dollars worth of the precious metal with several tons being added through donations each year.
There are some modern dock facilities in Yangon for ocean-going ships but most of the river ships bringing rice to the city from the Delta area are often unloaded the old fashioned way—one bag at a time. The longshoremen work in teams with each of them bringing a colored stick along with each bag and then dropping it in a pile. After the ship is unloaded the crew will be paid based on the number of sticks and then divides up the money. The job doesn't pay much by US standards, but the $5 per day they can each earn keeps their families fed.
Bagan and the Plain Of Temples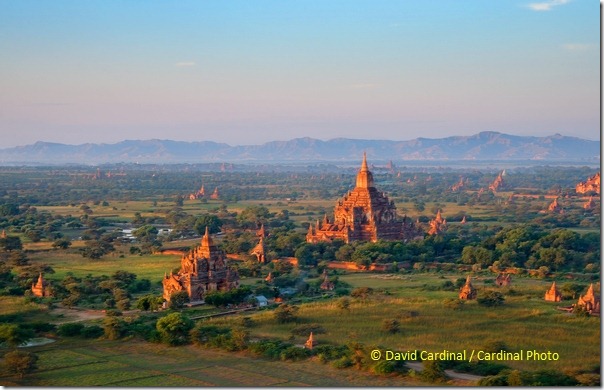 Describing the plain of temples around Bagan is a thankless task. No matter how hard one tries to convey the amazing sight of literally thousands of religious monuments in one area visitors are blown away when they get there and ask why we didn't tell them how amazing it really is. Photographing it can be as challenging as describing it. There are literally temples everywhere you turn so deciding where to focus and how to compose an image requires some careful thought.
Each temple also has its own personality inside. Grand structures like Ananda have soaring Buddha statues in each direction, adorned with both their own gold leaf and gold paint but also shrines loaded with flowers and offerings. Smaller temples feature ancient carvings and frescoes or perhaps just excellent examples of the architecture which was prevalent in the 12th and 13th centuries when the Kings at Bagan ruled much of what is today Myanmar.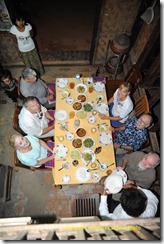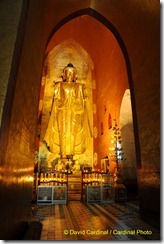 As unique as the temples at Bagan are, the Irrawaddy River is the center of much of the life of the town. We were fortunate to be staying right on the banks of the river with panoramic views of the river traffic meandering up and down stream. And as we always do one evening we chartered a boat and went for a sunset cruise up the river. The banks were busy with Burmese doing their laundry, washing off, getting water with their large jugs or oxcarts or just plain goofing off. Soon we arrived at our destination, a small seasonal fishing hamlet on the sandbar in the middle of the river. Here farmers and their families lived during the seasons where the islands were exposed and they had good fishing. Their hand-paddled dugout boats served as family taxi, school bus and fishing boat for setting and checking their nets.
Another great feature of our visit to Bagan is dinner at the home of some of our local friends in traditional Burmese style as you can see from the photo of us at the table.

The Road To Mandalay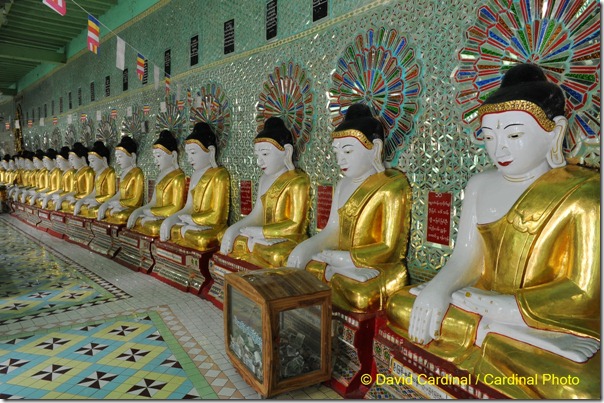 Although no city could be quite as colorful as Kipling made Mandalay out to be it has plenty of charm as the religious capital of Myanmar. Tens of thousands of monks and nuns live in hundreds of monasteries and nunneries in Mandalay and the surrounding towns—especially Sagaing. Mandalay is the religious capital of Myanmar and every visit there has plentiful opportunities to photograph monks and nuns of all ages—since most of the best schools for children are run by the Buddhist church many children attend them and dress and act as monks and nuns even if they have no intention of pursuing religious studies as an avocation. In addition every Burmese Buddhist man is expected to be a monk at least twice in his life—once when they are children (similar to the Confirmation rite in the Catholic church in many ways) and once as a young man. The ceremony where they are inducted as children—the novice initiation—is especially colorful.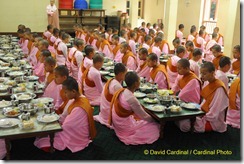 Women are not required to serve as nuns but may choose to either have a similar celebration while their brothers are initiated. The large role the Buddhist Church (Sangha) and Buddhist religion play in everyday life in Myanmar is hard to imagine coming from a western country. It really plays a more central role than the government for most people.
Mandalay is also home to the world's longest and most famous teak bridge, the U Bein bridge, which was built from used timbers taken from a former Burmese palace by the British engineer responsible for designing it. Only suitable for people and bicycles it is still a major conduit between villages in the Amarapura area south of Mandalay. During the day it is a center for many types of commerce but in the evening it becomes something of a "lover's walk" where couples stroll in the sunset. It is one of my favorite places to photograph—both from the bridge itself and from rented boats in the lake below.
Inle Lake and the Shan State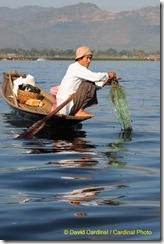 From my first visit to Myanmar I heard from nearly everyone about Inle Lake and how beautiful it was. But frankly most countries have a large lake that they are very proud of and in many cases I've found them to be over-crowded with tourists and under-whelming. So it wasn't until my fifth trip that my co-lead Ed and I finally decided to see for ourselves. We were blown away by the sheer beauty of the area and the variety of unique photo opportunities. From that day it became part of our photo tours as a highly recommended extension.
Inle Lake is in the Shan State, one of the many portions for Myanmar dominated by minority ethnic groups in this case including the Shan, Palaung Pa-O and others. The result is colorful villages and markets with many locals dressed in their traditional outfits.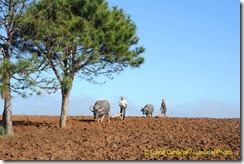 While I was amazed by the beauty of Inle Lake I can't say it was un-expected. But what I didn't expect was the postcard-perfect picturesque scenery of the Shan state and the local villages and farmers. It was hard to get from one place to another as there were so many opportunities to stop, jump out and take some photographs of farmers with their oxen, or women harvesting crops or carts of produce heading down dirt lanes. Best of all most of the locals were not only willing to have their photos taken they were enthusiastic about creating interesting compositions with their carts and ox and circling around so that those who didn't get the image they wanted at first had another try. What a wonderful way to travel!
The other religious site I really wanted to visit in the surrounding area was the Pindaya Caves. As caverns the caves are impressive, with some chambers being over 100 feet high and the labyrinth stretching several hundred feet. But that isn't what makes the caves special. They are special because over the centuries nearly 8,000 Buddha images have been placed in niches, on platforms or hewn into the rock walls. The result is one of the world's most decorated shrines but all strewn around a large natural cave. As you might expect it is a little tricky to photograph, especially since the lighting that is provided is a mix of just about every type of light. But we each got some photos we liked and in particular I used Nikon's Creative Lighting System to fire several flashes and light a large multi-section chamber that I'd seen on my last visit.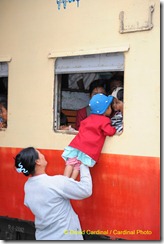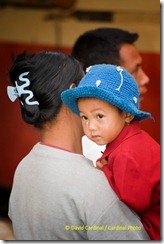 Even everyday life in most of Myanmar is like a trip into the past. Watching the once a day train arrive in Kalaw provides a slice of active life that is much the same as it would have been nearly a century ago. Most of the train cars date from the British era before World War II and the platform is lively with women selling fruit through the train windows so the passengers have something to eat on their long and not very predictable journey towards Yangon.
About the "long-necked" Women of the Padaung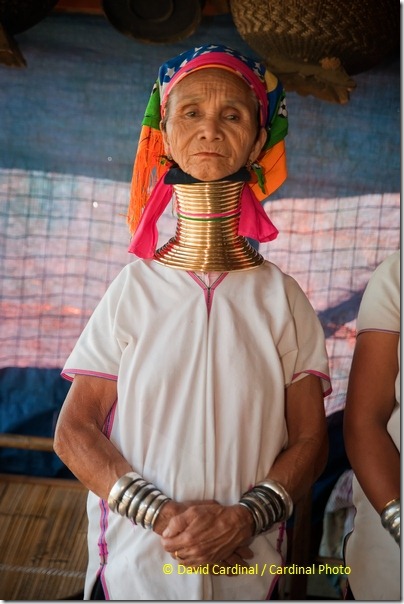 One photo nearly everyone has seen is of the "long-necked" women of the Palaung tribe in the Shan State. From an early age women of the Palaung traditionally placed brass rings around their necks. As the pressure from the rings "lengthened" their necks (actually it pushes down their collar bones) more rings were added. Older women could literally have dozens of these rings around their neck. Like some of the other tribal customs found in Myanmar (like the tattooed faces of the Chin women) this one is quite off-putting to most Westerners. What made this worse is that while the practice was starting to die out tourist organizations in both Myanmar and Thailand were aggressively working to continue it to help attract visitors.
As a result we've been very reluctant to visit Palaung villages or even to photograph the Palaung women who were paid to pose for tourists. However this trip we were introduced to three women who had formerly posed for money and then been returned to their home village when the practice was stopped. In their case they found conditions so unlikeable in their home village that they returned to the Inle Lake area and began welcoming and posing for tourists as a gesture of goodwill. As always it isn't really possible to sort out all the issues or whether we were really getting the full story but we decided it would be a good opportunity to photograph these uniquely decorated women.
We were also able to get some firsthand information to help correct some of the urban legends about the rings. The best news is that they do not need to be permanent. There doesn't appear to be anything "fatal" about removing them, even later in life, although the rings do leave behind darkened skin (bruising?) so many of the women leave them on to avoid showing that. And many of the younger women are either not putting the rings on or are taking them off in order to have a better chance at jobs outside their home villages.
The Politics of Visiting Myanmar
Over the years a number of groups have objected to tourists visiting Myanmar because of concern that the money they spend goes to support the government. In truth when the tourist industry was government owned twenty years ago and the government had limited alternate sources of income this might have made some sense. But today the tourist industry is largely owned and run by private businesses (and of course tourists can choose to use private instead of government airlines and hotels) so nearly all the money goes to hard-working and very deserving middle-class Burmese who have few other options for good paying jobs or business opportunities.
And the government now gets most of its income from state monopolies in Oil, Natural Gas, Timber, Rubies, Jade and Hydropower—to the tune of nearly $10 billion per year. Tourism is less than 1% of Myanmar's GDP so there is really no good reason not to visit. Even the brief aside from Aung San Suu Kyi in 1995 about visiting has been largely retracted now that she is free and able to see how much things have changed and how much value it adds to the people of Myanmar to have foreign visitors.
No one who has been there recently comes away with anything but enthusiasm for their interactions with the local people and pleasure that they were able to visit with them and help provide them with some income and friendly foreign interaction. As always our trip was hosted by the wonderful team at Tour Mandalay led by Mee Mee and Khin Zaw Nichols. It's great to have such a reliable group to work with each year as it makes our job that much easier and everyone's trip that much more pleasant.
Is it Burma or Myanmar?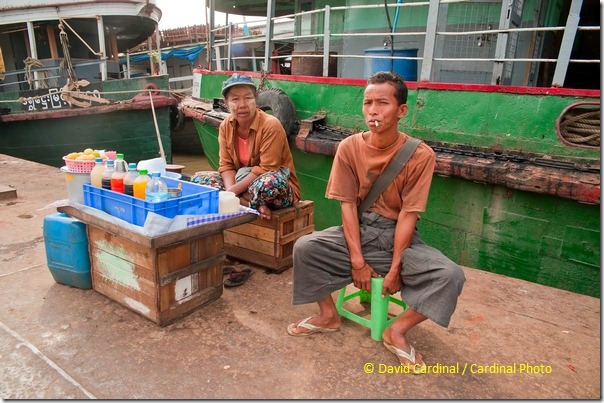 Like many countries Myanmar didn't have all that much of a formal name for itself until recent history. But Myanma was the formal name with Bhama often used as the spoken or informal name. The British named the country Burma when the finished conquering it in the third of the British-Burmese wars. So in 1989 when the government changed the name from the "Socialist Republic of the Union of Burma" to the "Union of Myanmar" it was trumpeted as demonstration of their national strength and rejection of their colonial history.
Typically this would have been a simple thing as with so many other countries which have reverted to using pre-colonial names for places. Except that as a political statement various groups including the US & UK governments and some ethnic minorities and opposition political groups feel that the new name is actually less inclusive or less legitimate and continue to refer to the country as Burma. Burma is certainly easier to say but inside the country on average it is probably more appropriate to refer to it as Myanmar.
Many other place names were also changed with Rangoon becoming Yangon, the Irrawaddy becoming the Ayeyarwady and the Arakhan become the Rakhine State. Most of these are not controversial but there is still some usage of the older forms for convenience.
Giving Back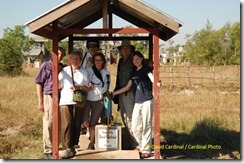 One of the most rewarding parts of a trip to Myanmar is the many opportunities to help the people there to help themselves. From having dinner at our favorite family-owned tiny restaurants like San Thi Dar in Bagan to giving out hundreds of pencils to students in small village schools all the way to more formal efforts like the well and pump our friends and clients donated to a village in the wake of Cyclone Nargis trips to this lovely country are about a lot more than just visiting temples and taking pictures.
Each time we give we are rewarded many times over. On return visits we're always greeted with wide smiles and usually our hosts try to outdo us with gifts of their own.
Learning More & Announcing our December 2011 Trip
Of course we'd love to have you join us this December for our next photo tour of Cambodia and Myanmar (Burma) and that's the very best way to learn more about this area and how to photograph it. This year's trip worked so well that we'll be using a very similar itinerary for 2011, of course with some new places and lots of customization based on celebrations and events in the region while we're there. If you have any questions that aren't answered by the web page feel free to email us at safaris [at] cardinalphoto.com.
After our December 2011 trip we're looking at January, 2013 for our next organized visit. Both trips also feature the world heritage site of Angkor Wat in Cambodia which we wrote about in the other half of our trip report.
You can see a slideshow of more of the images from our most recent trip:
A Photo Gallery From Our Trip to Myanmar and Cambodia
In the meantime there are some good books for background reading and for helping think about your visit: