Think Tank Sling-O-Matic Bags: The ultimate field packs
Thu, 2013-07-25 16:59
I've spent the last two weeks in the field everyday with the new Think Tank Sling-O-Matic 20 Sling Camera Bag. Moving through marshes and meadows, as well as across streams, the bag was put through its paces as the home for my second camera body and lenses as I led two photo trips in Alaska's Lake Clark Park. My need for something like the Sling Bag was the need to switch cameras and lenses coupled with the impossibility of setting a traditional backpack down in the water and mud we were often dealing with.
Fortunately for me, the Think Tank Sling-O-Matic 20 exceeded my expectations. I found it simple to slide it around to the front and grab what I needed. Personally, I used it with the strap on my right shoulder, but it reverses in seconds for those who prefer the left shoulder. As always with Think Tank bags, it is well constructed and the removable padded dividers are sturdy but don't get in the way. I was using the mid-size bag, to give me enough room for my SportShield rain cover, my backup Nikon D7100 body, Nikon 70-200mm f/4 lens (the f/2.8 would also have fit), a Nikon 24-85mm mid-range zoom, and my 1.4x and 2x Teleconverters. The bag also held its own rain cover. Frankly I had enough room left that I could probably have done fine with the smallest size sling bag for this particular use.
The Think Tank Sling-O-Matic 20 can be arranged with the dividers vertical, providing up to four "columns" each capable of storing a couple small lenses or one lens as long as a 70-200. One set of the dividers has the convenient "camera flaps" that make it easy to store a camera body with lens attached. The bag can also be set up with the dividers "horizontal" and your main camera and lens across the top. By supporting the long lens with shorter dividers in that configuration you can use the underlying space for your other lenses and accessories.
Unique features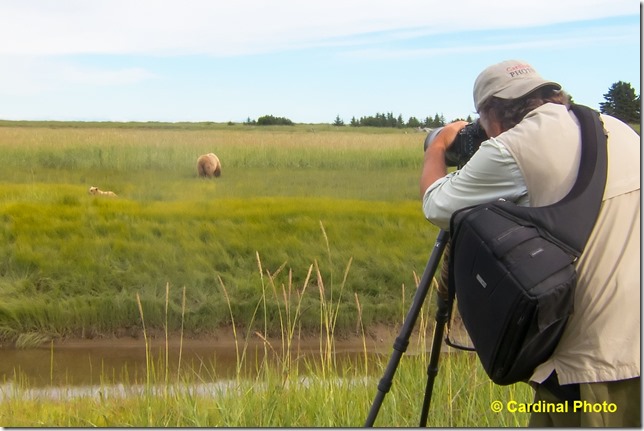 The ThinkTank Sling-O-Matic 20 is perfect for field situations like this one where we are photographing a
mother brown bear and her cubs on our Alaska Photo Safari, and don't have any easy way to set a gear bag down.

The quick reverse for switching shoulders isn't the only thing that makes the Sling Bag unique. It also allows for quick access to all of the gear in the bag instead of only to the main camera compartment like some other similar bags. I also like that even if I needed to quickly push the bag partway onto my back without having time to zip it up, the compartment stayed level enough not to dump my gear. However, I do recommend zipping it before pushing it around to your back and out of your sight. There is no guarantee you won't accidentally push it so far around that something starts to spill out.
ThinkTank also provides a sort of "chest strap" that helps keep the shoulder sling held away from your neck. If you have the pack fairly full, this is a nice touch for some added comfort. There is also a tripod pocket for small tripods, or for use with the included tripod straps for larger tripods. As with all Think Tank bags, construction is excellent and there are plenty of handles to grab the bag from just about every side. There are also zippered pockets on front, back, and side if you use it as your primary bag and need to store documents or newspapers. A small business card pocket is another thoughtful touch, as is the included rain cover.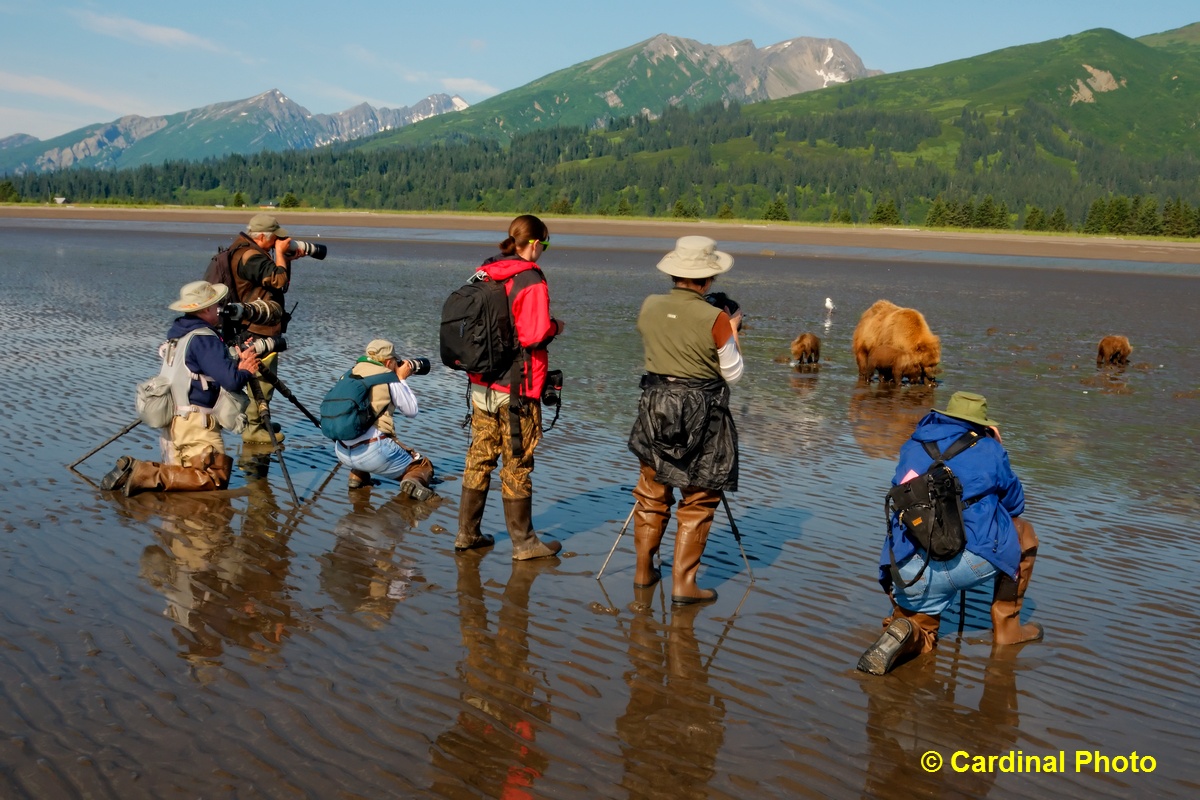 In the field, it isn't always possible -- or a good idea -- to set down a bag to work from it.
The Think Tank sling bags make working in those situations a breeze.
What about a long lens?
For many sports, event and photojournalism uses, the Think Tank Sling-O-Matic 20 may be all you need. For wildlife projects like the bears, a larger telephoto than the bag can hold is also needed. For those wondering what happened to my long lens, when we go out to photograph the bears I already have it out and setup on the tripod. By preparing it in advance, I'm able to use a practical bag like the Sling Bag rather than lugging a full-up backpack like my ThinkTank Airport Takeoff into the field. Rolling backpacks are great for travel, and for locations where you can set the bag down to set up, but not very convenient in rough environments. There is actually an even larger version of the bag, the Think Tank Sling-O-Matic 30 Sling Bag , that includes room for a laptop, but for use as a field bag I didn't need that.
Not for every shooter: camera size limitations
While the bag held my Nikon D600 and Nikon D7100 perfectly, it really wasn't wide enough to close easily around a large-bodied DSLR like the Nikon D4 or Canon 1D X with lens attached. If you want to use it with one of the larger pro bodies you'll either need to store the camera and lens separately, or deal with a bulging bag.
On the other end, if you have less gear, you might be able to get away with the smaller and less expensive Think Tank Sling-O-Matic 10 Sling Bag.
Always some room for improvement
My only small gripe about the Sling Bag is not finding a good way to stash my jacket "in" it. Alaska is the epitome of a "dress in layers" climate, so there is often a jacket that needs a storage place. I expect I'll figure something out for attaching mine to the outside of the bag, but I think I would have liked some type of net mesh or other elastic strap on the outside of the bag so that I could stuff a jacket into it quickly. The bag does have a sleeve on the side that could be used to attach some type of add-on pouch, but I'd prefer to see something integrated.
Summary: Is this bag right for you?
If you're looking for the fastest way to deal with your cameras and lenses in the field, and are okay with the idea of a "sling" style bag instead of a traditional backpack, the Think Tank Sling-O-Matic 20 is definitely worth a look. It is my new favorite field bag. The Think Tank Sling-O-Matic 20 is a great value at $134.20 from B&H, while the Think Tank Sling-O-Matic 10 is slightly less at $110.20, and the larger Think Tank Sling-O-Matic 30 is $158.20.