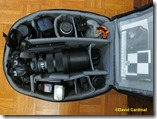 In the continuing quest to get lighter & smaller I've written about taking the plunge to a mirrorless camera, but what if you want to stick with good-old DSLR technology? I've assembled the lightest and smallest bag I can think of that will do serious professional quality work on a wildlife safari – so of course I want to share it with you.
Safari requirements
Obviously there are a lot of tradeoffs in putting together any set of gear. If weight and space are really your primary concerns, you may want to go all the way to a mirrorless setup like the one I used this spring. However, if you want a more "no-compromise" rig that includes DSLR-quality images, but don't want to break your back or the bank with the most expensive and heaviest equipment, fortunately there are some good options for you. I've put my favorites together to create a full pro quality safari photography kit that weighs in (including roller bag) at just about 30 lbs. In this article I'll take you through what I've included, why I bring it, and give you some thoughts on alternatives in case my list isn't perfect for you.
In this case, I've made sure I have two cameras – for backup and so I' can have multiple lenses. I've also got some overlap in lens ranges, in the unlikely event of a lens failure. The kit includes minimal flash gear, so if you want to do a lot of complex setups you'll need to enhance it. Likewise other than a hand wave that a laptop can fit easily in the outside pouch of the ThinkTank Airport Takeoff, I haven't dealt with the computer side of things.
I've also assumed that a rugged backpack capable of being checked as luggage in a pinch is important, but that it also needs to have wheels for long airport transfers. As far as focal lengths, this kit can get you to 900mm (35mm equivalent, when using the Nikon D7100) which is plenty for most mammal work and some birds, but if you're addicted to pure bird photography you'll likely want to swap out the big lens I've chosen for a 500mm equivalent.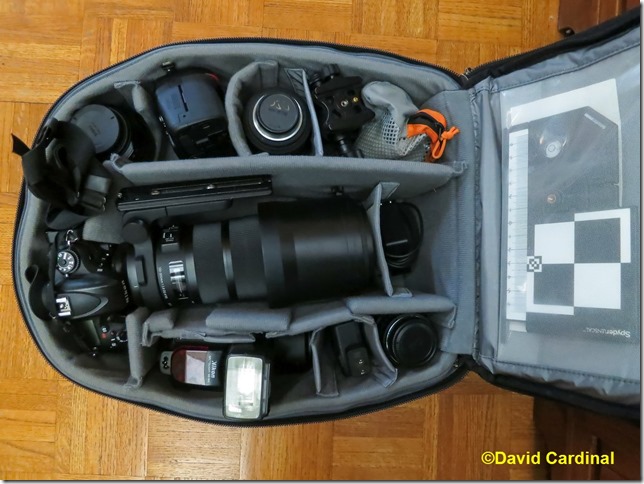 Ultimate "lightweight" pro-quality photo safari gear and bag
What's in the bag: Camera bodies that won't weigh you down
I really love the low-light sensitivity of full-frame camera bodies. However, for wildlife it is sometimes nice to have the (apparent) reach of an APS-C (DX) sensor. The very top pro bodies are also large, heavy (nearly 3 lbs. each) and expensive (around $6K). For the fraction of the price of 2 Nikon D4 bodies, I can travel with a Nikon D600 and a Nikon D7100 that fit more easily into my favorite ThinkTank Airport Takeoff roller bag.
Obviously there are lots of other options for camera bodies, but the key is to think about what features you really need. The one thing I really miss with this setup is the higher frame rate of a D3 or D4, or even my Nikon D700 with vertical grip. For times when I really need top performance I'll trade out for one of those, but the bag starts to get overcrowded if I trade out for two of them.
Leaner & lighter lens selection
This bag features two lenses that are smaller and lighter than the ones I am used to carrying. It has the new Nikon 70-200mm f/4 AF-S lens (nestled under the flash), and the brand-new redesigned Sigma 120-300mm f/2.8 HSM lens. Between those two lenses I save a couple pounds and some space (and money) over my Nikon 70-200mm f/2.8 AF-S Lens and Nikon 200-400mm f/4 AF-S lens combo. By having my long lens capable of f/2.8, I can continue to use it in low light at the beginning and end of the safari day, so I can live with the 70-200 being only an f/4. Bringing the relatively shorter 120-300 does mean I've also packed a Sigma 1.4x and 2.0x teleconverter.
While the combination of sensor, lens, and teleconverter options can get me up to nearly 900mm effective focal length, if you're going to be photographing small mammals at a distance or birds other than in a blind, a longer lens like a 500mm f/4 is an alternative. A 600mm f/4 is just too big to consider for this type of setup.
I've also got an excellent, compact mid-range zoom, the newish Nikon 24-85mm AF-S lens. If you really want a no-compromise solution in the mid-range, an f/2.8 pro lens like those by Nikon, Canon or Sigma are options, but they are all heavier and more expensive. I'm also something of a wide-angle junkie, so I've included my favorite ultrawide lens, the Sigma 12-24mm zoom lens. If you're a macro fanatic, you could of course substitute a macro lens, or possibly an ultra-fast portrait lens.
Let's not forget Accessories
A Nikon SB-910 will do a great job for flash (flash shown folded to allow you to see the 70-200 underneath), along with my Wimberly flash brackets in the small orange bag – which also holds a spare SD card reader. A Nikon battery charger nestles in to the compartment next to the flash. My Datacolor Spyder LensCal and Sennheiser MKE400 hotshoe microphone go with a lens pen and some lens clothes in the accessory pouches in the pack's cover.
I've also added a cool, new long lens tripod head to my arsenal. The Acratech Long Lens Head (Indexed version) is ultra-light (1 lb.) compared to a Wimberly head (3 lbs.), very small, and can be used as a standard tripod head when needed. It's nestled in right next to the flash cables. As you can see, my tripod legs aren't in the bag, so those still need to go in my duffel. Carbon fiber legsets like the Gitzo 3-section version I use only add a few pounds though.
What about my Computer?
I haven't forgotten that most of us like to look at images after we take them. Shown in the pack is a laptop charger, while my laptop (or tablet) itself fits nicely in the outside pocket of the bag. In fairness my 30 pound budget doesn't count the laptop weight, so depending on your model that might add another 2 to 6 pounds.
"Upgrades" you might consider
Of course there is no shortage of ways to stuff your safari pack more full with larger, heavier, and more expensive items. Since the point of this article is to put together a relatively lightweight solution, I've left some of them out. But if you want to push the envelope a bit further, here are some of the "upgrades" to consider:
"Downgrades" to save money or weight
In case you want an even lighter load, or simply don't want to spend quite as much money there are some great budget options:
Hopefully this kit gives you some ideas for how to put together your own ultimate safari bag. If you've got more questions about safari photography and gear, remember to tune into the Webinar I'm co-hosting with David Tobie for Datacolor and Sigma on July 30th! [Sigma will even be doing a drawing for a 120-300mm lens]