Value-priced Super-Zoom: Sigma 18-250mm OS Lens Review and Field Test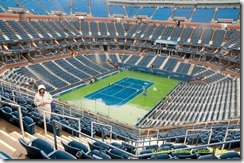 Since its introduction the Nikon 18-200 has been one of the most sought after "super-zoom" lenses. Used not only by amateurs but by many pros for its convenience and high quality images the lens was and is best suited as an "all in one" lens especially for travel. But with time the price has continued to creep up so that the current VR II version is now $800 (and out of stock at many retailers), so it is certainly not a bargain anymore.
So for those with limits to their pocketbooks or without the time to wait until the Nikon version returns to the shelves I wanted to field test a couple of the less expensive alternatives. I'd already seen the images from the Tamron 18-270 that my clients Jim were using in Africa and was impressed by its small size and reasonable image quality. So for this comparison I borrowed a Sigma 18-250mm OS HSM lens. This new version not only has stabilization (OS) but also built-in focusing motors (HSM) although like all the other similar lenses it is designed for use only with APS-C (Nikon DX) format cameras as it vignettes substantially when used full frame—in Sigma parlance it is called a DC lens. [Full frame users can opt for the larger and more expensive Nikon 28-300mm lens as an alternate]
The Sigma 18-250mm lens is small and feels well built. Certainly in the time I've used it including outdoors at several sporting events it always felt solid and the zoom and focus rings all stayed firm. Like most modern lenses it has a switch for AutoFocus or Manual and then another to turn the Stabilization on and off. And in a nice touch now found in some super-zooms there is a "lens lock" to prevent the creep that can happen when your camera is carried lens down and the lens zooms itself out to its full length.
The good news about this lens is that you can get this solidly built performer for under $500 for either Nikon mount or Canon mount (B&H price $499). For the budget or size conscious it is a savings of $300 over the Nikon and even of $100 over the Canon equivalent. Of course you're not going to get the same razor sharpness you would from a much larger and more expensive 24-70mm f/2.8 pro lens but is a lot more convenient and less than half the price.
Image Quality
Of course the real test is how it performs in the field. These street scenes show how the lens handles typical "vacation" shots. Both have plenty of detail, little distortion and good color: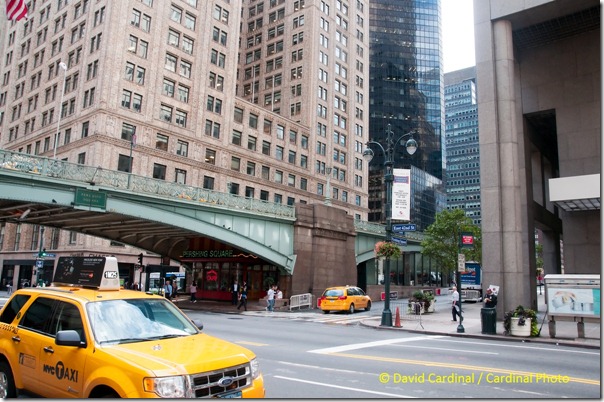 42nd Street after the filming of The Avengers outside Grand Central Station, New York City
Nikon D300S, Sigma 18-250mm Lens, f/8 @ 1/350s, 18mm with ISO 1100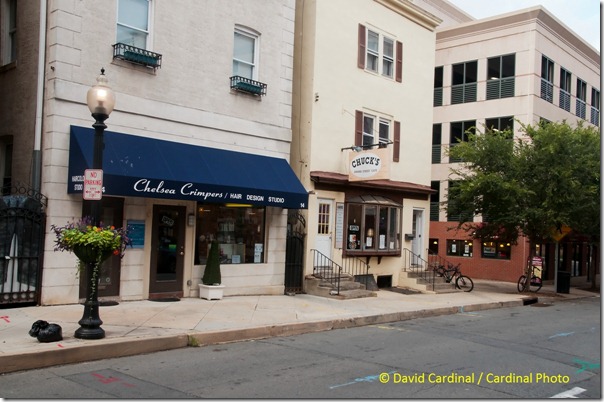 Suburban neighborhood street in Princeton, New Jersey
Nikon D300S, Sigma 18-250mm Lens, f/11 @ 1/250s, 24mm with ISO 1100
The lens also performed well in landscape situations like this shot of a woman walking along the D&R canal in New Jersey: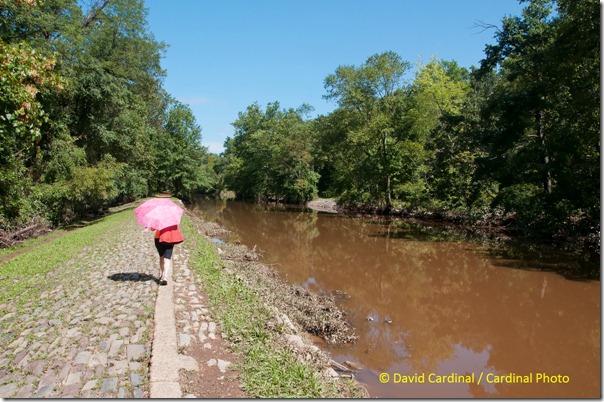 Bright days like this one along the D&R Canal stress the color fidelity of sensors and lenses.
Nikon D300S, Sigma 18-250mm Lens, 4/11 @ 1/250s, 24mm with ISO 1100
Pushing the Envelope: Outdoor Sports
But the lens's abilities didn't stop there. I'd never recommend rushing out to buy it as a serious sports lens and certainly its slowish maximum aperture of f/3.5-f/6.3 means it'll never be much good for indoor sports, but when I needed an unobtrusive lens I could use from the stands at the US Open it did a very credible job of capturing the action (during the bright daylight of course):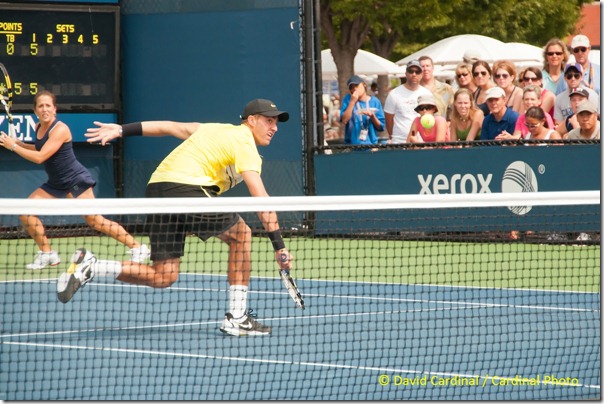 Early round doubles action at the US Tennis Open 2011
Nikon D300S, Sigma 18-250mm lens, f/6.7 @ 1/1500s, 135mm with ISO 560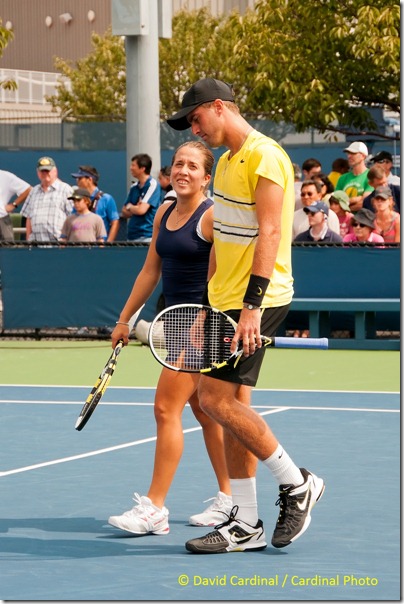 Not all sports is peak of action, emotional moments matter too.
Nikon D300S, Sigma 18-250mm lens, f/5.6 @ 1/2000s, 80mm ISO 560
If you're budget conscious the Sigma 18-250 and the Tamron 18-270 are definitely your best options for an all around "super-zoom" for your small sensor D-SLR. I like both of the lenses a lot. The Tamron is $180 more than the Sigma though, making it slightly more expensive than the Canon and fairly close to the price of the Nikon equivalent so the Sigma is definitely the budget choice for those who still want a quality lens.