Weye-Feye: Performance wireless camera control at a reasonable price
Wed, 2013-11-13 17:03

As a Nikon shooter, I've been both tantalized and frustrated for nearly a decade with Nikon's on-again, off-again approach to WiFi connectivity for its DSLRs. The original WT-1A was an expensive boat anchor in practice. Four generations later, the Nikon WT-5A is a huge improvement, but it is $570 and only works with the $6K Nikon D4. Those with lesser cameras like the Nikon D600 or Nikon D800 benefit from the incredibly small, inexpensive Nikon WU-1b. It's fun for remote shooting, but is crippled – deliberately or just because of its limited hardware – in not offering remote focusing or camera setting adjustments. Fortunately there is now a middle ground…
XSories (a new brand from veteran sports video company X-Treme Video) has introduced a new approach to wireless camera control. The Weye-Feye wireless adapter is a programmable approach to multi-vendor camera control. It already supports most current Nikon and Canon DSLRs, but more models can be added as specs are programmed into the upgradeable unit. It also features a nearly full set of camera controls, directly accessible from your mobile device. At $249 it is a fraction of the cost of the Nikon, much more flexible in terms of camera support, and more powerful than the alternative units Nikon offers for its other DSLRs. I think it also offers more capabilities than the embedded WiFi in Canon's DSLRs, but I'm not as familiar with those, so you'll need to judge for yourself.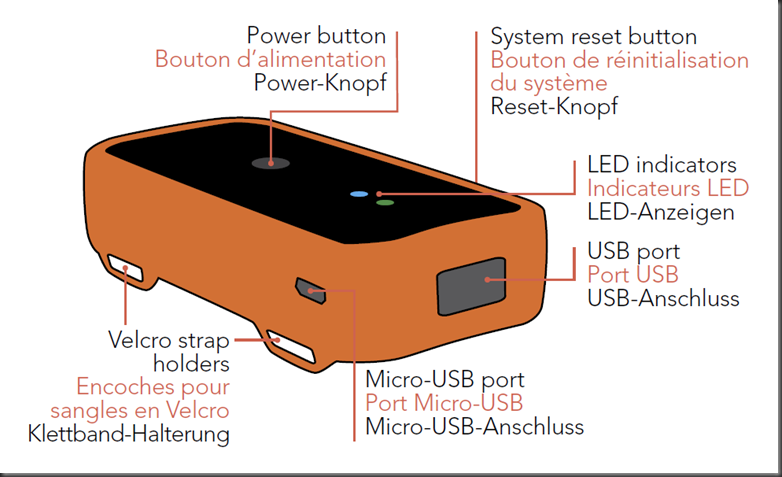 The Weye-Feye comes in a removable bright orange rubberized case.
Full flexibility in camera control
The Weye-Feye unit offers an ever-expanding set of controls for your DSLR. THe specific commands available depend on your camera model, but for my Nikon D600, they currently include:
Live View with Histogram
Capture Mode, including both still & video modes
Self-timer, time-lapse, several different kinds of bracketing including focus stacking
Aperture, Shutter Speed, ISO, White Balance
Touch to Focus or manual focus or AF
Exposure Compensation
As with any wireless device, there is latency before commands are executed. For the Weye-Feye it can be as low as .2 seconds (plus any lag on your mobile device or camera).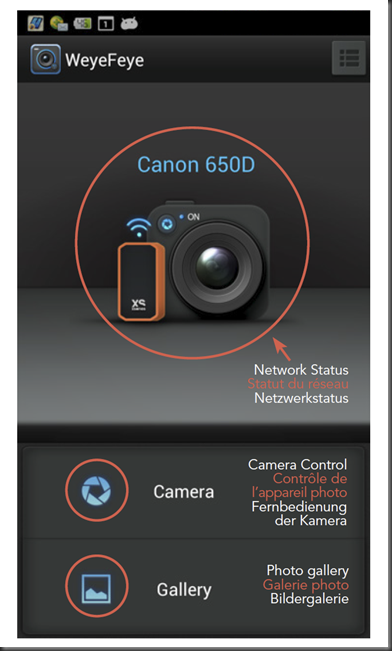 The mobile app has a simple UI,
and is being updated with new features frequently.
Build and Ergonomics
The Weye-Feye is a small unit with velcro straps that make it easy to attach to your camera strap. It has a rechargeable battery (via USB) and connects to your camera through whatever type of USB connection your camera provides. (Full list of currently supported cameras below). Other than that it is fairly plain (although orange), and features only a power switch and a pair of LEDs for on and charge. It seems solid and has been reliable in the brief time I've had it. The battery has a claimed capacity of 8 hours of operation, which is pretty reasonable for a small, self-powered, device (many OEM adapters use camera power, which is both a blessing and a curse).
Other Weye-Feye Features
The Weye-Feye is fully upgradeable. I the couple weeks I've had a unit they have already upgraded the firmware twice and added a variety of new features.
The Gallery portion of the mobile app lets you browse images on your camera and quickly upload them to your phone or to any of a number of social media sites. A spokesperson for X-Treme Video also told me the platform is open to other developers, but I haven't seen any details on how that works in practice. However, if true, it'll be a breath of fresh air for the typically proprietary camera control market.
The Weye-Feye has also added WiFi passthrough. That means you can connect your phone or tablet to the hotspot it creates (the same way most camera WiFi options work) but it can then in turn connect to your wide-area-connected WiFi so that your mobile device still has connectivity. That's really helpful if will be uploading images or don't have cellular data coverage locally.
Tethering to Mac & PC included
I haven't experimented with it yet, but there is also some tethering capability for Mac & PC in addition to the mobile device connectivity.
Buying a Weye-Feye
Currently the Weye-Feye can be bought directly from the company for $249.
Full Specs for the XSeries Weye-Feye
(Note that the Weye-Feye has already been upgraded with additional features like WiFi passthrough since this release)
Press Release
The Weye Feye will smartify your DSLR!
Don't miss a bit of the action without having to take the plunge!
The high tech accessory brand XSories is proud to introduce a new technological
innovation, the Weye Feye, an external device connecting to a DSLR. It generates its own
Wi-fi network, enabling a wireless and remote control of a camera via an App on
smartphones and tablets (available on Android and iOS).
The Weye Feye adapts to most of the Canon and Nikon cameras. With its built-in battery
and server, the Weye Feye is completely autonomous from the camera. It operates with
802.11n Wi-fi technology, which ensures a powerful signal with higher speed and larger
range.
The range of the signal (up to 80 meters) coupled with a record 0,2 sec latency makes it the
highest-performing product on the market.
With the Live View function available via the App, you will be able to take over the control
of the camera without touching it. Change the set-up (ISO, white balance, aperture, etc),
switch in between modes (photo or video, time lapse), control the focus (manual or
automatic) and wirelessly set off the capture of images.
The Gallery will allow you to view, select and share the images from the smartphone or
tablet directly to a computer or via social networks and sharing platforms (YouTube,
Facebook, Instagram, Twitter, Dropbox, etc).
The integrated server allows several users to access the Gallery without installing the App.
You can now get away from the LCD screen of your camera thanks to the live view function
during both still capture and recording. The Weye Feye allows users to engage in new
approaches of photography helping them to achieve elaborate composition on their own
without having to direct an assistant. Operating your camera(s) remotely gives you more
freedom of movement and enables you to capture moments your presence would otherwise
disturb.
List of compatible cameras:


NikonD5100 Canon 6D
Nikon D600 Canon 450D
Nikon D7000 Canon 50D
Nikon D300 Canon 7D
Nikon D700 Canon 5D II
Nikon D300s Canon 60D
Nikon D800 Canon 650D
Nikon D90 Canon 600D
Canon 5D III
Camera Control Features

LiveView:
Enjoy the LiveView on your smartphone / tablet (Android) and iPhone/iPod touch/iPad with
a latency of only 200ms depending on network interference and operating distance.
Touch Focus:
Choose the zone of interest on your LiveView and zoom in with just a single touch.
Remote settings:
Settings, such as ISO/Aperture/Shutter Speed/White Balance can be changed remotely
without reaching the camera.
Shooting Mode:
Shoot photos in single shot or continuous mode, depending on your needs.
Metering Mode:
Depending on your DSLR, you can also change the metering mode through the App.
Preview of depth of field:
Preview the depth of field on the LiveView to check what your photo will really look like.
(only on Canon DSLR)
Remote Manual Focus:
Control the manual focus from the distance trough your app, if AF is not an option. You can
tune the focus in small, middle or large steps.
Recording:
Record videos with your DSLR through the Weye-Feye application.
Gallery:
The Gallery will allow you to view, select and download the images from the camera's
memory to the smartphone or tablet directly and share them on social networks or sharing
platforms.
Gallery web server:
The integrated server allows up to 20 users to access the Gallery without installing the App.
TECHNICAL SPECS

• Dimensions: 83mm x 45mm x 16.5mm
• Battery: Lithium polymer - 2000mAh
• Battery-Life: 7-8 hours in Live View mode and 14 hours in Gallery mode
• Signal distance: 80m (depending on conditions)
• Wi-fi: Wi-fi technology 802.11n
All product information will be available on www.weye-feye.com and www.xsories.com
About:
XSories is an action sports brand distributing electronic accessories.
XSories brings innovative solutions for all sport, travel and video fans. Our products are
made to make your passions easier to share, in totally new ways.
Live.Capture.Share.
X-Treme Video, a leading company specialized in the distribution of products for the action
sports market founded XSories in 2010. The idea was to offer a comprehensive range of
product adapted to POV cameras and sharing of content on social platforms.