Cardinal Photo Safaris Update:

Alaska Grizzly Bear & Puffin trips,

July 2009

:
(These trips always fill up, so make your plans soon!)

Our 2008 sessions all sold out but we've just announced our two trips for 2009, so learn more or sign up soon. We'll have plenty of Alaskan Brown "Grizzly" Bears, as well as visit rookeries for Horned Puffins, Tufted Puffins, Common Murres and Kittiwakes. We're also likely to have some good Bald Eagle photographic opportunities and of course scenic shots of mountains, coastline and lovely flowers. This is a great trip for couples or non-shooting companions as the lodge is in a beautiful setting on the coast with plenty of opportunity for other activities.

Africa : Botswana, November 14-26, 2009
(10 photographers maximum --
our 2008 trip SOLD OUT so book early)

Our trips feature plenty of mammals & birds. We'll see lions, elephants, giraffe, leopards, cheetah and quite a few varieties of antelope along with several dozen other species of exotic animals. For more details or to reserve your space now.


Angkor Wat at Sunrise
Asia Photo Safari, January, 2007


Burma and Cambodia, December 2009:

We're excited about returning to Burma (Myanmar) and Cambodia. The main trip will be divided between the temple areas in Cambodia (especially the Angkor temple complex including Angkor Wat) and Burma (including historic Mandalay and the plain of temples at Bagan, as well as the capital Yangon, nee Rangoon). Learn more. We'll also have an optional post-trip extension to Laos, featuring Vientiane & Luang Prabang.

We just finished a second very successful 2007 trip (and about to head off for our 2008 trip) and are ready with what we think will be an even better itinerary for next December, 2009. Learn more about the trip now.

South Texas Birds, April 12-18, 2009


(6 Photographers Maximum, filling up quickly

)

After a great safari this year I'm anxious to get back to "The Valley" in south Texas and join a few of you to really focus on bird photography for a week again next year. There is no better way to improve your shooting skills, hone your flight shot technique and come home with lots of great images than by spending a week with us at these awesome Lens & Land properties.

We have some great upgrades for 2008, including luxury accomodations at a brand new game lodge close to the ranches. The small trip size (maximum 6 shooters), private ranches, and full service structure (all your local transportation, room, meals and drinks are included!) make this the premier trip to South Texas for bird photography. Learn more or get your deposit in now.
What needs fixing in the proposed bill:
In our view, while fixing the issue of truly orphaned works is clearly a laudable social goal, any orphan works bill should address the following issues:
More specifics on what is required for a diligent search. This is very tricky since there is of course no good way to search for a photographer when you have an image unless you already know the name of the photographer. It is far too easy to give up. Without coming to a resolution on this issue or putting some timeframe (maybe the rules should be loosened for images over a certain age?) it is hard to see having a bill with any realistic protections for photographers.

Plan for a system of registration and location that would make it possible for photographers to register and protect their intellectual property from accidently being deemed "orphaned." The Committee and supporters are quick to claim that "the technology exists" to do this, but only offered hand waves and no consensus on the what they thought would work, how it could be deployed, and who would pay for it. A plan for this solution needs to be implemented in parallel with any change in the Copyright Act to weaken photographers' rights.
Provisions that if a diligent search is not undertaken, full recourse under law is available to the photographer. And allowing the photographer the option to use small claims court would help make legal recourse an option.

No assumption that just because the person violating the copyright is not a commercial institution that they should get free use. Many of these "non-profits" are multi-million or even billion dollar institutions (the Guggenheim was one of those giving testimony today) so they shouldn't need to make their living by taking from the mouths of independent photographers.

A system for electronic submission of copyright registrations. We can file and pay our taxes online, there is no reason we shouldn't be able to register our copyrights electronically as well--especially for digital images. This could be fixed and should be.
Apologists for the bill as currently worded rely on two main defenses: First, that users will have to try really, really hard to find the photographer and second that photographers should just make sure they get attribution so they can be found. The first is wishful thinking and if true needs to be written into the bill in the form of specific steps that need to be taken. The second is a hallucination. There is no way that photographers can, singly or as a group, force publishers and clients to guarantee they will be credited or that their publishers will properly refer all inquiries about their images to them.
Who was Missing from the Hearing
The usual suspects in copyright protection, the motion picture and recording industries, were noticeably absent from this discussion. Presumably that is because they act aggressively to protect their media and can normally control their distribution to ensure they are carefully attributed and therefore that a violator can not claim they were orphaned. However, they may be missing some of the nuances of this bill as worded. In particular, if a pirated work is found on the Internet and someone who wants to make further use of it can not identify it or its owner then one can read this bill as making it legal for them to go ahead and use the content without a fee--unless and until they are tracked down notified and possibly sued.
Ironically, longer copyright periods are one reason the orphan works issue is getting worse for researchers and causing the push for this amendment, as researchers have to deal with copyrights on older and older images. But that issue is not one that was driven by or serves working photographers. It was created at least partially to serve the media interests like Disney that saw their valuable copyrights to properties such as Mickey Mouse expiring. However, it is the workaday photographer--PPA testified that the average professional photographer in the US makes less than $35,000 per year--that is left holding the bag and having their rights further eroded.
What you can Do?
ASMP (the American Society of Media Photographers) is spearheading a fax campaign to the US Congress to make sure the voices of the 130,000 professional photographers and their allies are heard. You can get sample faxes and more information on their action page.
In specific, Representatives who were there for today's hearing included: Howard Berman (the most concerned with protecting photographers' rights), Zoe Lofgren (hard to tell quite what her thoughts were on this) and Darryl Issa (didn't seem to care at all about photographers from what I heard in the hearing), all from California, as well as Chairman Smith from Texas (who mostly seems interested in getting something settled on by the end of the month).
The Copyright office had a lengthy open comment period and received over 700 comments which they took seriously. However, as you might expect, most of those comments were from those desiring an Orphan Works amendment. Most photographers were unaware of the issue and had no idea such a bill was even contemplated. Now that we are becoming aware we need to make sure our opinions and inputs are heard in the legislative process.
We also have a thread on our Digital Cafe Forum where readers can ask questions or make comments about the proposed legislation. Please feel free to join us there for the latest information and answers.
This bill makes it more important than ever for photographers to register the copyright on their images. Fortunately, nikondigital.org contributor and veteran commercial photographer James Cavanaugh has authored a Guide to Copyrighting your Images which we've published in our Getting Started section. It is a must read for anyone not already sending all their images in to be copyrighted.
Who is on Board
According to the National Press Photographers Association, they and "other organizations joining in the opposition of the Orphan Works proposal include the Graphic Artists Guild, the Stock Artists Alliance, Advertising Photographers of America, Editorial Photographers, the Picture Archive Council of America, and the Illustrators Partnership of America (which carries with it approximately 40 other organizations). Tonight, overseas organizations including the Association of Photographers Ltd. (AOP), the British Association of Picture Libraries and Agencies (BAPLA), the British Institute of Professional Photography, and other imaging groups from the U.K. have added their support to the opposition" and they asked that "Please contact your congressional representatives on this issue," Calzada repeated today. "The protection of copyright is critical to the future of our industry." In addition the ASMP has asked their members to mobilize as well, and provided an action link.
What's new on nikondigital.org
We're pleased to announce a great new addition to our Getting Started section. Mike Russell, Photoshop guru and author of the powerful Curvemeister plug-in has written Using Curves, an introduction to Photoshop's most powerful command. Whether you're a beginner or not you'll learn something from the article, particular Mike's brief introduction to using alternate colorspaces with curves. Get Started with Curves Now!
Also veteran commercial photographer James Cavanaugh has authored a Guide to Copyrighting your Images which we've published in our Getting Started section. It is a must read for anyone not already sending all their images in to be copyrighted.
DigitalPro Tip of The Week
The likely passage of this bill makes it even more important that your images are carefully attributed. Image management tools such as DigitalPro for Windows offer multiple ways to do this. First, you can add your copyright and credit to the meta data of your images--either to the original file or to your submitted version, and second, you can automatically overlay a watermark on the image with your copyright information for online posting.
Other coverage of the Orphan Works Bill from photo organizations:
PPA Call for Changes in the Bill
ASMP Call to Action & fax Instructions
Support our Site Sponsor, ProShow: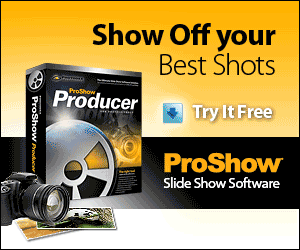 ---
---