Cardinal Photo Safaris Update:

Alaska Grizzly Bear & Puffin trips,

July 2009

:
(These trips always fill up, so make your plans soon!)

Our 2008 sessions all sold out but we've just announced our two trips for 2009, so learn more or sign up soon. We'll have plenty of Alaskan Brown "Grizzly" Bears, as well as visit rookeries for Horned Puffins, Tufted Puffins, Common Murres and Kittiwakes. We're also likely to have some good Bald Eagle photographic opportunities and of course scenic shots of mountains, coastline and lovely flowers. This is a great trip for couples or non-shooting companions as the lodge is in a beautiful setting on the coast with plenty of opportunity for other activities.

Africa : Botswana, November 14-26, 2009
(10 photographers maximum --
our 2008 trip SOLD OUT so book early)

Our trips feature plenty of mammals & birds. We'll see lions, elephants, giraffe, leopards, cheetah and quite a few varieties of antelope along with several dozen other species of exotic animals. For more details or to reserve your space now.


Angkor Wat at Sunrise
Asia Photo Safari, January, 2007


Burma and Cambodia, December 2009:

We're excited about returning to Burma (Myanmar) and Cambodia. The main trip will be divided between the temple areas in Cambodia (especially the Angkor temple complex including Angkor Wat) and Burma (including historic Mandalay and the plain of temples at Bagan, as well as the capital Yangon, nee Rangoon). Learn more. We'll also have an optional post-trip extension to Laos, featuring Vientiane & Luang Prabang.

We just finished a second very successful 2007 trip (and about to head off for our 2008 trip) and are ready with what we think will be an even better itinerary for next December, 2009. Learn more about the trip now.

South Texas Birds, April 12-18, 2009


(6 Photographers Maximum, filling up quickly

)

After a great safari this year I'm anxious to get back to "The Valley" in south Texas and join a few of you to really focus on bird photography for a week again next year. There is no better way to improve your shooting skills, hone your flight shot technique and come home with lots of great images than by spending a week with us at these awesome Lens & Land properties.

We have some great upgrades for 2008, including luxury accomodations at a brand new game lodge close to the ranches. The small trip size (maximum 6 shooters), private ranches, and full service structure (all your local transportation, room, meals and drinks are included!) make this the premier trip to South Texas for bird photography. Learn more or get your deposit in now.
At all the ranches the feeding and watering stations were well designed with attractive backgrounds. In a semi-desert area like southern Texas (this year has been particularly dry with only 1"-3" of rain all winter) water in particular is an incredible bird magnet. Birds you could spend days trying to find in the open will flock to a drip watering station. This enabled us to get nearly non-stop action most of the time. Several ranches also put out carrion at feeding stations designed to bring in raptors including the unique and colorful Crested Caracara and the hard to find Harris's Hawk.

Green-tailed Towhee
Nikon D2H, 200-400f/4

Local specialties include Green Jays, Painted and Indigo Buntings, Curved-bill and Long-billed Thrashers, a variety of Sparrows and Orioles as well as the beautiful Great Kiskadee, Golden-fronted Woodpecker and many others. Between sessions photographing birds we were also treated to views of mammals including Coyotes and Javelina.
I should note that neither Moose nor I are big fans of shooting from blinds. We both prefer to be really "outside" and to be able to react to animals coming from any direction. Many times over the years the shot of the day has been the sudden appearance of a raptor over our shoulder or swooping in from the side and being where we have a 360 degree view allowed us to get the image. But the blinds on the Lens & Land properties were a joy to use. They were generally comfortable, with chairs and even outdoor carpeting in some. And using the blinds allowed us to be quite close to the action at the carefully situated feeders and watering holes. That not only allowed us to photograph some species which might not have approached if we were out in the open but allowed me to be very effective with my 200-400mm lenses--while allowing Moose sufficient working room to use his 600f/4.

Painted Bunting
Nikon D2H, 200-400f/4 

We ran into longtime nikondigital.org contributor Dave Ryan who'd just finished a very successful trip with a group of fellow forum members to some of the ranches. Maybe we should have considered south Texas as a forum meet-up location!
While our primary reason for going was bird photography, both Moose & I made sure to bring macro gear as well--including the new Nikon R1C1 macro flash system, which is a real treat. We weren't disappointed. While the drought had really hurt the wildflowers, one of the ranchers caught a baby walking stick for us which we happily photogaraphed in a terarium. Cactus flowers were also in bloom and made for some great "flower portraits".
Accomodations in and near McAllen are plentiful, inexpensive, with some featuring high-speed Internet access. Food too was plentiful, tasty and inexpensive. We ate plenty of Mexican food (McAllen is only a few minutes from the border) and Barbeque.

Bronzed Cowbird
Nikon D2H, 200-400f/4 

As for gear, once again my Moose MP-3 pack's slim profile came in handy. I was able to unclip my computer from it after getting on the fairly small plane (Canadair Regional Jet) to San Antonio and slide it in to the overhead. If I'd had my thicker Computrekker AW with me, I probably would have had to cabin check it--which has cost me a warped lens mount on a previous occasion. My primary lens was my 200-400f/4. Working from a blind gives you greatly limited mobility so a zoom has extra value. I did find that I needed either the TC1.4 or TC1.7 on the lens most of the time. The resulting combination does not focus nearly as quickly as a 600f/4, but worked well for this type of controlled shooting. Moose brought his 600f/4. For the raptors in particular the extra reach of the 600 or 600 plus Teleconverter was valuable. Even with the carrion baiting the raptors were fairly skittish and with his "big glass" Moose could get some great portraits. The flip side is that at some of the feeding stations the songbirds came almost up to the blind and the much smaller minimum focusing distance of the 200-400 allowed me to photograph them while the 600f/4 was "locked out" by its minimum focusing distance (MFD).
Full-fledged South Texas Photo Safari in April, 2007
Based on the continued success of these ranches and the great trip I had, I'm pleased to announce that I'll be leading a photo safari to the Lens and Land ranches next April. We'll have 5 full days of shooting at the ranches (including 2 days at the premier Dos Venadas ranch which is only open to guided groups) and other nearby locations from April 16th to April 20th, 2007. For more details and to sign up, visit our Events page. Learn more or sign-up now.
New Products

Crested Caracara
Nikon D2X 200-400f/4

Big news for digital photographers is the continued flurry of new disk drives. Seagate's excellent 500GB 3.5" drive is now available for as low as $200 locally (Fry's, store only), and the smaller 160GB 2.5" "notebook" drive is also available.

It's not new but I've also been making great use of a small Bluetooth headset with my laptop and Skype to save money and hassle when dialing home from overseas. You need a solid (and non-satellite) broadband connection to make it work, but when it works the $.01 a call is cheaper than any other solution.
We also got to test out some great travel-friendly photo gear on the Africa trip. Stay tuned for more on what we found on the PC Magazine website and in future issues of the newsletter.
New in Print
Color Confidence : The Digital Photographer's Guide to Color Management (2nd Edition): Tim has done it again, with another edition of his popular book on color management. Of course, I'm biased as the cover photo & some of the others are mine, but Tim is an excellent writer and color management is one of the most important technical topics for anyone serious about photography.
Stanford Lake Tahoe Nature Guide: You can't purchase it online but if you're in the Tahoe area look for it in bookstores. Featuring over 450 local species (photos of 58 of them are mine:-), it's a must have reference for anyone interested in nature in the central Sierras.
Image Workflow tip from Moose
Thanks to Moose Peterson for this important tip on how to work with your Raw files. Moose keeps his archival copies on network servers from Buffalo, which are awesome & fault-tolerant, but not ultra-fast to work from. So when he needs to work on his Raw files (NEFs), he uses the "Submit only Raw Images" feature of DigitalPro for Windows to make a copy of just the Raw images (he doesn't need the JPEGs for this) to a 15K RPM high-speed drive. He works on them there and then can publish the final images back to his archival folders using the "Submit current images" option.
Even if you don't have DigitalPro it's a good idea to have an archival copy of your images separate from the one you are actively working on. DigitalPro just makes it easier to work this way.
Signed Show Prints:
Available for purchase Online
The limited edition signed prints of the images we showed in our "Around the World in 80 Pictures" exhibition are now available for purchase online. Whether you enjoy landscapes, wildlife, temples or portraits of interesting people from around the world there is sure to be something there for you or for someone you know.
Support our Site Sponsor, ProShow: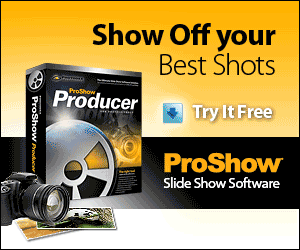 ---
---