DPS 4-15: One-bag solutions for Airline Carry-ons, plus tips for traveling lightly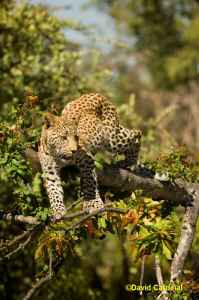 Recently there have been a flurry of reports of airports enforcing a 1-bag carry on limit--strictly enough to preclude a second "rolling briefcase" carry-on. Personally I've still found that I've been able to get a standard camera backpack and rolling briefcase aboard my flights if I'm friendly and get my bags stowed promptly, but since it is such a hot topic and having only a single bag to lug around airports is appealing I've spent the last few months testing out traveling with four different "all in one" bags that are designed to provide a complete travel solution for your camera gear and computer. None of the bags is perfect, but all of them are well designed and well built. Each has unique strengths, weaknesses and particular situations where it is ideal. In this issue I'll take you through my experiences with the four bags to help you decide which of them might be best for you. The four bags are the LowePro RoadRunner AW, the Pelican 183, the WRP MP-3c and the LowePro Computrekker / Computrekker Plus AW. We also provide some tips for making your gear fit in your bag.
Event Note: If you're looking for a great value in a photo safari, the weak currencies in Southeast Asia make our Cambodia, Burma & Thailand trip a real bargain. At less than $5K per person for a nearly two week trip with first class accomodations & private guides throughout it's hard to beat. Give yourself the holiday gift of a January get away!
LowePro RoadRunner AW: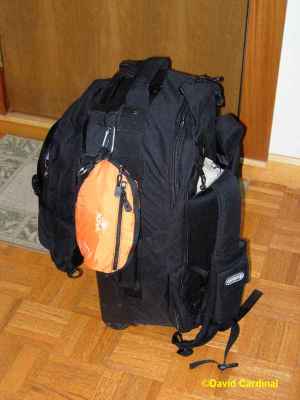 I used a RoadRunner for the first time on my recent safari to Botswana. I was attracted to the bag for two important reasons. First, it was a rolling bag. With international flight connections requiring more and more walking I thought it'd be worth trying a rolling bag instead of my usual backpack. Second, it provides a "one bag" solution by clipping its daypack onto the back of the rolling bag. Like all these bags, when they are fully assembled they are too large for the carry-on bins so the trick is to assemble them long enough to get through security at the airport and then disassemble them as needed on the plane so that everything fits nicely.
The RoadRunner is very solidly made--like all the LowePro products I've ever used--and holds even more on the inside than the Computrekker Plus AW. However, there are no external pockets and only very small internal pockets unless you are using the daypack. And once the daypack is attached it is a little difficult to work out of the bag since the main "clamshell" opens from the shoulder strap side, which would place the daypack on the bottom. So for shooting out of a truck I didn't find it as convenient as a traditional bag design, but I really liked that I could leave my laptop and external drives in the daypack back at the camp and only bring along the photo pack.
The RoadRunner when fully loaded is a beast of a bag (as are all of these except the MP-3), so you'll need to be fairly strong (and tall) to hoist it into an overhead bin. But if packed carefully and the daypack removed it will fit into full-size overhead bins. It will likely not fit in the bins on the RegionalJets which are in increasingly common use in the US. Also when you fully assemble the RoadRunner you need to be sure you tuck the various straps in well or they can easily get trapped under the bag or caught in the wheels.
Even without the daypack, a loaded RoadRunner can be fairly heavy. It was definitely harder to lift on and off the trucks on safari than the Computrekker Plus, but having the rolling wheels can be a real lifesaver for pulling the bag long distances if you don't want to carry the nearly 40 lbs of a full bag on your back al the time. It is also physically longer than the Computrekker Plus, which made it a little harder to work with in a truck but also lets you use a slightly longer lens+camera combo. Either bag accomodates a D-SLR plus 200-400 or 300f/2.8 quite well.
One unusual thing about the RoadRunner is that to allow the daypack to attach on the "flat" side of the bag the clamshell opening is actually on the strap side. So you physically lift the side of the pack with the straps when you're using it as a camera bag. This isn't difficult, but it does create a couple small issues. First, if you have the waistbelt attached it can get in the way as it has to be lifted along with the clamshell. And second, there are various "batwing" straps designed to help the bag's zipper hold the full load that can also get in the way. After a couple days I got used to opening and closing the bag without the straps tangling, but it was a little tricky at first.
Aside from the awkwardness of having to lift the shoulder strap side to use the bag the only real gripe I have with it is the shoulder strap system itself. The shoulder straps attach to a removable waistbelt. Unfortunately the waistbelt is quite large and makes it difficult to fit the bag into an overhead compartment. Removing the waistbelt provides no anchor point for the shoulder straps. For me, the whole reason for having a backpack style roller is to be able to hoist it over a shoulder for short transfers. I was able to create a makeshift solution by tying the backpack strap to the bottom handle of the bag, but it would have been a simple matter for LowePro to provide a D-ring for that purpose. Their reasoning is that because of the weight of the bag it'd be used more with the waistbelt, but I don't really think most people backpack with something like a RoadRunner. Most people I know use them for short hauls to vehicles or locations.
If you don't have a long lens like my 200-400 or a 500f/4 you can also look at the lighter & smaller RoadRunner Mini. I haven't used one personally, but if it is built the same way and fits your gear it might be a good compromise. You can purchase the Roadrunner online for a discounted $425, or the RoadRunner Mini for $289.
Pelican 183:
The Pelican 183 is different from the other bags in this review because it is not a backpack at all, but a more classic rolling bag, similar to the LowePro rollers. And unlike traditional Pelicans it is soft-sided. It features an excellent zip-off laptop shoulder pack which is large enough to hold a beefy laptop and assorted accessories and paperwork. One of my motivations for trying it was to find a soft-sided bag that could be used in place of my rolling Pelican 1510s, since those seem to be targeted for theft at some airports.
The Pelican is well made, easy to roll and the zip-off shoulder pack is surprisingly easy to remove and re-attach. It is designed so that the main bag meets standard carry-on size limits when the shoulder pack is removed. It isn't really designed to be checked, both because the walls are not quite as solid as those on a LowePro Roller (mine started to bow after use) and because there is no good way to lock it. I would have liked to see them add little lock points to the zippers as otherwise the best you can do is lock the ends of the zipper pulls.
The Pelican comes with a set of flexible padded dividers and is easy to configure for whatever you need. I used mine for a variety of equipment that didn't fit in my other photo pack. The shoulder pack was convenient for carrying my laptop separately around the camps or hotels.
The Pelican 183 is a fairly new product, but B&H is accepting orders for them at the discounted price of $263.
WRP MP-3c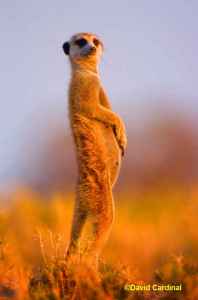 The MP-3 and its larger cousin the MP-1 continue to be my favorite bags for working out of my truck. And the MP-3 is the only bag I've found that will both fit my 200-400 lens (or a 500f4) and fit in the overhead compartment of the growing number of Canadair RegionalJets found on short-haul flights around the US. The tradeoff for the effective use of space and light weight of the MP-3 is that the shoulder straps are designed for short hauls and not for any real hiking and the bag itself is not as stiff or heavily padded as the other bags--which can be an issue overseas where sometimes it is hard to avoid having porters or baggage handlers move your gear. But for occasions where you can keep direct control of your gear it is the most effecient way to transport your camera gear that I know of. When you clip the optional computer case (thus the "c" in the model number) onto the side the bag can serve as an "all in one" with both your camera and computer. Like the other bags the idea is to unclip the computer case once you're on the plane and stow the camera bag overhead.
You can purchase the MP-3c directly from WRP for $395, or the photo backpack only version, the MP-3 for $297.
LowePro Computrekker Plus AW / Computrekker AW
For those familiar with the more traditional NatureTrekker and PhotoTrekker, the Computrekker has the same basic shape but replaces an inch or two of the main compartment with a slot for your laptop. The front pockets are also redesigned to be more "briefcase-like". If your longest lens is a 300f4 or 70-200f/2.8 and your camera bodies aren't too bulky then the Computrekker AW is a nifty small backpack. Since I always enjoyed traveling with my Nature Trekker it was a no brainer for me to switch to the Computrekker for long trips where I didn't need much photo gear. Unfortunately a 200-400 attached to a camera body won't fit in the Computrekker, so you need the Plus version. It is much bigger and heavier
than the regular version, but holds quite a bit more.
For my next trip to Cambodia and Burma for example, I'm probably going to leave my 200-400 behind so I can fit everything into the smaller Computrekker AW. That gives me a good combination of backpack I can keep with me and easily haul around that can also accomodate my laptop as needed. You can purchase the Computrekker AW online at a discounted $129, or the larger Computrekker Plus AW for $169.

Burmese woman in field of Sunflowers, Mandalay
Nikon D2H

We hope you can join us for our travel & nature photo safari to Burma (Myanmar) and Cambodia in January.

We'll see some of the most historic locations in the world, including Angkor Wat, and spend time with some of incredibly welcoming and authentic cultures anywhere in Asia.

Non-photographers also
always welcome.
Tricks for making your gear fit
No matter what bag you have, it always seems hard to get everything in it. But there are a few strategies you can use for helping reduce the amount you need to carry:
Consider wide-range zooms when appropriate: I really like the new Nikon 18-200 AF-S VR lens. I wouldn't use it for a local assignment in preference to its bigger, heavier f/2.8 cousins like the 28-70, but the VR, amazing zoom range, and excellent quality in a relatively small package make it a no-brainer any time I'm traveling. There is some barrel and pincusion distortion but now that Photoshop has built-in filters for correcting both even those don't need to be an impediment.


Consider your subject before packing your bag. I realized after a few trips that while in Namibia my 12-24 was an essential lens for some of my landscape shots, I was never using it when on wildlife safari in Botswana. So it stays behind. With the fairly close focusing distance of the 18-200 and a Canon 500D adapter for my 70-200 I sometimes also leave my macro lens behind.


Consider a smaller backup body. For wildlife I still can't live without my D2X and D2H for resolution & speed, but for trips to photograph landscapes, temples or people, I take the D2X and a smaller body to save weight and space. Until recently I've used a D70 as the smaller body but am looking at upgrading to a D80 (I'm not wild about carrying SD & CF cards) or the D200 (a lot of money for what I want, but works similar to my D2X)


Invest in custom camera plates and lens plates. The low profile plates from Really Right Stuff are expensive, but they help my gear fit in the bag (and are of course much nicer to use than standard plates). In particular the replacement lens "feet" which double as lens plates help streamline my bag.


Check your support needs. With VR lenses I can carry slightly lighter tripods than before. In addition when I have the big Wimberly for my 600f/4 I can use a very light Acratech head for scenics instead of bringing my RRS BH-550. When I bring my 200-400 instead then the BH-55 plus Sidekick is enough and the big Wimberly stays at home. If you're not using a carbon fiber legset, consider the investment if you travel or lug your gear a lot. Gitzo is coming out with updated versions of their 1300 and 1500 series which will feature their new 6x construction (lighter, stiffer, and non-slipping locks) that I look forward to trying next year.


Evaluate your laptop needs: I used to carry a large screen laptop. I loved the screen but realized that I wasn't really getting time to do much Photoshop work on the road so I've shifted to a smaller 13.3" screen Sony which at under 4 lbs. is easy to carry


Invest in a universal power adapter. They're not truly universal, but an interchangeable power system like the one made by Targus allows you to recharge most of your gear by simply changing tips on the charger.


Use multi-function devices. My PD70X does triple duty as an external hard drive, backup card reader and backup storage device if my computer fails. In addition it can even serve as my AA battery charger if needed.

Take PDF manuals instead of paper manuals. I download the manuals for my cameras and flash as PDF files before traveling, so I can safely leave the paper versions at home.


Consider a quality pair of compact binoculars. I love my large binos, but when photographing rely on my shirtpocket Lecia 10x25s. I've used them all over the world for a decade and have always been pleased with their performance given their tiny size.


Consider an integrated flash card adapter. The 32-bit PC Card CompactFlash adapters slip into your notebook and don't require any extra space or weight. Avoid the cheap (16-bit) ones as they are really slow.