Cardinal Photo Safaris Update:

Alaska Grizzly Bear & Puffin trips,

July 2009

:
(These trips always fill up, so make your plans soon!)

Our 2008 sessions all sold out but we've just announced our two trips for 2009, so learn more or sign up soon. We'll have plenty of Alaskan Brown "Grizzly" Bears, as well as visit rookeries for Horned Puffins, Tufted Puffins, Common Murres and Kittiwakes. We're also likely to have some good Bald Eagle photographic opportunities and of course scenic shots of mountains, coastline and lovely flowers. This is a great trip for couples or non-shooting companions as the lodge is in a beautiful setting on the coast with plenty of opportunity for other activities.

Africa : Botswana, November 14-26, 2009
(10 photographers maximum --
our 2008 trip SOLD OUT so book early)

Our trips feature plenty of mammals & birds. We'll see lions, elephants, giraffe, leopards, cheetah and quite a few varieties of antelope along with several dozen other species of exotic animals. For more details or to reserve your space now.


Angkor Wat at Sunrise
Asia Photo Safari, January, 2007


Burma and Cambodia, December 2009:

We're excited about returning to Burma (Myanmar) and Cambodia. The main trip will be divided between the temple areas in Cambodia (especially the Angkor temple complex including Angkor Wat) and Burma (including historic Mandalay and the plain of temples at Bagan, as well as the capital Yangon, nee Rangoon). Learn more. We'll also have an optional post-trip extension to Laos, featuring Vientiane & Luang Prabang.

We just finished a second very successful 2007 trip (and about to head off for our 2008 trip) and are ready with what we think will be an even better itinerary for next December, 2009. Learn more about the trip now.

South Texas Birds, April 12-18, 2009


(6 Photographers Maximum, filling up quickly

)

After a great safari this year I'm anxious to get back to "The Valley" in south Texas and join a few of you to really focus on bird photography for a week again next year. There is no better way to improve your shooting skills, hone your flight shot technique and come home with lots of great images than by spending a week with us at these awesome Lens & Land properties.

We have some great upgrades for 2008, including luxury accomodations at a brand new game lodge close to the ranches. The small trip size (maximum 6 shooters), private ranches, and full service structure (all your local transportation, room, meals and drinks are included!) make this the premier trip to South Texas for bird photography. Learn more or get your deposit in now.
BatteryGeek Portable Power Supply
| | |
| --- | --- |
| | After our regular safari in Burma a few of us headed off to the even less traveled region of Western Burma known as the Arakan or Rakhine Kingdoms. The temples are stunning, full of interesting catacombs with large carved statues at every turn. And the people were a joy to spend time with, perhaps because of the relative lack of tourists. But even more so than urban Myanmar electrical power is hit or miss. The local town only got a few hours a day. |
I'd learned my lesson about shooting without a laptop to review my images years ago. Especially when it is dark the LCD on the camera is just too misleading for me to use as a guide. But my Core2 Duo laptop is quite power hungry so I was very nervous about being able to load and review images for the several days we'd be there. Fortunately BatteryGeek.net came to the rescue. I brought along one of their Portable Power Stations, which is essentially a high-density rechargeable Lithium battery--this model had 140 Watt-Hours. It had the same capacity as 3 of my normal laptop batteries and could power just about any laptop or even USB devices.
BatteryGeek offers models ranging from the inexpensive ($131) 75Wh External Laptop Battery ($189 for a 130Wh version), up to the Portable Power Station (more voltage options, additional 5v port and 140Wh at $349). If you decide to get one make sure and let them know you heard about them from us!
TECH NOTE: How to tell just how big your battery is. Many folks are confused by all the different Amp-Hour and Watt-Hour ratings of batteries and other power supplies. And with good reason. Manufacturers often throw the terms around as if they are interchangeable, but they are not. In order to estimate how long a different battery or power supply will run your device it's important to understand the difference.

In simplest terms a Watt is a 1 Amp current at 1 Volt. So a Watt-Hour is 1 Amp at 1 Volt for 1 Hour. By contrast an Amp-Hour (equal to 1000 milli-AmpHours or mAH) doesn't really tell you how much power a battery can store until you multiply it by the output voltage. Note that this is not the same as the charging voltage or your AC adapter voltage. You need to look at the battery or someplace on the device to see the real voltage it supplies. Then you multiply the Amp Hours by the Volts to get the Watt Hours. For example, my ASUS laptop has a charging (and AC Adapter) voltage of 19V, but the batteries are 11V with a rating of 4800 mAH. That means that each battery can produce approximately 52 Watt Hours, or about 1/3 of what the 140 Watt Hour BatteryGeek power station can provide. When doing these calculations remember that you also don't get to use 100% of the battery before needing to shut down your computer, so if you get 90% of the batteries rated power you're doing pretty well.
What not to buy: I also got 2 APC Universal Notebook Batteries. Since I'm a loyal APC customers when it comes to UPS units for my computer I thought they'd do a good job with this product. I've been very disappointed as both units have been dead on arrival, so I don't honestly know how well they work. They are also much lower capacity, at 80WH, so they aren't that much better than buying an extra battery. The APC Universal Power Adapter
is quite nice though and does a fairly good job of running my power hungry ASUS even while it is charging (the UPA is rated at 90 watts and the ASUS can draw more than that while running full-tilt and charging at the same time--the UPA still works but the computer switches on and off battery so I try to keep it set to less than full brightness & speed if I'm doing major charging with the UPA). This contrasts to my Targus adapters which can't keep up with my laptop even at 90 watts.
InFocus LP-120 Portable Projector
| | | |
| --- | --- | --- |
| | We've been using an InFocus LP-70+ for a couple years now and I thought that was small. Then I got hold of an InFocus LP120. It is barely bigger than a book. So I figured the output would be scaled down to match. No way. While not as bright as its larger cousins the unit puts out a very respectable 1100 ANSI lumens. | |
This is enough for any dim light situation even at 10'-15' and in a dark room in a pinch at up to 18' (with some loss of dynamic range of course, but we are talking about a projector that weighs less than 2 lbs!). Like most portables in truly bright light you're mostly out of luck, although with a really nice screen (like the Draper Piper or Traveler we use) even in those conditions it was somewhat useable.
The projector is also very computer friendly. With a native XGA (1024x768) resolution it can also down-sample higher resolutions or be fed from S-Video if you have a TV-like source. The computer connector is a proprietary DVI+Mouse that splits into a VGA and USB connector. I haven't gotten an answer from InFocus when I asked about whether there was an option to have a DVI-D connector instead to use the DVI output on Macs and newer PCs (like my new ASUS), but that would be a nice touch.
Setup was a cinch and the keystoning correction is also simple to use. The remote is adequate for presentations and basic projector menus, although I still have a general preference for using my own wireless remote to drive my slide shows.
Draper Piper & Traveller Screens
I'm very happy to have found Draper as a screen provider. We've been using their Draper Traveller - Projection screen in Africa for two years now (in fact we leave one over there). It is much more rugged than the screen it replaced and made a tremendous difference in the quality of projected images. At less than 20 lbs. it is a cinch to bring along.

That's great when we have our own plane, but for carrying from city to city I needed something a little smaller and lighter. The Draper Piper Portable Projection Screen for about $200 is a perfect solution. At less than 10 lbs with integrated case it is about as portable as a full-size screen can be. If you have a widescreen (HDTV or similar) need, then they also make a Draper Piper HDTV Format - Projection screen.
nikondigital.org Photo Forum Updates
With nearly 3000 registered members, all of whom are passionate about digital photography and interested in learning and sharing their expertise the ND community is one of the largest and more importantly most rewarding user to user sites for serious digital photographers -- particularly those shooting either Canon or Nikon (or compatible) D-SLR and high end point and shoot cameras.

We wanted to let you know that we've just finished updating the forum software to make the system more responsive than ever. It also features lots of ways you can customize your display or even change the theme you use for viewing.

We've also added a public calendar to which any registered user can add events that are of interest to other photographers.

This month some of the hottest threads have been
DigitalPro for Windows Product Updates
Moose Peterson has just released an excellent set of brand new FREE tutorials for DigitalPro 4. You can download them from:
Moose's brandnew tutorials for DP4 - the best DAM on world
Lensbabies to sponsor Nikondigital.org
Last but certainly not least we are proud to announce our first official website sponsor, Lensbabies. We've never been inclined to accept sponsorships before as it is too easy to let sponsor dollars influence coverage. But the Lensbaby product is so unique (it doesn't really have any competition) that we felt there wasn't much danger of a conflict of interest when covering it. And so many of our readers have raved about it that we're on board. I'll be getting one of their 3G models to experiment with soon so I will be writing about my experiences.

In the meantime, if you do decide to check out their products, please click on the (tasteful) ads you'll see at the bottom of the forum pages and at the left of the site home page so they know you found them through us. Or click here.

(While I'm at it, a general plug to use the affiliate links in the left column of the nikondigital.org home page when you can. The vendors listed, Amazon, LensBabies, ColorVision and PC Magazine all give us a percentage of anything you purchase from those links and it doesn't cost you anything additional. Those revenues help defray the cost of running nikondigital.org and keeping it free)

If you do wind up using on of the Lensbaby products please let us know what you think on the Photo Tools forum!

And if you have any general comments on the site or the forums please feel free to post them in the Digital Cafe Forum. We're always listening.

Support our Site Sponsor, ProShow: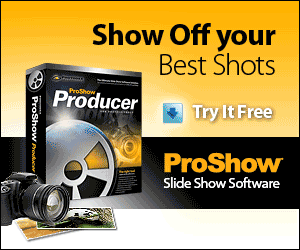 ---
---