Cardinal Photo Safaris Update:

Alaska Grizzly Bear & Puffin trips,

July 2009

:
(These trips always fill up, so make your plans soon!)

Our 2008 sessions all sold out but we've just announced our two trips for 2009, so learn more or sign up soon. We'll have plenty of Alaskan Brown "Grizzly" Bears, as well as visit rookeries for Horned Puffins, Tufted Puffins, Common Murres and Kittiwakes. We're also likely to have some good Bald Eagle photographic opportunities and of course scenic shots of mountains, coastline and lovely flowers. This is a great trip for couples or non-shooting companions as the lodge is in a beautiful setting on the coast with plenty of opportunity for other activities.

Africa : Botswana, November 14-26, 2009
(10 photographers maximum --
our 2008 trip SOLD OUT so book early)

Our trips feature plenty of mammals & birds. We'll see lions, elephants, giraffe, leopards, cheetah and quite a few varieties of antelope along with several dozen other species of exotic animals. For more details or to reserve your space now.


Angkor Wat at Sunrise
Asia Photo Safari, January, 2007


Burma and Cambodia, December 2009:

We're excited about returning to Burma (Myanmar) and Cambodia. The main trip will be divided between the temple areas in Cambodia (especially the Angkor temple complex including Angkor Wat) and Burma (including historic Mandalay and the plain of temples at Bagan, as well as the capital Yangon, nee Rangoon). Learn more. We'll also have an optional post-trip extension to Laos, featuring Vientiane & Luang Prabang.

We just finished a second very successful 2007 trip (and about to head off for our 2008 trip) and are ready with what we think will be an even better itinerary for next December, 2009. Learn more about the trip now.

South Texas Birds, April 12-18, 2009


(6 Photographers Maximum, filling up quickly

)

After a great safari this year I'm anxious to get back to "The Valley" in south Texas and join a few of you to really focus on bird photography for a week again next year. There is no better way to improve your shooting skills, hone your flight shot technique and come home with lots of great images than by spending a week with us at these awesome Lens & Land properties.

We have some great upgrades for 2008, including luxury accomodations at a brand new game lodge close to the ranches. The small trip size (maximum 6 shooters), private ranches, and full service structure (all your local transportation, room, meals and drinks are included!) make this the premier trip to South Texas for bird photography. Learn more or get your deposit in now.
The Schweddagon, one of the most amazing religious structures of the modern world certainly didn't disappoint. Freshly cleaned the towering golden dome glistened in the afternoon light. Best estimates are that 50 tons of gold covers the dome--or about $1 billion worth--all donated and painstakingly applied as an offering to Buddha. Photographically the dome is almost too much to take in. My favorite shots were either vignettes of smaller pieces of the shrines or ones which played on the different shapes of the spires, like this shot of the sun setting in the city haze.
More than the sheer drama of the golden dome I enjoy the living nature of the Schweddagon--and the Schwezigon in Bagan. They may have survived for centuries but they aren't dead relics the way so many temples are. They are living places of worship and even enjoyment, full of locals praying, making offerings, earning merit by caring for their local shrine, or even having a stroll or picnic lunch on the cool tile to avoid the heat and smog of the surrounding city.

A misty sunrise over the temples at Mrauk U in Western Burma
Nikon D2X, 18-200mm lens

Reached by plane and then a boat trip up the Kaladan River, Mrauk U is the heart of the Rakhine region and home to an amazing variety of temples for what is now a fairly small town. But until 150 years ago it was a booming metropolis and was written about glowingly for its culture by western explorers.
Because we had more time in Yangon this trip we were able to spend a little of it by the commercial docks. For anyone used to seeing the piles of huge containers being loaded by crane onto large ships the Yangon waterfront is a throwback to a bygone era. Barefoot longshoreman run with 100 lb. sacks of rice along bouncing gangplanks. For each trip they grab a small stick they drop as they unload their cargo on the waiting truck. At the end of the day they are paid by the number of sticks they have accumulated.
In Burma manual labor is the most common way to transport

goods to market or water for drinking

Nikon D200, 18-200mm lens

Burma is a fascinating mix of historic Buddhist temples and placid everyday scenes--making for plenty of great photo opportunities.
Typical of many locations in Myanmar, nearby sits a large dock with modern cargo cranes, empty and idle. The empty dock belongs to the government while the busy docks with the hand-carried goods belong to private companies. This reminded us of the new airport in Mandalay with a row of idle jetways waiting for jumbo jets that have never arrived--while all the smaller planes which do arrive park way out on the tarmac out of respect for their imaginary brethren. One pleasant airport surprise was Yangon's new International airport terminal. In typical Myanmar fashion they'd only managed to open it for arrivals, so international departures were from the old terminal, but it is a big step forward.
| | |
| --- | --- |
| | The biggest challenge photographing sunrise in Bagan is how to showcase the literally hundreds of temples without making the landscape look cluttered. Silhouettes can be a very effective technique to help simplify the scene. |
Bagan was also a nice surprise. There is a lot of concern about the Burmese approach to restoration and rumors abound that some of the best temples might be closed to visitors to encourage tourists to use the new government viewing tower. Fortunately the government seems to have yielded to reason--the reason being their need for the cash tourists bring--and allowed all the temples to stay open. So we were able to be up on the top before sunrise and enjoy not just the peace and quiet of a unique view but get some great photographs as well. The system really only works because there aren't that many tourists, as the staircases and passages through some of the temples are narrow and steep. If Bagan ever gets as full of tourists as the Angkor temples they will have to greatly limit everyone's access. The temples also remained uncrowded, so it was still possible to have one to ourselves much of the time. This is particularly important when trying to get those cool shots down long corridors and frankly is just a lot more fun than being surrounded by dozens of other tourists and photographers.
| | |
| --- | --- |
| | As always the evening on the river was one of the highlights of our visit. As the day cools off the riverbanks come alive. Villagers come down to play, bathe, wash their clothes and fetch their water for the next day. Even though they must see boats come by every evening most of them were quick with a wave and a smile. We spent a little time with the small community that springs up to fish from the sandbars each dry season. Their catch that day was only a few bite size fish, confirming that it was indeed a hard way to make a living. |
We're pleased to announce that we'll be leading another trip to Burma and Cambodia this December, from December 1 to 15, with an optional extension to Western Burma. Learn more or Sign Up.
| | |
| --- | --- |
| | One reason we work with local guides--preferably ones we've used before and who understand photography--is that there are often special local events they know we'd be interested in and help arrange for us to attend. In a village near Bagan there was a wedding and reception we were invited to attend. As always I really enjoyed the chance to share in a local custom, meet some of the attendees and especially to goof off with my camera and the children--even though no one at the reception spoke english we had a great time and learned a bit about the traditional wedding reception and the meal that is served. |
| | |
| --- | --- |
| | Mandalay sounds exotic starting right from the name, and indeed it is. There is no shortage of temples and palaces there since it features four former locations of the Burmese capital but to me what stands out is the local color, of the monks, the nuns, and the settings--particularly the U Bein bridge, which is the world's longest teak bridge. The local market there is very colorful and there are plenty of accomodating monasteries and nunneries where in exchange for a small contribution it's easy to wander around, learn about the life of the monks and nuns and take photos--providing the students with a great excuse for a quick break while they look up from their lessons. The tourist visits at some of the larger monasteries have become quite a spectacle so we've begun avoiding them, but there are still plenty of smaller ones happy for the visit. |
| | |
| --- | --- |
| | The riverfront in Mandalay is another area shunned by most tourists. Home to hundreds of nearly-homeless squatters, it is actually one of the most colorful places in town. The residents make their living trading bamboo or other commodities with the boats coming up and down the river or loading and unloading the cargo ships. They live in shacks along the river bank in the dry season, in ground that is flooded once the rains come--when they move back to one of the villages nearby. While the parents are working or waiting for work the children are often running around and excited to see visitors. They love seeing their images in our camera LCDs and unlike the children in areas frequented by tourists almost never begged for money. This boy wanted to make sure we knew about his "Ultraman" costume and was thrilled to see a picture of himself in it. |
After Mandalay we launched off into our post trip extension to Western Burma. Formerly the Arakhan Kingdom (the Burmese call it the Rakhine) it was independent until conquered by Burma in the 18th century. Converted to Buddha by the Buddha himself (or so the story goes), Arakhan is rich with religious history and temples. It is also even less visited than the major cities in Burma so it was easy to feel like we were really adventuring. Reached by plane and then a boat trip up the Kaladan River, Mrauk U is the heart of the Rakhine region and home to an amazing variety of temples for what is now a fairly small town. But until 150 years ago it was a booming metropolis and was written about glowingly for its culture by western explorers.
| | |
| --- | --- |
| | Initially we were worried that there wouldn't be enough to photograph in Arakhan, so we made sure it was an optional extension. But our fears could not have been further off. There were nearly a dozen amazing temples, and quite a few smaller ones, worth photographing. Many of them were virtually empty since there were almost as many temples as tourists. We were able to set up our tripods and multiple flashes in the catacombs of some of them to create fascinating scenes. Next trip we'll keep the Western Kingdoms as an extension but I think I'll be sure to bring even more flash gear! |
Ed and I are both looking forward to heading back to Burma and Cambodia in December for another great trip. We certainly hope you can find a way to join us....
We're pleased to announce that we'll be leading another trip to Burma and Cambodia this December, from December 1 to 15, with an optional extension to Western Burma. Learn more or Sign Up.
First Look at Photoshop CS3 & Dreamweaver CS3
I've been using Photoshop CS3 since the beta and was quite pleased with some of the new features, but was pleasantly surprised by the final version. In particular not only has the Camera Raw functionality been beefed up to have the really nice features previously found only in Lightroom but Raw files can now easily be opened as Smart Objects. That means that at any time you can go back and change the raw processing options on the image without starting over. Those two new capabilities alone are worth the $196 to Upgrade your Windows Version or Upgrade your Mac Version for anyone serious about shooting Raw files.
Many of Adobe's filters can also be Smart Objects, so that they can be modified after the fact, which is another nice advantage of CS3. Unfortunately it doesn't appear that any of the third party plug-ins I use have this capability yet. I've been waiting for a long time for a Smart Object or Adjustment layer version of Curvemeister, for example.
The new scripting capabilities are also quite interesting. Previously Photoshop scripting was somewhat chaotic, with some parts of the product carefully crafted to be scripted and others like Camera Raw quite painful. Now Adobe has provided a more consistent object model and a set of script development tools so we should see some very interesting add-ons to help automate Photoshop or even multiple CS3 application workflows.
I'm still not a huge fan of the new palette system. I think they could have left well enough alone with the CS2 palette UI, but I'm sure it is well enough thought through that it will grow on me. The good news is that all of my old actions and plug-ins work like a charm, although many of them will not operate on a Smart Object layer until it is rasterized into a regular layer.
The sophisticated tools in Camera Raw 4.0 from Photoshop CS3 helped me restore the color to this image even though it was shot at mid-day under a bright tropical sun.

Sometimes it's amazing how much work it is on the computer "just" to put back something our eyes saw easily and naturally while we were there.
DreamWeaver CS3
By contrast I have found Dreamweaver CS3 to be quite a disappointment. The latest release of the industry leading web design tool from Macromedia (acquired by Adobe last year) doesn't either add much in the way of new features nor does it address the shortcomings I found with previous versions of Dreamweaver. In terms of workflow the file handling and upload/download seems unchanged, and is inferior to that in Microsoft's Web Expressions product. It is still limited to a single and not very effecient thread to do all the server interaction, so you often find yourself unable to use the interface if you need to touch a server while it is doing a file transfer. And forget trying to update the files which use a library component when you have "Upload on Save" selected. The program gets in its own way as it can't do both things at once (despite asking you whether it should do the update). After some error dialogs it crashes and you lose unsaved edits (I found this out the hard way, of course).
DreamWeaver CS3 is still very picky about file locations and won't let you drag a file from a remote server into a document if it isn't on your local disk. Why it doesn't just create a link or better yet give you the option if the file is an image of creating an image and link or just adding a link is a mystery to me. Instead it just issues an error that it can't "open" the file. This makes building sites which link to images on other sites incredibly laborious. It does seem like they've made Image Placeholders a little more flexible as you can create one and then drag the link command icon onto an image to link it in.
WebDAV support for Basic authentication has been dropped (in favor of Digest authentication) which would be okay except that since previous versions of Dreamweaver didn't support Digest authentication you can't use both old and new versions to interact with the same site--at least not without a lot of hacking server configuration files. Trying to connect to a Basic WebDAV server also hung or crashed Dreamweaver, which isn't a vote of confidence for its overall reliability.
Table creation is still manual--falling behind the sort of quick UI based table generation in Office 2007, and the menu system hasn't really evolved. I don't find DreamWeaver very intuitive and would have liked more of an overhaul. Personally I think Microsoft may have a real sleeper product in Expression Web as I've found it builds very nicely on the FrontPage tradition and is more straightforward to use than DreamWeaver. Of course DreamWeaver has a huge advantage because of their installed base of plug-ins and support for a variety of dynamic technologies which will keep many customers loyal even if the feature set is slow to improve.
About the only exciting new feature in the DreamWever "What's new" list is something called Spry technology. It does indeed look like an exciting new way to build user interface elements, so I'll have more to say about it after I get a chance to experiment with it a little. But for a company that has had both GoLive and Dreamweaver in its portfolio, DreamWeaver 9 should really be called DreamWeaver 8.1 and desperately needs some major work if it is going to help drive suite upgrades.
nikondigital.org Photo Forum Updates
There is a thread where users are sharing their panoramo images in our Wildlife Forum, as well as our readers latest thoughts on Travel Strategies in our Digital Cafe forum.
DigitalPro for Windows Product Updates
Moose Peterson has just released an excellent set of brand new FREE tutorials for DigitalPro 4. You can download them from:
Moose's brandnew tutorials for DP4 - the best DAM in the world




And if you have any general comments on the site or the forums please feel free to post them in the Digital Cafe Forum. We're always listening.

Support our Site Sponsor, ProShow: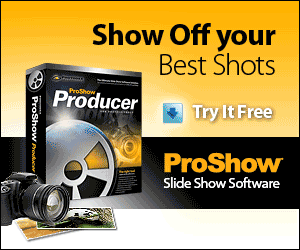 ---
---