DPS 5-06: Grizzly Bear Photo Safari Trip Report & Photo Tips + 2008 Announcement, also Canon SD1000 Field Tested
We just finished our 8th year of photographing the Brown Bears (aka Grizzlies) and Puffins in Alaska with two very successful weeks of safaris. Both sold out groups had a wonderful time and came back with both great photos and great memories.

I'm excited to announce we'll be going back for a 9th year next year and have announced the dates and sign-up. In the meantime I wanted to pass along some of the highlights of this year's trips in this issue of DPS along with some of the most interesting tips and topics from this year. This issue also includes a hands-on review of the Canon Powershot SD-1000 which my wife and I used very effectively on our recent trip to Europe as a vacation camera.
This July saw the highest concentration of adult Brown Bears (aka Grizzly Bears) that we've seen for any of the last 8 seasons. There were also several sets of spring cubs and a very cooperative family of year-and-a-half old cubs rounding out one of the best years of bear photography for our groups in Alaska ever. Both trips (I led two different groups) had many great bear photo opportunities under a variety of lighting and weather conditions. Each week's participants went home with literally thousands of images worth keeping and many, many worth sharing and displaying:
This year marked the first time that a majority of the participants were couples--some with two photographers and some with only 1--as word is getting out that Alaska in July is a great place for everyone to experience the scenery and about how good the setting and food are at the lodge we use.
The Nikon 200-400f/4 was the over-whelming favorite lens for the Nikon shooters during the trips, with the Canon 100-400 and 300f/2.8 splitting the favorite position among Canon shooters with smaller sensors and the 100-400 and 500f/4 for full frame shooters. The advent of a truly high performance zoom with Stabilization like the 200-400f/4 has really changed the playing field here as it has in Africa. Before I'd need to carry a 400f/2.8 or 300f/2.8 plus a second body with a 70-200f/2.8 to get about the same flexibility I can now with a single lens. Of course the 70-200f/2.8 is still invaluable for Puffin flight shots and I always bring my 18-200 for scenics and EDLs and usually bring along my 12-24 for more serious sessions of landscape shooting.
Learning to use the Histogram and Highlights to properly set Exposure Compensation for Metering continued to be one of the most important field lessons. [Example of minus, Puffin Flight & Clamming & Lupin & plus, Bears Wrestling]
Other valuable tips included practical advice on the best way to carry a tripod in the field, proper long lens technique, and ways to work with large mammals in the field.
Puffins were plentiful as well this year, especially those flying around the rookery. While not as hard to capture in flight as songbirds, creating sharp images of flying Puffins can be quite a challenge. At first some of the participants were a little daunted, but flight shot lessons were the order of the day, and by the end of our stay on the island everyone was able to get at least some sharp flight shots of the Puffins!
The rafts of Common Murres floating on the water out in the Inlet were an amazing sight. More plentiful than in any recent year the Murre colony seems to be quite successful and growing. When you see the thousands of Murres floating together it is hard to remember that they are a species of concern in my home state of California.
We took some time off when the wind was down to photograph the beautiful Purple Lupins. Getting the right combination of good light and little wind makes it surprisingly difficult to get sharp photos of the fields of flowers. One quick trick for mammal photographers is to use your telephoto lens to take a "flower portrait" using the isolating power of your lens to help the flower "pop" off the background. [Purple Lupin portrait]
Technical questions and tips were also prevalent, as always. Each new generation of cameras brings more complexity and more options, so in addition to our usual quick recaps of Raw vs. JPEG and what colorspace to use we spent some time working with the Auto-Focus options and some of the other focus and metering related camera controls.
We got just about enough "downtime" from weather to get through our list of "classroom" sessions. We started with a general talk on wildlife photography--emphasizing photography on safari--and then had sessions on digital workflow and image enhancement in Photoshop. The best thing about doing classroom work during a safari is that we can use actual images from the trip so everyone can work along and has some great images to go home with. Finally we reviewed images from some of the participants and provided some thoughts on how they were doing and some ideas on how they can improve.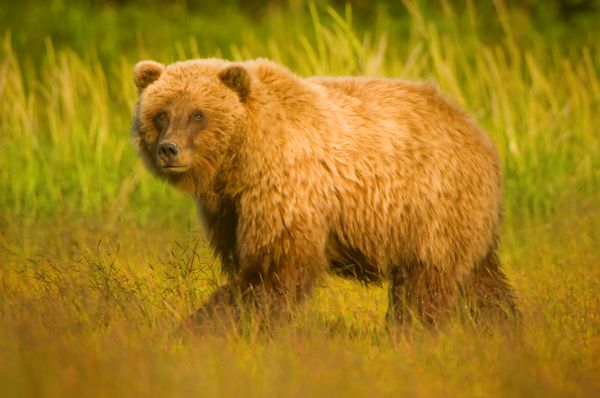 It's surprisingly hard to get an even light in a bear's eyes.
The long hours of evening light during July in Alaska really help.
Nikon D2X, 200-400f/4, David Cardinal

Cardinal Photo Safaris Update:

Alaska Grizzly Bear & Puffin trips,

July 2009

:
(These trips always fill up, so make your plans soon!)

Our 2008 sessions all sold out but we've just announced our two trips for 2009, so learn more or sign up soon. We'll have plenty of Alaskan Brown "Grizzly" Bears, as well as visit rookeries for Horned Puffins, Tufted Puffins, Common Murres and Kittiwakes. We're also likely to have some good Bald Eagle photographic opportunities and of course scenic shots of mountains, coastline and lovely flowers. This is a great trip for couples or non-shooting companions as the lodge is in a beautiful setting on the coast with plenty of opportunity for other activities.

Africa : Botswana, November 14-26, 2009
(10 photographers maximum --
our 2008 trip SOLD OUT so book early)

Our trips feature plenty of mammals & birds. We'll see lions, elephants, giraffe, leopards, cheetah and quite a few varieties of antelope along with several dozen other species of exotic animals. For more details or to reserve your space now.


Angkor Wat at Sunrise
Asia Photo Safari, January, 2007


Burma and Cambodia, December 2009:

We're excited about returning to Burma (Myanmar) and Cambodia. The main trip will be divided between the temple areas in Cambodia (especially the Angkor temple complex including Angkor Wat) and Burma (including historic Mandalay and the plain of temples at Bagan, as well as the capital Yangon, nee Rangoon). Learn more. We'll also have an optional post-trip extension to Laos, featuring Vientiane & Luang Prabang.

We just finished a second very successful 2007 trip (and about to head off for our 2008 trip) and are ready with what we think will be an even better itinerary for next December, 2009. Learn more about the trip now.

South Texas Birds, April 12-18, 2009


(6 Photographers Maximum, filling up quickly

)

After a great safari this year I'm anxious to get back to "The Valley" in south Texas and join a few of you to really focus on bird photography for a week again next year. There is no better way to improve your shooting skills, hone your flight shot technique and come home with lots of great images than by spending a week with us at these awesome Lens & Land properties.

We have some great upgrades for 2008, including luxury accomodations at a brand new game lodge close to the ranches. The small trip size (maximum 6 shooters), private ranches, and full service structure (all your local transportation, room, meals and drinks are included!) make this the premier trip to South Texas for bird photography. Learn more or get your deposit in now.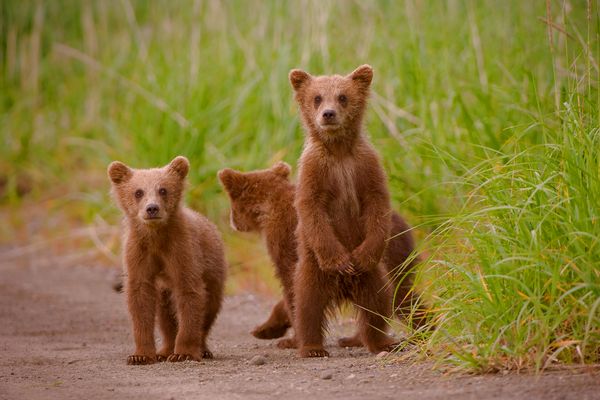 Cubs always steal the show when it comes to entertainment.
Getting as close as possible to their eye level is one important tip for better images.
We photographed many different families of cubs this year.
Nikon D2X, 200-400f/4,
David Cardinal
Kudos for the 2007 Grizzly Bear Photo Safaris:
"The photography sessions were far beyond my expectations. I never thought one would even want to observe grizzly bears as close as we were. Every day home I wish to be back. I'm very satisfied with the images on my new camera. The arrangements were [also] splendid. All of your safaris sound great and hopefully we can arrange to be with you again."
--Nancy McEnzie, Minnesota
"The photography exceeded all expectations and I learned plenty from the instruction! Don't know how [the accomodations and food] could have been any better It was a wonderful experience."
--Ken Patterson, Georgia
"I had such a wonderful time. I can't wait to show you my image of the mom and three spring cubs with the rainbow! Thank you again!"
--Wanda Davenport, Missouri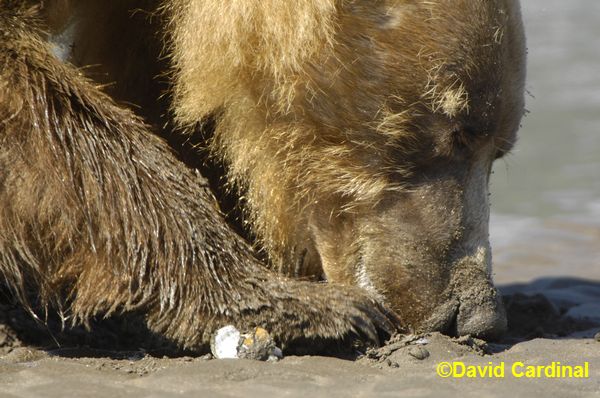 Clamming is a favorite low tide activity for some of the bears who have learned how.
It's also a great time to get clear portrait shots--if you don't mind the mud!
Nikon D2X, 200-400f/4, David Cardinal
2008 Alaska Grizzly Bear & Puffin Photo Safaris:
In 2008 we'll once again have two photo safari sessions, on the same dates as this year, July 8th to 15th and July 14th to 21st. Accomodations will be in a comfy Lodge with three home-cooked meals each day (the lodge features a chef and a baker, and seldom has more than a dozen guests) and nice rooms. Since we're right in the middle of the bear rich coastal plain we couldn't be any closer to the bears, so we'll have all the time we want to photograph them. The Lodge has a boat and captain who will take us out to a Seabird Rookery featuring Common Murres, Horned and Tufted Puffins and Kittiwakes, as well as Auklets and Oystercatchers.
Bald Eagles are seen almost continually, and we can often get fairly good shots of them. We should also have some great opportunities both weeks to photograph clamming bears. This year we even saw a pair of clamming Ravens--something very new and truly unusual. For non-shooting spouses or companions there are a range of other acivities at the lodge, ranging from enjoying the spectacular views of the Cook Inlet to world-class Salmon and Halibut fishing as well as kayaking and boat tours of a nearby lake--which featured a nesting pair of Loons with young this year.
It's truly a special trip so we hope to see some of you coming along with us next year!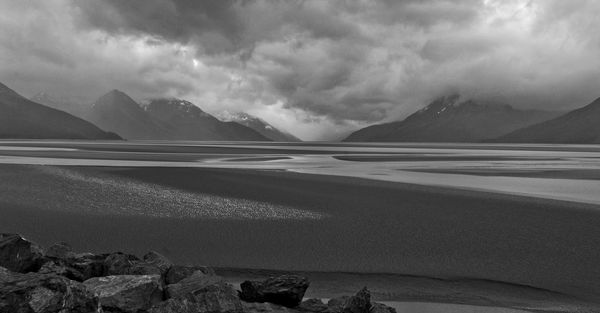 We did get some time to practice our scenics as well--including a how-to session on panoramas and finding the nodal point of your lens. This B&W conversion was taken on an overcast day on the Turnagain arm of Cook Inlet.
Nikon D2X, 18-200 AF-S , -1 E.Comp, David Cardinal

Canon Powershot SD-1000 Hands-on Report: Tiny but Trustworthy
As the latest in a long series of point and shoots that I've enjoyed using as an adjunct to my D-SLRs, the Canon Powershot SD-1000 was a treat to use. I borrowed one for a month and used it for travel and vacation photography with great success. The 7.1MP sensor produced surprisingly good images for a tiny camera.

Viewfinder: Despite being incredibly tiny, the Powershot SD-1000 sports a true viewfinder, a rarity on ultra-compact cameras. This features forces Canon to use a slightly smaller LCD but the ability to compose in bright light and steady the camera by holding it properly is well worth the tradeoff.
| | |
| --- | --- |
| The camera has a very simple design, but has the usual dozens of pre-defined modes that Canon features in their point and shoots. Since those modes require some amount of fiddling with the buttons to get to menus, it's fortunate that the default fully automatic mode actually does a great job of capturing images under most conditions. As long as you pre-focus the camera is very quick, so shutter lag isn't nearly as much of an issue as with older point and shoot models. | Rather than show me holding the camera, we thought we'd show you how this Canon billboard for the German version. |
| | |
| --- | --- |
| | The SD1000 also features face detection for more accurate focus and metering of portrait and group shots. This seems to be the norm for new point and shoot designs, although it's hard to tell how much it really helps. For more sophisticated shooting, you can take some manual control of the exposure by dialing in compensation, but as with most of the smaller Powershots, Canon doesn't make it as easy as I'd like to see. |

Indoor group portrait
(A mixed result)
Canon Powershot SD1000
This image shows some of the pluses and minuses of using the SD1000. You can see its excellent low-light performance and surprisingly effective flash--but you can also see it doesn't do much to help with red-eye and the small sensor and low light provide very limited depth of field (a fact of life with any small point and shoot).
Tradeoffs: Of course, as with any camera, there are tradeoffs with the SD1000. Most noticeably, the camera only has a 3x zoom. This provides neither true wide angle or true telephoto performance. If you want a camera with a 4x or higher zoom and this type of image quality you need to spend more money and will most likely also wind up with a larger camera. But if size and convenience coupled with quality images are your priority, the SD1000 delivers.
An unexpected bonus was the quality of the video and especially the audio when recording videos. We were stunned with the sound quality and with the clarity of the VGA video. In low light the images were of course noisy, but as just "one more feature" on what is a $200 consumer digicam the results were amazing. Some of the footage we shot actually wound up on national television--although of course if we'd known it would we might have been more prepared with a higher-end video camera.
Best of all, the Canon SD1000 is a great value. Amazon will sell you one for $205, not exactly disposable but certainly inexpensive enough to purchase and have in your shirt pocket or handbag for those impromptu photo opportunities!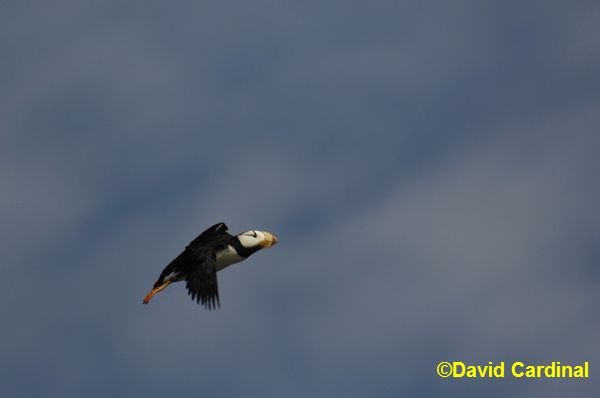 Horned Puffin, Nikon D2X 70-200f/2.8 w TC1.4, f5.6 @ 1/2500, -.5 E.Comp
Puffins are surprisingly quick flyers but once you know their flight patterns
it is only a matter of practice before you can start getting some sharp flight shots.

News
August 9: Nikon releases Capture NX 1.2 Update. Performance improvements and bug fixes. Available for Windows Download and Mac Download.
July 31: Canon releases promised 1D Mark III firmware (as version 1.1.0)
July 27: Epson is updating their wide format printers with the Epson Stylus Pro 4880, 7880, and 9880, featuring new Magenta Ink (improved gamut), new screening algorithm, Improved Printheads (to reduce clogging), standard Ethernet & 16-bit Mac OS drivers for upcoming Leopard. The printers will be available in September with MSRPs of $1995 for the 4880, $2995 for the 7880 and $4995 for the 9880. The new printers however, do not remove the need to switch cartridges when switching paper types, so personally I'm keeping my Epson 4000 for now!
DigitalPro Tip
Did you know you can save your favorite publication settings using the Save As dialog of the Publish tool? That way you can save your most used combinations of submssion settings. Moose & I have lots of "presets" saved for our frequent clients and publications. The current version of DigitalPro is 4.2 (build 4.2.20)--a free upgrade to all licensed users of DigitalPro4.
Help by Sharing our site!
---
---
Search our Sites:
---