DPS 6-01: Burma Trip Report + Lithium Battery Update + Tips on Scouting your own Locations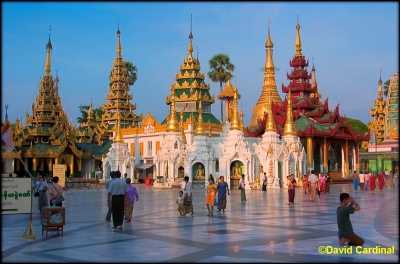 We hope you all enjoyed your holidays and are off to a great start in the new year. Welcome to the first issue of Volume 6 of DigitalPro Shooter--yes we've been publishing it for over 6 years now. I've just returned from an amazing photo safari to southeast Asia. In particular since so many of you have been curious about Burma (Myanmar) I wanted to pass along our experiences traveling there last month and an invitation to join us when we return there (and to Cambodia and Laos) this December.
It was only a few months ago that we were last in Burma (also known as Myanmar) with an earlier photo safari group. But during those few months a string of demonstrations by monks caught the world's attention and certainly caused some consternation about a return trip so soon afterwards. We needn't have worried. All our friends from previous trips were safe, sound and extremely happy to see us. The fall off in tourism after the demonstrations meant that we had many otherwise busy sites to ourselves and restaurants and hotels were never crowded. As always our local guides were very accomodating and everyone went out of their way to thank us for coming.
This was a reminder to all of us that the slowly growing middle, entrepreneurial, class in Burma relies very heavily on tourism for their livelihood. It is one of the few industries in Burma where locals can earn hard currency without being involved in a state run business. [The goverment still does own many hotels and airlines, but it is now possible and quite enjoyable to have an itinerary using private companies run by locals]
As always we started our trip in Yangon (formerly Rangoon), Burma's largest and most active city. It's new airport is fully open now, making arrival a painless process. As always our local guides were there to meet us and whisk us through the formalities. When we arrived downtown in our chartered vehicle we were greeted with a stunning sight. The famous golden stupa (dome) of the Shwedagon was more beautiful than we'd ever seen it. It had just recently been cleaned and the scaffolding removed so it was gleaming in all directions. The Shwedagon itself was also lively with worshippers, both monks and lay people. As always photo opportunities abounded. Since we added an extra day in Yangon (formerly Rangoon) this trip wmere were able to make a return visit after everyone looked at and we discussed the images from the first visit. That really helped folks get the shots they wanted in one of the most photogenic locations on earth.
Rivers are the lifeblood of most of Burma, so as always we spent some time photographing on the riverfront, in Yangon, Bagan and Mandalay. The busy commercial wharves are a throwback to a previous century, with teams of workers hand carrying rice sacks off the cargo ships. For each bag they drop a small stick. At the end of the shift the sticks are tallied and the team is paid as a unit for all the bags they carry. All around vendors are selling to the longshoremen--mostly betel and fruit. Everyone working there is remarkably friendly as long as we're careful not to get in their way. They always enjoy joking with us during their breaks and most of them enjoy having their picture taken.
Yangon has some of the most colorful street scenes of any large city. There were more modern cars this time, but still plenty of the brightly painted World War II vintage buses and no end of sidewalk food stands and merchants. As always with sidewalk photography lighting is the biggest challenge. The shadows cast by awnings and umbrellas make for very high contrast throughout most of the day so we spent some time learning how to look for evenly lit scenes that our cameras could capture. After allowing some time for shopping in the very large central market we headed inside for a quick classroom session where we could review images from the trip and discuss ideas for our time in Burma.
| | |
| --- | --- |
| | Sunrise over Bagan |
The most visited tourist destination in Burma is not Yangon or Mandalay, but Bagan. It is not possible to convey the scope of the "plain of temples" that is Bagan in a photograph. With nearly 4000 monuments stretching off in every direction throughout the architectural zone it really feels otherworldly. As always sunrise is the best time to try to capture a sense of the grandeur so we were up early and on top of our favorite temple to get some shots of the rising sun. One couple from our group took advantage of the opportunity for hot air ballooning one morning and absolutely loved it.
The hardest part of photographing in Bagan is deciding where to start and which temples to visit. There are far too many to see them all, or even most of them, so we focused on some of our favorites which have the most dramatic golden buddha images, interesting interior spaces, photogenic exteriors or the best views. The nice thing is that there is something for everyone as the temples come in such a variety of shapes and sizes.

Fortunately my co-lead, Ed Reinke, is quite well versed in Buddhist lore and art (he was the editor of a fairly popular Asian book on Buddhist art and has lived and traveled in the region for over 10 years). So working with him on our favorite local guide, Aung, we had a good game plan for which temples to visit and when. Just as on previous trips Aung was also able to find us something special to photograph. This time it was a wedding in the local village. The bride and groom were delighted to have western visitors as guests and insisted not only that we photograph them but that we join them for some excellent traditional lentil soup.
Here in Bagan the riverfront was also busy. We chartered a boat for a sunset cruise and were treated to nearly perfect light on monks and other local residents doing their wash or just goofing off along the river. At sunset we visited the itinerant fishing village out on the sandbar that we visited last time and where they are always happy to see us. In addition to enjoying our photographs this time Alison, one of our participants became the guest of honor in their soccer game while the rest of us took pictures. She nearly scored a goal, to the delight of the locals.
| | |
| --- | --- |
| | From Bagan we headed north to another of Burma's former capitals, Mandalay. The name Mandalay conjures up a sleepy colonial town but it has grown into a bustling city. The resulting contrasts provide some great street photography opportunities. The large wholesale market is full of vendors selling colorful flowers, fruits, vegetables and other products. Early in the morning they are in a good mood, happy to be working and mostly eager to be photographed. As a matter of politeness we encourage all our clients to ask permission before snapping away in front of someone, of course. But only blocks from the market are famous, historic temples holding priceless Buddist artifacts. |
New for us this trip, but certain to be a regular feature we chartered a boat and traveled up to the village of Mingun. The ride itself is enjoyable with lots to photograph on the banks and Mingun is a reminder of what Mandalay might have been like a century ago. A sleepy village it hosts several famous religious landmarks including a truly huge unfinished pagoda. It is also home to something of an artist's colony which is frequented by both the locals from Mandalay and tourists.
A side trip to Sagaing also allowed us to visit a local nunnery that is a highlight of all of our trips to Burma. The nuns there are of all ages and always happy to take a break from their studies for a laugh and a photograph. Back in Mandalay, the seemingly endless pillars covered with reflecting glass in the temple at the top of Mandalay Hill are some of my favorite for pattern photography. It's fun to set up near sunset and wait for the right combination of light and people to appear. Plus the 360 degree view of the sunset itself and of the city from the hill is also quite remarkable.
| | |
| --- | --- |
| | All too soon we found ourselves headed back to Yangon for the end of our visit. By popular request we're planning to add an additional day in Burma for our December 2008 trip--giving us an additional morning in Bagan and additional afternoon in Mandalay--since there is so much to photograph and so many interesting local artisans who represent both great photographic and great shopping possibilities. |
Our December, 2008 Photo Safari to Cambodia and Burma with an extension to Laos
If you're interested in visiting Burma and doing some photography, we hope you can join us for our December, 2008 safari to Burma and Cambodia (with an optional extension to Laos). There really is no better time to go. To learn more or sign up visit our Southeast Asia Photo Safari page or email us at safaris [at] cardinalphoto.com. Our 2008 trip will similar to the dates from 2007 (the weather was ideal both for traveling and for photography)--November 30th to December 13th, but we have made a couple improvements based on what we've learned from previous trips: we're adding a day in Cambodia to allow us to have more time to work with our images since there is just so much to see there we keep running out of time, and we're adding the day in Burma for a similar reason and to allow more time for those who want to do more non-photographic sight-seeing (think shopping:-) while the rest of us spend some time working with our images.
Burma Photo Galleries, Book & Prints
If you can't come with us to make your own photographs or are interested in learning more about our experience to prepare for a future trip we've published a book about this year's trip featuring photographs from all the participants, and will be posting some of their best images in a participants' photo gallery.
Lithium Battery Update
You've probably heard by now that the US Government (Department of Transportation) has begun heavily regulating travel with Lithium batteries on airplane flights within or to or from the US. In short, Lithium batteries that are not installed in equipment can no longer be checked, and the Lithium content of batteries that are carried on but are not in equipment is limited. So the batteries actually in your laptop and cameras are fine, but you need to take stock of any spare Lithium, Li-Ion rechargeable, or other Lithium based batteries you're bringing along.
The new US Department of Transportation Rules:
(Quoted from safetravel.dot.gov)
Effective January 1, 2008, the following rules apply to the spare lithium batteries you carry with you in
case the battery in a device runs low:
Spare batteries are the batteries you carry separately from the devices they power. When
batteries are installed in a device, they are not considered spare batteries.
You may not pack a spare lithium battery in your checked baggage
You may bring spare lithium batteries with you in carry-on baggage – see our spare battery
tips and how-to sections to find out how to pack spare batteries safely!
Even though we recommend carrying your devices with you in carry-on baggage as well, if you
must bring one in checked baggage, you may check it with the batteries installed.
The following quantity limits apply to both your spare and installed batteries. The limits are expressed
in grams of "equivalent lithium content." 8 grams of equivalent lithium content is approximately 100
watt-hours. 25 grams is approximately 300 watt-hours:
Under the new rules, you can bring batteries with up to 8-gram equivalent lithium content. All
lithium ion batteries in cell phones are below 8 gram equivalent lithium content. Nearly all laptop
computers also are below this quantity threshold.
You can also bring up to two spare batteries with an aggregate equivalent lithium content of up
to 25 grams, in addition to any batteries that fall below the 8-gram threshold. Examples of two
types of lithium ion batteries with equivalent lithium content over 8 grams but below 25 are
shown below.
For a lithium metal battery, whether installed in a device or carried as a spare, the limit on lithium
content is 2 grams of lithium metal per battery. Almost all consumer-type lithium metal batteries are below 2 grams of lithium metal. But if you are unsure, contact the manufacturer!
Editor's Explanation: From what we can discern this means:
no spare Lithium or Li-Ion batteris in your checked luggage (only ones installed in devices)
As many basic Lithium AA or camera batteries as you need carried on with you
Portable power supplies with more than 8g of Lithium (check with your manufacturer, see below for example for the numbers on a 130watt-hour Portable Power Station) are allowed, but only 2 of them and as long as they aren't over 25g of Lithium.
No Lithium batteries over 2g of Lithium (I don't think most of us have any of these, as they'd be large non-rechargeable batteries)
As always with travel regulations, local enforcement will vary. Please share any experiences you have with this new and somewhat confusing rule with us in our Digital Cafe forum. In particular since this also applies to flights to the US, it means that many foreign governments may be asked to enforce it and they will have varying degrees of training or even understanding all the details of the rule.

Effect on BatteryGeek's Portable Power Supply
In my case I was particularly nervous about my much loved Portable Power Supply (from batterygeek.net) which I rely on for my laptop, especially on international trips. Fortunately, Sean Murray, BatteryGeek's CEO, reassured me that even though my PPS has over 130 watt-hours of power it has much less than the dreaded 8 grams of Lithium. That means I can carry it on with impunity (although of course I have taped a copy of his letter to it in case I'm asked about it!)
Scouting your own Locations
Check out my article in the January/February Outdoor Photographer on Scouting Locations before heading off on your next photo trip.