Nikon D2x offers breakthrough multi-mode sensor:
Until now camera owners have had to choose between ultra-high speed and ultra-resolution. With the D2x Nikon allows the photographer to choose. Featuring both a high-resolution 12.4 MP mode (at 5 frames per second) and a high speed 8fps (6.8MP) mode the D2x will appeal to all those with varied shooting needs--as well as to those of us waiting for images dripping with detail for use in landscape, studio and architectural photography.
D2X Highlights:
37ms shutter lag (same as D2H)
802.11g WT-2 Wireless option
2 new Adobe RGB color modes + enhanced YCC based JPEG processing
Improved in camera image & color rendering, plus Nikon Capture 4.2
Matrix Metering II
15 NEF buffer in full resolution, 26 frames in high speed mode
Faster CompactFlash writing, with parallel NEF + JPEG writing
LiIon battery with up to 2000 shots per charge
GPS has returned! Support for NMEA GPS recording
Encrypted images for secure photography when used with special Lexar cards
Improved Image Quality
The D2x will "pre-condition" each color before converting to digital. In simple terms, D-SLRs have a problem where not all colors start out with the same amount of signal, because the color filters are of differing strength. This often results in excess noise, especially in the red channel, and in odd colors because the red channel in particular has to be hugely (2-3 times) multiplied by the digital circuitry or your Raw processor. By tweaking the color signals while in analog Nikon hopes to circumvent some of these issues. Of course for Raw purists this will raise the question of whether their "raw" file is truly what the sensor sees, since the camera circuitry will be manipulating it before it is converted to digital and written out. Nikon provides this snazzy image of the pre-conditioning process: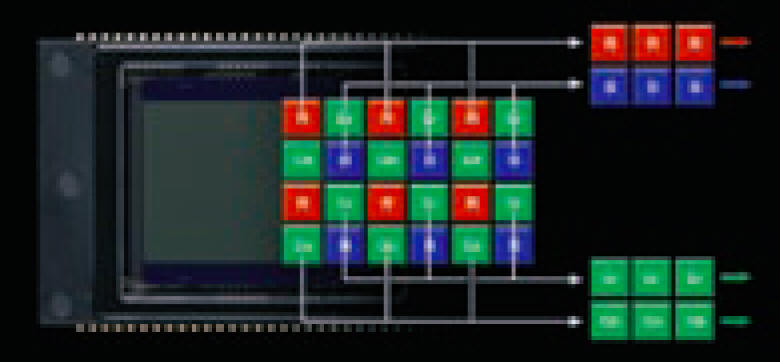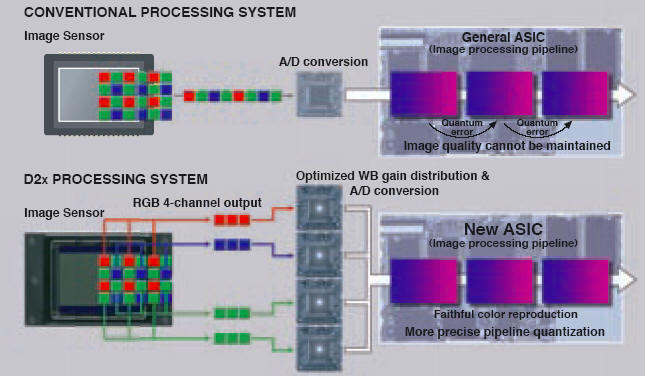 Additional Details:
The camera has a 24mm x 16mm (not full frame--1.5x focal multiplier) sensor. But it also has a unique "high speed cropped" mode which allows it to fire at 8fps using a 6.8MP section of its total sensor, which in turn has a 2x focal multiplier.
The modes feature resolutions of:
Full Image: [L] 4,288 x 2,848-pixel / [M] 3,216 x 2,136-pixel / [S] 2,144 x 1,424-pixel
High Speed Cropped Image: [L] 3,216 x 2,136-pixel / [M] 2,400 x 1,600-pixel / [S] 1,600 x 1,064-pixel
Because the sensor is "DX" sized all current Nikon lenses, including DX, will work with it. If Nikon can deliver sharp images at 12.4MP with this less than full frame sensor that will be a real boon to those falling in love with DX lenses. In turn, for focal length junkies the 2x multiplier effect in the high speed crop mode will be very appealing. Yes, it is similar to cropping the image in Photoshop, and no it doesn't really multiply the focal length by 2, but it sure feels like you have a lot of lens when you use these multiplied focal lengths.
100% viewfinder
USB 2.0 connection to the computer
Same EN-EL4 Li-Ion battery as the D2H (Yippee!), estimated at 2000 shots per charge
Rear LCD shows battery status & shots since last charge
GPS device can be used to set the camera time (cute!)
New (optional) WT-2 wireless adapter with support for 802.11g for rated speeds of 54Mbps (of course actual speeds will be much lower than that--as with any wireless device, but much higher than with the WT-1)--will also support 2-way operation with Capture 4.2
In the High-speed mode the useable area is indicated by a rectangle on the viewfinder
Nikon is promising availability for "Winter, 2005", which of course we assume means this winter, but clearly not December.