Cardinal Photo Safaris Update:

Alaska Grizzly Bear & Puffin trips,

July 2009

:
(These trips always fill up, so make your plans soon!)

Our 2008 sessions all sold out but we've just announced our two trips for 2009, so learn more or sign up soon. We'll have plenty of Alaskan Brown "Grizzly" Bears, as well as visit rookeries for Horned Puffins, Tufted Puffins, Common Murres and Kittiwakes. We're also likely to have some good Bald Eagle photographic opportunities and of course scenic shots of mountains, coastline and lovely flowers. This is a great trip for couples or non-shooting companions as the lodge is in a beautiful setting on the coast with plenty of opportunity for other activities.

Africa : Botswana, November 14-26, 2009
(10 photographers maximum --
our 2008 trip SOLD OUT so book early)

Our trips feature plenty of mammals & birds. We'll see lions, elephants, giraffe, leopards, cheetah and quite a few varieties of antelope along with several dozen other species of exotic animals. For more details or to reserve your space now.


Angkor Wat at Sunrise
Asia Photo Safari, January, 2007


Burma and Cambodia, December 2009:

We're excited about returning to Burma (Myanmar) and Cambodia. The main trip will be divided between the temple areas in Cambodia (especially the Angkor temple complex including Angkor Wat) and Burma (including historic Mandalay and the plain of temples at Bagan, as well as the capital Yangon, nee Rangoon). Learn more. We'll also have an optional post-trip extension to Laos, featuring Vientiane & Luang Prabang.

We just finished a second very successful 2007 trip (and about to head off for our 2008 trip) and are ready with what we think will be an even better itinerary for next December, 2009. Learn more about the trip now.

South Texas Birds, April 12-18, 2009


(6 Photographers Maximum, filling up quickly

)

After a great safari this year I'm anxious to get back to "The Valley" in south Texas and join a few of you to really focus on bird photography for a week again next year. There is no better way to improve your shooting skills, hone your flight shot technique and come home with lots of great images than by spending a week with us at these awesome Lens & Land properties.

We have some great upgrades for 2008, including luxury accomodations at a brand new game lodge close to the ranches. The small trip size (maximum 6 shooters), private ranches, and full service structure (all your local transportation, room, meals and drinks are included!) make this the premier trip to South Texas for bird photography. Learn more or get your deposit in now.
Lights, Camera, Lights: Creative Lighting with Joe McNally
I'm not exactly a neophyte when it comes to Nikon flash systems or using multiple flashes. I've got several SB-800s and even a couple of the new macro flash heads. And I've used them on multiple channels when I knew what I wanted to accomplish. So I went to Joe McNally's talk not to learn the fine points of Nikon's CLS (Creative Lighting System) itself, but to benefit from his unique knowledge of where to put lights and how they affect the subject.
By shooting tethered and using actual speedlights and subjects Joe gave an easy to understand and compelling demonstration of a few different ways to light a portrait subject quickly and simply. I don't shoot portraits for a living but over the course of a year for one reason or another--like most photographers--I wind up needing to create people portraits a number of times. So understanding the balance between a main "softbox" light, a hair/halo light and an up/glamour light was very useful for me--as was Joe's demonstration of why it helps to keep the light close to the subject and the difference made by even slight changes in the angle of the light.
If you're interested in making better use of Nikon's CLS I'd highly recommend both the DVD Joe did for Nikon and the CLS article on our site by pro photographer and contributer Jim VanHoose.
Joe teamed with Moose Peterson and Vincent Versace to lead a very popular safari up to the Valley of Fire where they were joined by a model who allowed Joe an even more in depth venue to demonstrate just how dramatic a difference a creative use of speedlights can be. The best place to learn more from these three pros are their Digital Landscape Workshops.
Eddie Tapp, Photoshop Hall of Fame
Newly inducted to the Photoshop Hall of Fame, Eddie Tapp certainly qualifies. Literally decades of teaching creative arts including many years of generously sharing the techniques he uses for his award-winning creative and portrait work have honed him into an excellent instructor as well as a Photoshop guru.
What I enjoyed most about Eddie's presentation is that he took the audience through a step by step process not just of using his tips but creating actions so they could test them and then repeat them at their leisure. This last part is crucial. It's really easy to watch a guru slam through some trick that looks great at the time and then be entirely lost when you get back to the studio and need to use it. Photoshop World has also helped with this by having all the sessions' notes bound into a large tome given to all registrants so they can page through and look for the specific steps for each technique later. It's tempting to think that you could just get the book and skip the classes, but it often doesen't work that way. Seeing the effects live as used by the instructors and listening to what they do and why they do it is a huge part of the benefit and one reason the conference is so popular.
Eddie opened up his first session by showing his Dream Glow effect using a blur of one of the colored channels to create a dream-like quality to the scene and then punching through the dream layer with a mask to sharpen key features--such as hands, lips and eyes. This is far from a new concept but his approach certainly created dramatic portraits.
Then he provided an effect he calls Cookie" light using a darkened curves layer and punching through via the layer mask where you want the subject to pop. There isn't anything very novel about this idea but one nice touch is that Eddie uses a "flat ramp" curve layer (say from 0,0 to 255,100 in a line) to add density instead of the more usual approach of just drawing down the middle of the curve. His reasoning is that it helps prevent color shifts. In my initial testing I like it better as well. For more on these techniques of Eddie's he's put some of them up on the web as part of Rangefinder magazine, at:
http://www.rangefindermag.com/magazine/Mar06/exposure2.tml, and
http://www.rangefindermag.com/magazine/Aug06/showpage.taf?page=90
Eddie also detailed an interesting use of the Liquify filter--one filter I was previously certain I'd never use--for fixing eye color. It worked amazingly well, with Pucker being very effective for reducing enlarged pupils.
Finally he showed a powerful way to get rid of lots of dust. Rather than clone by hand the idea is to run the dust/scratch filter, then use the history brush to paint the filtered area where there is dust. I'm not sure why he didn't just use layers, but in fairness he did invent this technique in the days before Photoshop even had layers. It works well if you have lots of little dust spots, otherwiese you're probably just as well of using the existing cloning or healing tools.
Designing with Type with Scott Kelby
For variety, I thought it would be fun to attend some sessions that didn't have to do with photography. I've always been fascinated by type (ever since I was involved in the initial intelligent font efforts in the 1980's) but when it comes to designing with typefaces I'm a klutz at best. So Scott Kelby's sessions seemed like a good idea.
There is absolutely no way I can do Scott's session justice here, but in a relatively short time he zipped through enough tricks to let you design a logo, format a newsletter or just mimic the type effects you see used in print or on TV. All with a great sense of humor and step by step instructions on how to access these capabilities in Photoshop or InDesign. His case by case analysis of when various typefaces were appropriate with which photographs was also helpful.
Scott has written literally dozens of books, but I couldn't find one that focused just on designing with type. But if you're interested in learning more before you have a chance to see Scott for yourself his book Photoshop Classic Effects: The Essential Effects Every User Needs to Know
has lots of great effects including some type effects and some that he learned in the advertising industry.
Finishing the Print: Jeff Schewe, Dan Margulis, Vincent Versace

Joshua Tree
Mojave National Reserve
Nikon D2X, 18-200

Some of the other sessions which I caught bits of were in the classic but essential area of getting the most out of your images when you're ready to produce a great print. Jeff Schewe gave talks on creating both color and black and white prints, while I used the technique outline by Vincent Versace to create this image of a Joshua Tree branch. Dan Margulis gave a pair of talks on using LAB for color correction. For anyone who hasn't read our coverage of his techniques using LAB you're really missing out!
Media Mania: Madness from Russell Brown
I went to Vegas a day early to attend the Media Mania session by Russell Brown. Until I met Russell at a conference a couple years ago I was convinced Adobe had invented him. His excessive talent for hacking Photoshop coupled with a deliberately bizarre stage presence sometimes makes him seem more like a mad scientist mascot than an instructor. But as usual he didn't disappoint. He had a wide variety of output devices and media scattered around the room, ranging from laser engravers to tattoo printers. We spent the afternoon alternating between trying to follow Russell's lightspeed instruction on how best to print to these media with actually generating images and getting them printed. Ed Sinofsky was there with a few of his Photo Glow frames as well. It was fun to meet him in person after having made great use of his frames in a show this spring.
A Glimpse of the Future: Forgery Detection demo from Adobe's Dave Story
With our society's increasing reliance on digital images for information and even for our historical archives the problem of forging digital images is of quickly growing concern. As photographers of course we have an additional concern which is the theft of our images through removing or alterations of the copyright so that they are untraceable. Adobe gave a quick demo of some work they are doing with Dr. Henry Farid of Dartmouth to create systems to help detect fraud. Adobe's development executive, Dave Story, demoed a plug-in "clone scanner" which was able to analyze an image using Fourier transforms (basically breaking the image into its frequency components) and quickly determine that one part had been cloned over another part to obscure something. This is clearly quite exciting as a future direction in securing the authenticity of our digital images.
Jay Maisel: Master of the Photograph

Mandalay Bay Cantina
Canon SD700

By contrast to some of the heavily "photoshopped" images and technical sessions, Jay Maisel, a true icon of photography gave a great presentation of some of his images interspersed with his thoughts about the, the story behind them and where he's thinking of going with his photography in the future. Frankly, this one talk alone was probably worth the drive to Las Vegas. It made me want to just run out and photograph everything I could find in the hotel, on the street, and on the drive home. Of course that dovetails nicely with Jay's rule to always bring a camera with them everywhere!
Mojave Desert: Nothing which contains Everything

Evening on the Mojave
Nikon D2X, 18-200 lens

I took advantage of the conference to drive out through the Mojave desert and visit Rainbow Basin and the Mojave National Reserve. I knew that late summer wasn't the ideal time of year weatherwise, but with all the storms spinning out from Hurricane John I was hoping to get some great skies and that the rain would bring out the endangered desert tortoises--who are otherwise hard to photograph. I wasn't disappointed on either count.
| | |
| --- | --- |
| Sunset over the Mojave | Even without a camera I would have loved the Mojave National Reserve. It is literally hundreds of square miles of desert with almost no people. It was easy to spend hours at a beautiful location and not only not see another person but not see or hear a car or even a plane. It is truly a gift to all of us that we still have places like this that we can get to relatively easily. The Reserve has terrain ranging from hard-core desert similar to Death Valley, through some of the largest sand dunes in the US and up to mountainous regions dense with Joshua trees. |
Life on Mars: Rainbow Basin

Rainbow Basin
Nikon D2X

A park which is even less visited than the Mojave National Reserve, Rainbow Basin is often used as the set for science fiction movies because of its remarkable "Martian" landscape of twisted, colored rocks. Because it was late summer the color in the rocks was largely hidden by dirt and dust, but it was an eerie experience to wander around for hours seeing no one and almost no birds or animals and indeed imagine you are on Mars or the moon.
DigitalPro 4.1 Released
DigitalPro for Windows 4.1 has been released. It features support for Adobe DNG format, JPEG 2000, plus 1-click image enhancement filters ColorMagic™ and PortraitMagic™. It is available for download at Pro Shooters website. The upgrade is free to all licensed users of DigitalPro4.
Windows Vista, Is it for you?
It's been almost a year since the last time I experimented with a Windows Vista install. This weekend I put Vista Release Candidate on one of our test machine. Boy has it come a long way. The interface is incredibly slick, although it uses more of your CPU so it's best run on a beefy machine. The new Photo Gallery is more or less like having an entry level "Adobe Album" capability built into the system. That said, upgrading is not for the faint of heart. Sure there are lots of tools to help, but the process of un-installing existing incompatible programs (like Nero, Norton, etc.), upgrading, then looking around for Vista beta drivers on the web for devices like your Wacom tablet or video card can be pretty daunting. Unless you are a real "tweaker" I wouldn't recommend upgrading on an existing machine, but I do think it is a nice upgrade for future machines or those with "Mac-envy." If you want to be the first on your block to give it a try, you can pre-order the Windows Vista Home Premium Upgrade DVD-Rom
now. We'll have more coverage over the coming months.
Support our Site Sponsor, ProShow: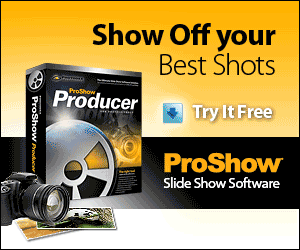 ---
---