DPS 5-10: Nikon D3, Next Best Thing to Light in a Box + Firefly Sensor Cleaner


Banteay Srei Temple, Cambodia
Nikon D3 with RRS Pano Plate
The Nikon D3 is the biggest and fastest D-SLR Nikon has ever produced. At 9fps full-frame (up to 11fps when cropping) it can rip off frames quickly enough to satisfy even a demanding sports photographer. At 2.7 lbs. (without battery) it feels heavier than the D2X (2.4 lbs without battery) but that is a small price to pay for the extra features. The larger price is its $5K price tag. Is the D3 worth it? I've spent the last three weeks in SouthEast Asia shooting over 5,000 frames with one and am happy to pass along my experiences:
Full-Frame Sensor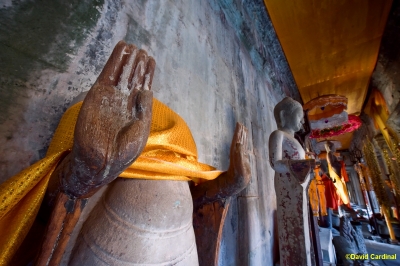 Taken at an incredible ISO3200 this image showcases both the
low-light and full frame features of the D3
Nikon D3, f13 @ 1/8s, 15mm, ISO3200
The most substantial change in the D3 is its full-frame sensor. Unlike the previous models of Nikon D-SLR (over a dozen so far) the D3 features a large sensor nearly the same size as a 35mm film negative (Nikon calls it FX format). This has two advantages and two disadvantages (plus it adds cost and weight). The advantages are the use of shorter focal lengths since there is no "digital multiplier" to lengthen the focal length of your lenses and larger pixels (photosites) which can greatly reduce image noise. The dis-advantages are the loss of the "digital multiplier" (really just a side effect of cropping to the smaller DX sensor) and the inability to use DX lenses. Landscape photographers, photo journalists and others who frequently work at the wide angle set of focal lengths will greatly value the full frame for restoring the true value of their wide angle lenses. Conversely, wildlife photographers will likely mix the "50% boost" DX sensors provide to their telephoto lenses. But everyone will love the hugely increased sensitivity and lower noise of the full frame sensor in the D3.
New AF system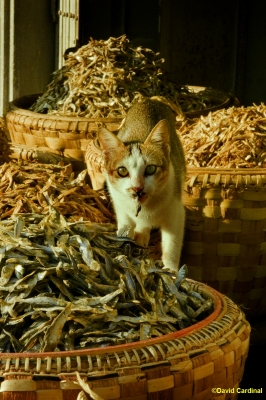 Because I could use ISO1600 for this action image, I could also use f22 to get almost the entire scene in focus
--including the cat and fish.
Nikon D3, 1/350s @ f22, ISO1600, 70mm w. 24-70f/2.8

The D3 (and D300) have a new 51 point Auto-Focus system. First I have to say that I've been pretty happy with the previous system, so this isn't an area where I was desparate for an upgrade. That said, the new system is definitely faster. I found trying to manually use the 51 AF points cumbersome so I locked my D3 (and my D300) down to 11 AF point navigation, but the camera itself still uses all 51 AF points for focus tracking. Speaking of which the focus tracking on the D3 is just plain great. The new 3-D AF Tracking mode has gotten high marks from respected shooters including Dave Black, but I found that when shooting ducks in water it would often wander off onto the water ripples around the duck so I turned it off as the default setting for my shooting. I also miss not having the current AF sensor in the top LCD. I liked to be able to look down at it to make sure when I put the camera up to my eye it'd be set up and ready to go.
High ISO (low light) Shooting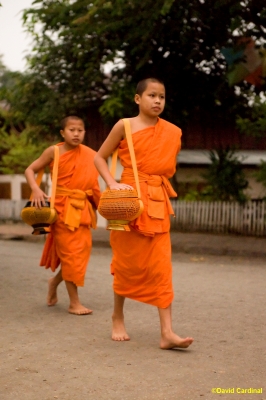 At a stunning ISO6400 I was ableo to capture this image of young monks on their way back
from their pre-dawn collection, at 1/125s @ f2.8 with the new 24-70 lens (E.Comp -1/2)
Without any question the feature of the D3 that impresses me the most is the nearly incredible quality of High ISO images It seemed like I could bump the ISO to as high as 6400 with less worry than bumping my D2X ISO to 1600. Of course I still shot on a tripod when I could and left the ISO at its native 200, but for many cases--especially inside temples with low light and no room for tripods or when filming action in low light--the high ISO made shots possible I could not have gotten otherwise.
The Prints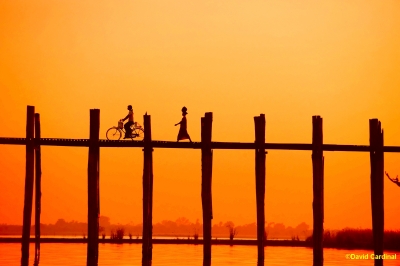 There wasn't much light to shoot this sunset from a moving boat with moving subjects.
Fortunately the Nikon D3 was up to the challenge at ISO800.
Seeing the D3 images on screen doesn't do them justice. After all, most monitors show at most 1600 pixels x 1200 pixels to begin with (about 2MP) and their glowing light can make all sorts of images look great. It is in the prints that D3 images really shine. I was stunned by the clarity and color of my D3 images when I printed them--even straight from the camera Raw files or JPEGs. My first use of the phrase "dripping with detail" was to describe images from the then revolutionary Canon 1Ds, which could produce high-rez images with lots of detail at a glacial pace. Now in the D3 we have a camera many times the speed, with the same eye-popping detail accompanied by better color and much better high ISO images (obviously I'm not trying to compare Nikon & Canon here, as Canon is onto the 1DS Mark III, but to point out how far our industry and the D3 in particular have come in the last few years).
Overall
Without question the D3 is the finest D-SLR I've ever used. It is certainly a worthy competitor to the Canon 1D Mark III. I don't have much experience directly with the Mark III but based on the images I've seen I'd rate the D3 as the winner for low noise at high ISO. Interestingly, pro wildlife photographer Weldon Thomson who has a Mark III but also shoots with Nikon feels that from the images he's captured & seen the Mark III is as good or better at high ISO. Frankly in many cases I think what we are seeing in the differences between raw processors and their default behaviors when two cameras are both that good.
Amazing LCD
I was not expecting the 3" LCD on the D3 and D300 to be that big a deal. But it is awesome. It is brighter, sharper, and much higher resolution than the 2.5" version on the D2X and D2H. Nikon has also added a tempered glass coating over the LCD, making much more resistant to scuffs and scratches.
Live View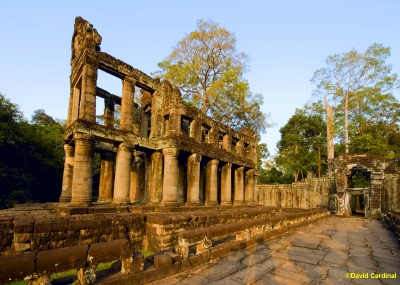 When used with the new FX lenses, the D3 is essentially distortion free.
I used the Perspective Correction in CS3 to "straighten" the temple wall in this image

The D3 (and the D300) can both show you what they are "seeing" while you compose the shot. Essentially this mimics the classic point and shoot live preview in the rear LCD. Without having a moveable LCD in the back the feature has limited value--unless you use it over the HDMI video output to a remote monitor--but even with only the fixed LCD I found it valuable a couple times when shooting in awkward locations amid the ruins of old temples where I couldn't physically get behind the camera to aim it. For studio or controlled sports photography I could see this feature being a really great productivity enhancement. Rather than firing a burst of frames "blindly" when the action seems right you'll be able to monitor the action on a remote LCD screen and shoot when appropriate.
I've rigged up something like this before using a tiny wireless camera rubber-banded to the eye-cup of my current D-SLRs when photographing sensitive sites like birds' nests, so I'm looking forward to trying out this much more advanced version!
Artificial Horizon
One of the most unusual features on the D3 is its artificial horizon. Either on the back or top LCD you can see the camera's horizontal orientation--making it possible to guarantee that you've lined up level for a shot. This is pretty cool although easiest to use on a tripod, in which case you might already have a bubble level built-in to your tripod head.
Learning More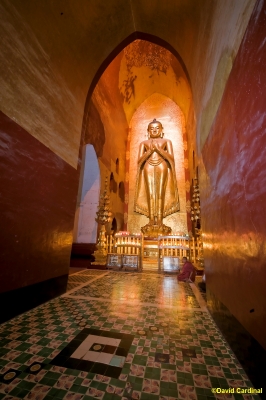 While a tripod meant I could shoot this image at ISO400, the D3 showed itself with excellent
long exposure low noise also as this image took 3 seconds
Must Read Nikon D3 Resource Site
The best resource I've found for D3 owners is without a doubt Moose Peterson's D3 Site. Whether you're a wildlife photographer or not, Moose has really analyzed the D3 and provides a wealth of information on what settings work for him and why.
High ISO Noise Comparison
For starters, if you're curious about the vaunted High ISO low noise of the D3 and how it compares to the D300 and the current D2X and D200, we've posted a High ISO Comparison with full resolution sample NEFs & JPEGs.
Field Test of Nikon D3 and Nikon D300
For wildlife photographers we've compared the two new cameras in the field: Exclusive: Comparing the Nikon D3 and Nikon D300 for Bird Photography, a Field Test with Sample Images
Tech Specs
As usual, dpreview does a good job of relating the tech specs for the Nikon D3 and Nikon D300.
User Manuals
Still confused? Nikon has made online versions of the manuals for both cameras available. You can get the Nikon D3 User Manual and the Nikon D300 user manual online in PDF (non-printable) format.
Learning from (and sharing with) Other Owners & Prospective Buyers
And for a lively discussion of the camera, how it compares to the D300 and how it is working out for its owners in practice, please join us on our nikondigital/DigitalPro forums and take a look at our article on Comparing the Nikon D3 and Nikon D300 for Bird Photography. If you want an in-depth comparison of the Nikon D3 versus the Canon 1D Mark III, John Harrington's review is a good place to start.
Getting your hands on one
Nikon has done a great job of having a large supply of both cameras on day one, but of course there is also high demand. B&H Photo has had D3s and D300s in stock are now sold out and not sure when they'll have more. We'll post in the forums as soon as they let us know there are some available.
NOTE: B&H does have the D300 in stock if you are willing to buy it with the D300 + 18-135 lens now or for delivery later this month as the D300 + the excellent 18-200 lens or they are Accepting Orders for the D300 body only.
Currently Amazon (via Cameta Camera) shows the D300 as being in stock for $1799.
The optional Vertical Grip, the MB-D10 seems to be in good supply for as low as $257 (from Amazon via Cameta). One interesting deal is a kit for $299 that includes 2 spare batteries and a charger. Remember that if you want to use an EN-EL4a battery in the grip to get 8fps, you'll need the BL-3 adapter for the grip also.
Sometimes putting cash down in advance at B&H can get you a quick unit though, as they don't typically deal with the priority process so their units go to whomever has an order in. You can't do that over the web though, you normally need to call and they'll take your payment and queue you up for a unit (no complaints that they charge at time of order--this is a service they provide at user request and I suspect they'd be just as happy not to deal with pre-orders and just wait until they have product).
New Product: Firefly Sensor Cleaner
I brought along a new kind of sensor cleaning solution to Asia with me, the Firefly. It is a high quality blower bulb (Giotto Rocket Blower) coupled to a fancy filter and an ion generator. The combination helps blow off your sensor while neutralizing any charge which might cause the dust to want to stay stuck to the sensor or new dust to be attracted to it.
From using it on a D200, D300, D70 and D3 over a month its strengths and weaknesses became quite clear. First, it is much more effective than just a blower bulb. I was able to get just about any dust off the sensor with it without resorting to a sensor brush of any type. But it is not a replacement for a brush or swab as it is only as powerful as the blower. So it can't actually free any substance that is stuck on physically (smudge, etc.)
So if you're comfortable whipping out your sensor brush and cleaning away then the Firefly might not add much value beyond having a nice bulb like the Giotto. But if you're nervous about physically contacting the sensor with a brush then the Firefly will absolutely reduce the number of times you need to.
New Affiliate Relationahip with B&H Photo
We've just joined the B&H affiliate program which should be a nice complement to our Amazon relationship. While Amazon is great for books, we havne't found a better vendor than B&H for camera equipment (although Roberts is certainly right up there and also one of our favorites). For nearly a decade they've been our primary source of camera equipment. So for those who want to help support the newsletter and the site, please think of starting your photo equipment shopping with a click on one of our B&H links (the same way we encourage you to look for books and other products usin our Amazon links). We'll also be assembling a B&H sponsored photo store of our favorite products.